Moss' record-setting night isn't enough for A's
DH homers twice, sets club mark with five RBIs in AL Wild Card Game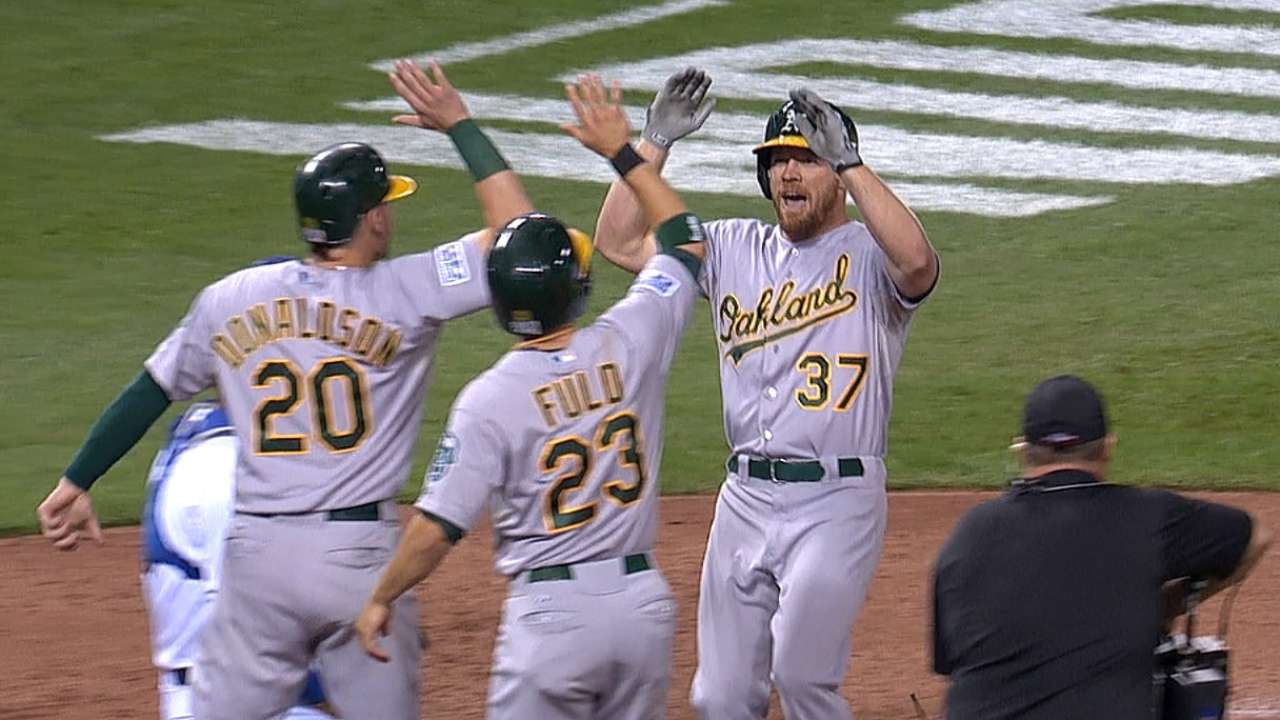 KANSAS CITY -- Amid a deafening Kauffman Stadium crowd overjoyed with seeing the Royals' first postseason appearance in 29 years, A's designated hitter Brandon Moss did all he could to spoil their American League Wild Card party.
Even though Moss twice gave the A's a lead with two huge home runs for a team postseason record five RBIs, it wasn't enough to advance Oakland to the next round, as the Royals refused to lay down before finally ending the A's season with a 9-8 defeat in 12 innings.
"That was definitely the best baseball game I've ever been a part of," Moss said. "It sucks to not be on the winning side of it. They played a great game. They came out on top."
Moss promptly silenced the 40,502 fans in the first inning. With two outs, he launched an 0-1 changeup from James Shields to right field for a two-run homer and 2-0 Oakland lead.
Coming into the at-bat, Moss had gone 3-for-14 with three singles and five strikeouts lifetime vs. Shields.
"What's so different about the postseason, especially in this thing, you know you're going to face one pitcher. You're not preparing for a philosophy or a way a staff is going to pitch you," Moss said. "You've got time to sit down and kind of build your own game plan against that pitcher. He pitched exactly how I thought he was going to pitch, and it worked out pretty well for me."
In the sixth inning with no outs and two men on while the A's were trailing, 3-2, Kansas City lifted Shields and summoned Yordano Ventura, a hard-throwing rookie starter who threw 73 pitches on Sunday. Ventura threw a 2-0, 98-mph fastball that was tattooed by Moss for a homer to straightaway center field.
"Mossy comes back and hits a three-run [homer] and puts us right back in the lead. We were able to get into a little bit of cruise control after that for a couple of innings," A's starting pitcher Jon Lester said.
"Unbelievable night by him," Josh Reddick said of Moss. "He stepped up on the biggest stage we've had all year.
"It had been tough for him, struggling so long, and to do what he did, especially on changeups from a guy like Shields, and a guy like Ventura, who's throwing 100, it makes it that much more impressive."
Moss was given the start as the DH so manager Bob Melvin could use Sam Fuld's superior glove in left field.
"You score a couple runs in the first inning and you feel like now we're on our way, and then we lose the lead, and then hits another three-run homer, and you feel like with our pitching it's going to hold up, but it didn't," Melvin said. "We've seen him make those swings before."
Moss now has three career postseason home runs. Oakland added three more runs in the sixth but saw Kansas City score four runs over the eighth and ninth innings.
"Obviously, with our pitching staff and our defense, we feel comfortable with a lead," Moss said. "But we know how much havoc they can create when they get guys on base. If you get an opportunity to add on, it's very good. After that [sixth] inning, they started bringing in their guys, and those three guys they bring in at the end of the games are pretty shut down. They're extremely hard to get anything done against. They ended up keeping us silent for those three innings and making a comeback right there."
Although his club fell short of heading to a third straight AL Division Series, Moss added some footprints to A's postseason history.
• Moss' five RBIs set a new postseason single-game record for the A's.
• Moss is the first AL batter with at least two homers and five RBIs in a postseason game since Nelson Cruz accomplished the feat for the Rangers vs. the Tigers on Oct. 10, 2011.
• It also marked the first two-homer game for the A's in the postseason since Game 2 of the 2006 AL Championship Series, when Milton Bradley hit two against the Tigers. Moss was the ninth A's player to hit multiple homers in a postseason game.
• The last player to hit multiple home runs in a postseason game against the Royals was Graig Nettles, who hit two for the Yankees in Game 4 of the 1976 ALCS.
Moss, who hit 25 homers during the regular season, has been hampered by torn cartilage in his right hip, a situation that will require surgery after the postseason. He finished with two homers over his final 154 at-bats. He had only two multihomer games during the regular season -- vs. the Yankees on June 3 and the White Sox on May 13.
There have been four other games in Moss' career in which he's had at least five RBIs. His career high is six, vs. the Tigers on Aug. 28, 2013.
Mark Sheldon is a reporter for MLB.com. Read his blog, Mark My Word, and follow him on Twitter @m_sheldon. This story was not subject to the approval of Major League Baseball or its clubs.