A's Soto leaves Wild Card Game with injured thumb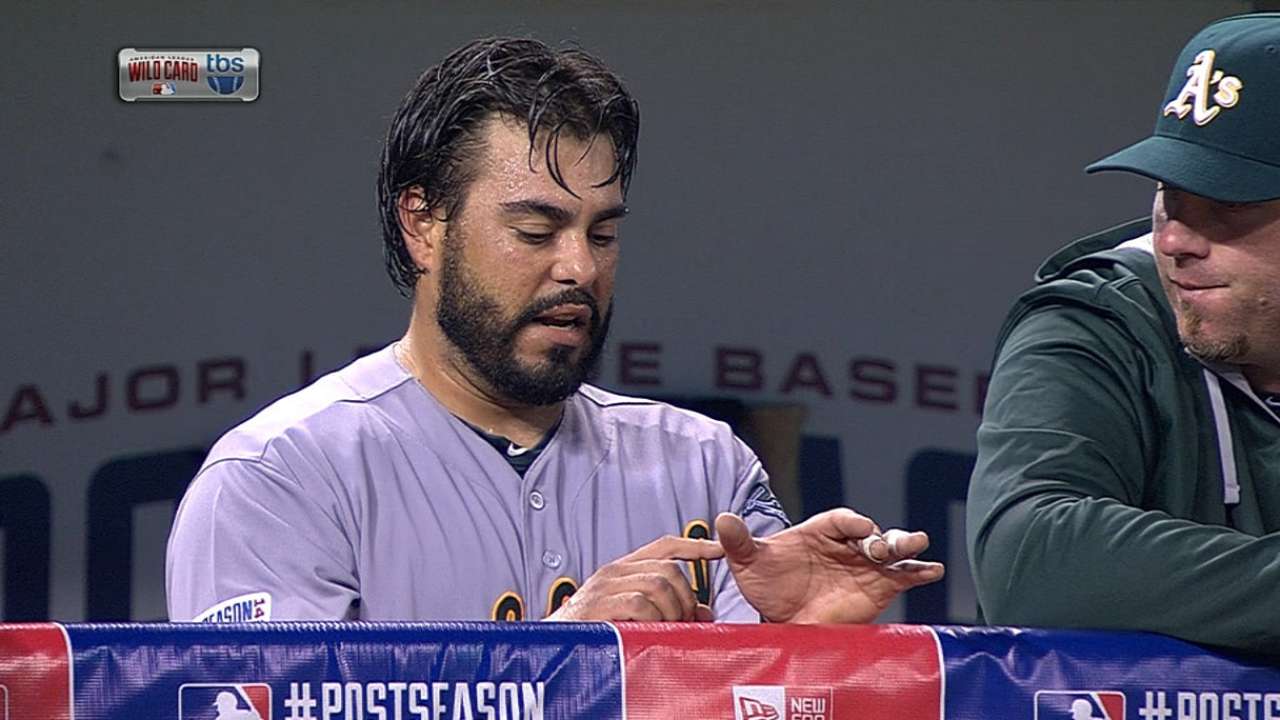 KANSAS CITY -- A's catcher Geovany Soto was forced to exit Tuesday night's 9-8 loss to the Royals in the American League Wild Card Game in the bottom of the third inning because of a left thumb injury.
In the bottom of the first, Soto applied a tag with his glove hand on Eric Hosmer as he attempted to steal home for the third out. Soto batted in the second inning and was called out on strikes.
"He kind of pulled his thumb back on the jersey on the play at the plate, and after that it kept getting worse and worse," manager Bob Melvin said. "Certainly as a catcher you need your thumb, especially when Jon Lester is throwing cutters."
Unable to receive pitches, Soto was replaced behind the plate by Derek Norris,
Soto, who was purchased from the Rangers on Aug. 24 to help Oakland down the stretch, was given the start over Norris because Melvin wanted to exploit his skills at cutting down Kansas City's running game.
The Royals stole six of their seven bases on Tuesday night with Norris behind the plate.
During an on-air interview during the bottom of the fourth inning, A's pitching coach Curt Young was asked if he expected the change at catcher to give Oakland problems.
"Well basically this was Soto's first time catching [Lester] this year," Young said. "D-No's been his catcher all the starts that he's been here, so they're real comfortable together and they work very well together."
Mark Sheldon is a reporter for MLB.com. Read his blog, Mark My Word, and follow him on Twitter @m_sheldon. This story was not subject to the approval of Major League Baseball or its clubs.