Mariners enter offseason with fewer areas of need
McClendon, Zduriencik excited to build on 16-win turnaround from 2014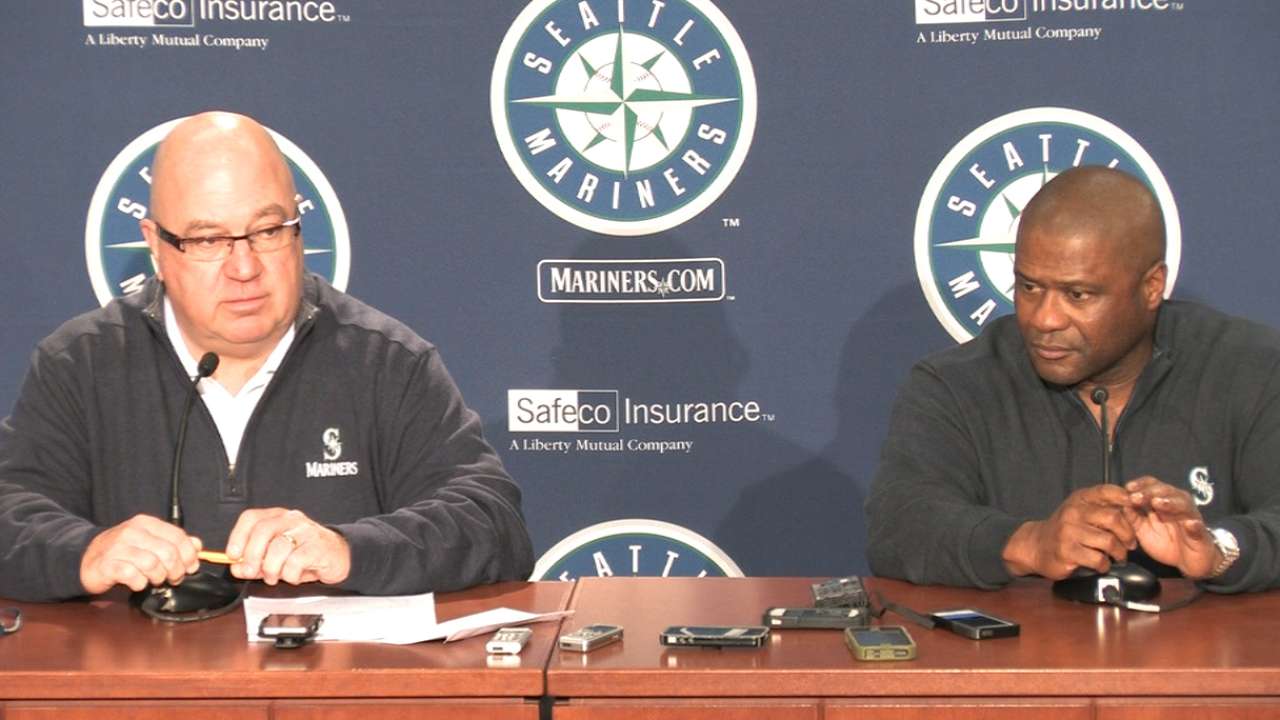 SEATTLE -- Lloyd McClendon would love to be heading to work at the ballpark on Wednesday instead of flying home to Indiana to begin his offseason, but the Mariners manager knows how far his club came this year and is already brainstorming ways to get better in 2015.
McClendon and general manager Jack Zduriencik met with the media Tuesday for a season wrapup. They expressed frustration over finishing one game shy of Seattle's first playoff berth since 2001, pride in the 16-win improvement that was made this year and a commitment to doing whatever is needed to take that next step.
"The day the season ended, I was excited about Spring Training and the possibilities because we do have a lot of pieces in place and we have a lot of questions that were already answered," McClendon said. "There are a lot more things we can concentrate on as far as getting this club ready. I've said it time and time again this year, we're a little challenged offensively and Jack is committed to going out and acquiring the pieces we need, and we'll see how that fits in as the spring goes. But I'm really excited about next year."
Zduriencik said he had not had a sit-down meeting with CEO Howard Lincoln to discuss an exact 2015 payroll, but that Lincoln has already indicated the budget will increase. That's critical for a club with two high-ticket players already on board, with Felix Hernandez and Robinson Cano each owed $24 million next year, and a number of players figuring to get increases in the arbitration process.
"We'd like to add some offense and a starting pitcher," Zduriencik said. "We'll explore every option."
McClendon acknowledged that designated hitter is an obvious place to upgrade after veterans Corey Hart and Kendrys Morales both struggled in that role. He said the biggest priority is finding a right-handed bat to plug in behind Cano in the cleanup spot.
Does he feel the lineup is one hitter away from turning the corner?
"I'll take three or four," McClendon said with a smile. "If you look at real good lineups, you're taking about three, four, five, six that are very legit, and we've got to get to that point. I'm looking for at least two bats."
The club is set at far more positions going into next season, with Cano at second, Kyle Seager at third, Mike Zunino behind the plate, Dustin Ackley in left and Austin Jackson in center. McClendon feels Jackson is a much better hitter than he showed in his two months in Seattle and needs to get stronger physically as well as work on some swing mechanics that got out of whack.
McClendon also said shortstop is wide open between Chris Taylor and Brad Miller, indicating that Miller could be an option as a super utility player after showing excellent natural instincts working in the outfield late in the season with outfield coach Andy Van Slyke.
Logan Morrison intrigues McClendon as well with his strong second half, though first base, the corner outfield spots and DH were mentioned as the most-logical target areas for an offensive upgrade. But again, those needs are far more refined now.
"Last spring we didn't know who our left fielder, center fielder, right fielder, first baseman or shortstop were going to be," McClendon said. "We have a lot of those answers now. I like where we are. I think we're going to be able to accomplish some more specific things in Spring Training."
Prospect D.J. Peterson, the club's 2012 first-round Draft pick, had a strong year in Class A and Double-A and will be given a chance to compete at first base in the spring. And the addition of Cano and dramatic improvement of the club's win-loss record could change veteran free agents' perceptions of Seattle this winter.
Convincing pitchers to come to Seattle has never been a problem with the advantages of Safeco Field, and the Mariners will pursue at least one veteran starter to slide into a rotation that returns Hernandez, Hisashi Iwakuma, James Paxton, Roenis Elias and Taijuan Walker, with Chris Young hitting free agency following his outstanding comeback season.
Zduriencik said he'd wait and see on Young's situation, as well as all the free agents. Reliever Joe Beimel has indicated a strong desire to return, and that interest is mutual as the Mariners' bullpen led the Majors in ERA and has nearly all parts returning.
Both Zduriencik and McClendon indicated Tom Wilhelmsen most likely will remain in the bullpen, though that will be discussed over the offseason. Danny Hultzen threw well in Arizona on Tuesday and is expected to be ready by next spring, though he can't be counted on as a legitimate rotation candidate after missing all of 2014 with shoulder surgeries.
For the most part, it appears a far different offseason from last year, when Zduriencik was hiring a new manager and staff and looking to fill numerous roster holes. The puzzle now is mostly filled in, with just a few specific pieces to target.
"That's what we've been building for, trying to get to a place where your core group is in place and now you're picking and choosing as opposed to trying to put together a whole ballclub or whole bullpen or whole staff," Zduriencik said. "We're in a better position now than we've ever been."
"We improved 16 games in the win column," said McClendon. "Not many teams do that. From that standpoint, it was quite remarkable. But you look and analyze and realize you could have been better in some areas. You have to try to clean it up, because one game hurts. One game here or there and we could be playing tonight. It's bittersweet.
"We're not satisfied with the year we had. We're pleased with the improvements we made. But in the end, we want to win a World Series. And I think everyone would agree this organization is headed in the right direction."
Greg Johns is a reporter for MLB.com. Follow him on Twitter @GregJohnsMLB as well as his Mariners Musings blog. This story was not subject to the approval of Major League Baseball or its clubs.