Fit for a King: Royals rally, win in 12
Perez knocks in game-winner, sends KC to AL Division Series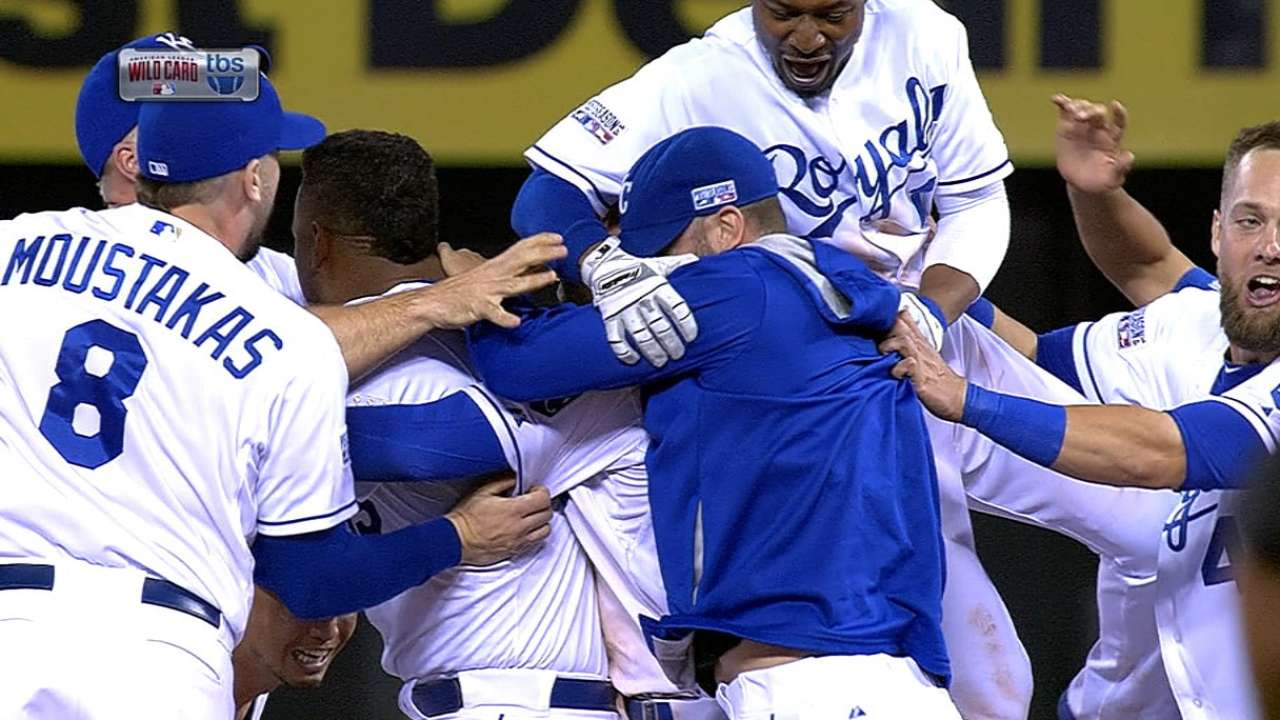 KANSAS CITY -- A jammed-in crowd shook Kauffman Stadium with blue thunder, releasing its pent-up passion after 28 dry years, trying to push the Royals to another great moment in their return to postseason glory. And, in a late-inning frenzy, it happened.
Giving the 40,502 fans jolts of joy, the resilient Royals rallied to stun the Oakland Athletics in 12 innings, 9-8, in a wild Wild Card Game on Tuesday night and advance to the American League Division Series against the Los Angeles Angels.
In the process, they tied a postseason record with seven stolen bases and became the first team to come back from four or more runs down in the eighth inning or later to win a winner-take-all postseason game, according to the Elias Sports Bureau.
Eric Hosmer, a 12th-inning hero, gave as much credit to the crowd as he did to the team.
"There was no quit. There was no quit in the crowd, there was no quit in the team," Hosmer said.
The roar of the crowd was virtually unending.
"Everyone is screaming at the top of their lungs," Hosmer said. "I think we feed off their energy. You get a couple guys on base, you hear the crowd, everyone is on their feet like that, you feed off that energy. This team, this city, this crowd, everybody, they've showed no quit."
No quit, not after falling behind the A's 7-3 after six innings. Not after being in an 8-7 hole in the 12th inning.
No quit, and it turned into one of most spine-tingling victories in Royals history.
With one out in the 12th, Hosmer tripled off center fielder Sam Fuld's glove as he and left fielder Jonny Gomes nearly collided at the wall. Facing right-hander Dan Otero, Christian Colon hit a chopper toward third that Josh Donaldson couldn't handle. It went for a single as Hosmer scored for an 8-8 tie.
Left-hander Fernando Abad replaced Otero and Alex Gordon fouled out. Right-hander Jason Hammel, usually a starter, took over for Abad and, with Salvador Perez at the plate, Colon stole second. Perez lashed a single down the third-base line to drive in the game-ending run.
As the crowd went bonkers, the Royals surrounded Perez behind second base and took their first jubilant steps toward Anaheim.
"That's the most incredible game I've ever been a part of," manager Ned Yost said. "Our fans were, man, unbelievable. Our guys never quit. When we fell behind there in the fifth inning, sixth inning, they kept battling back. They weren't going to be denied. It was just a great game."
The A's had gone ahead, 8-7, in the top of the 12th.
Royals rookie Brandon Finnegan, a left-hander working his third inning of relief, began the A's 12th by walking Josh Reddick. A bunt moved Reddick to second and Finnegan was relieved by veteran right-hander Jason Frasor.
Alberto Callaspo, an ex-Royal, pinch-hit and Frasor's wild pitch got Reddick to third. Callaspo lined a run-scoring single into left field and a sudden hush fell over The K. But it wasn't hushed for long.
"We had the fans behind us tonight," said James Shields, the Royals' starting pitcher. "It was electric in the house, we really fed off our fans all night long, from the very first pitch to the last. We definitely do this for them."
The A's took a 7-3 lead into the eighth inning. Brandon Moss, their designated hitter, had dominated the game to that point. He blasted two homers and drove in five runs.
Moss connected off Shields in the first inning, a two-run shot over the right-field bullpen. And when Yordano Ventura relieved Shields with two on in the sixth inning, Moss ripped a three-run, 418-foot shot over the center-field wall.
It was a five-run inning, but neither the crowd nor the Royals would go quietly.
They launched a three-run eighth that finally dislodged A's left-hander Jon Lester from the game. Alcides Escobar got it started with a single and a stolen base, bringing the fans to their feet. Lorenzo Cain drove him in with a single and swiped second.
Hosmer walked and A's manager Bob Melvin removed Lester in favor of right-hander Luke Gregerson. Billy Butler drilled a single to right to score Cain and the Royals were within two runs. Pinch-runner Terrance Gore stole second on the next pitch. And Gregerson's next pitch went wild, allowing Hosmer to score. Then it was the place that went wild.
"It was a roller-coaster ride," Hosmer said.
There was more to come. Josh Willingham, batting for Mike Moustakas, opened the ninth inning against left-hander Sean Doolittle by dropping a single into right field. Jarrod Dyson ran for Willingham, was bunted to second and stole third. Aoki hit a long out to right field, a sacrifice fly to tie the score, 7-7.
So into extra innings it went with a stirring conclusion ahead for the doggedly determined crowd and Royals.
"We never quit. We're grinders, we've been grinders all year. This is what we've been doing, especially the second half of the year. We never quit," Shields said.
"I love these guys. It's fun in here. To do this for this crowd is unbelievable. The crowd brought us back."
Dick Kaegel is a reporter for MLB.com. This story was not subject to the approval of Major League Baseball or its clubs.