Angels know Royals will be tough foe in ALDS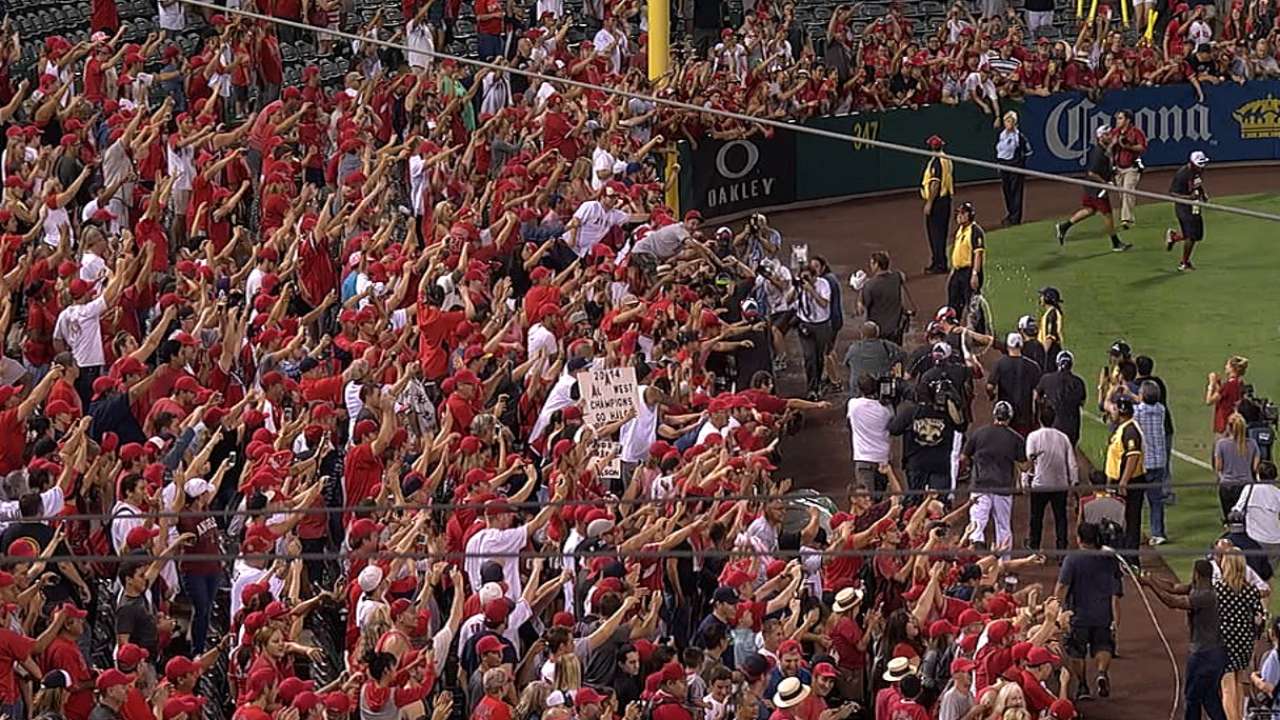 ANAHEIM -- Albert Pujols was asked earlier on Tuesday about the possibility of facing the Royals in the American League Division Series -- which means he'll eventually play a postseason game in the first U.S. city he lived in -- and the Angels' first baseman smiled.
"I think it'd be cool, obviously," Pujols said of the prospects of playing in Kansas City. "I'm probably going to have to get 300 to 400 tickets. I'm not looking forward to that. But it'll be fun."
Pujols' focus is now simply on figuring out a way to beat the Royals, a scrappy team that plays elite defense, can run with the best of them and features perhaps the best trio of relievers in the game.
The Royals -- in the postseason for the first time in 29 years -- advanced to the ALDS with a thrilling, 12-inning, 9-8 comeback victory over the A's at Kauffman Stadium late Tuesday night in the AL Wild Card Game.
Kansas City heads to Anaheim coming off a season in which it easily led the Majors in steals, were deemed baseball's best defensive team -- based on FanGraphs.com's rating -- by a wide margin and consistently shut down games late, with Kelvin Herrera, Wade Davis and Greg Holland combining to post a 1.28 ERA and 258 strikeouts in 204 1/3 innings.
The Angels and Royals split the six-game regular-season series, but the Angels have won eight of their last 11 over the Royals overall and six of their last eight at Kauffman Stadium, set to host Game 3 on Saturday.
Jered Weaver, who starts Thursday's Game 1 from Angel Stadium at 6:07 p.m. PT on TBS, is 5-0 with a 0.87 ERA in six starts against the Royals since 2009.
But be wary of linking this Royals team to those of years past.
"I think they're very well-rounded," Angels catcher Hank Conger said. "They definitely hit the ball well, they have good pitching, they have a good mix of lefty-righty matchups. But I think we match up pretty well against them."
The Royals' biggest weakness comes from their offense, specifically their power. And that's just perfect for the Angels, who enter the ALDS with questions in their rotation because Matt Shoemaker is coming back from an oblique strain and C.J. Wilson and Hector Santiago are prone to being erratic.
Kansas City had the fourth-lowest slugging percentage in the AL and hit the fewest home runs in baseball this season.
Santiago, who could start Game 4, also sees a team that had the fewest strikeouts in the Majors.
"They're just scrappy guys," Santiago said. "They don't give away at-bats. For a little while, they're taking big swings, they're hacking, and then all of a sudden, they get into two-strike counts and they battle, put the ball in play, let the bat work for them. They put the ball in play, and it makes the defense work. It's a fun lineup to pitch against, because you know they're swinging."
Alden Gonzalez is a reporter for MLB.com. Read his blog, Gonzo and "The Show", and follow him on Twitter @Alden_Gonzalez. This story was not subject to the approval of Major League Baseball or its clubs.