Position-by-position breakdown: Royals-Angels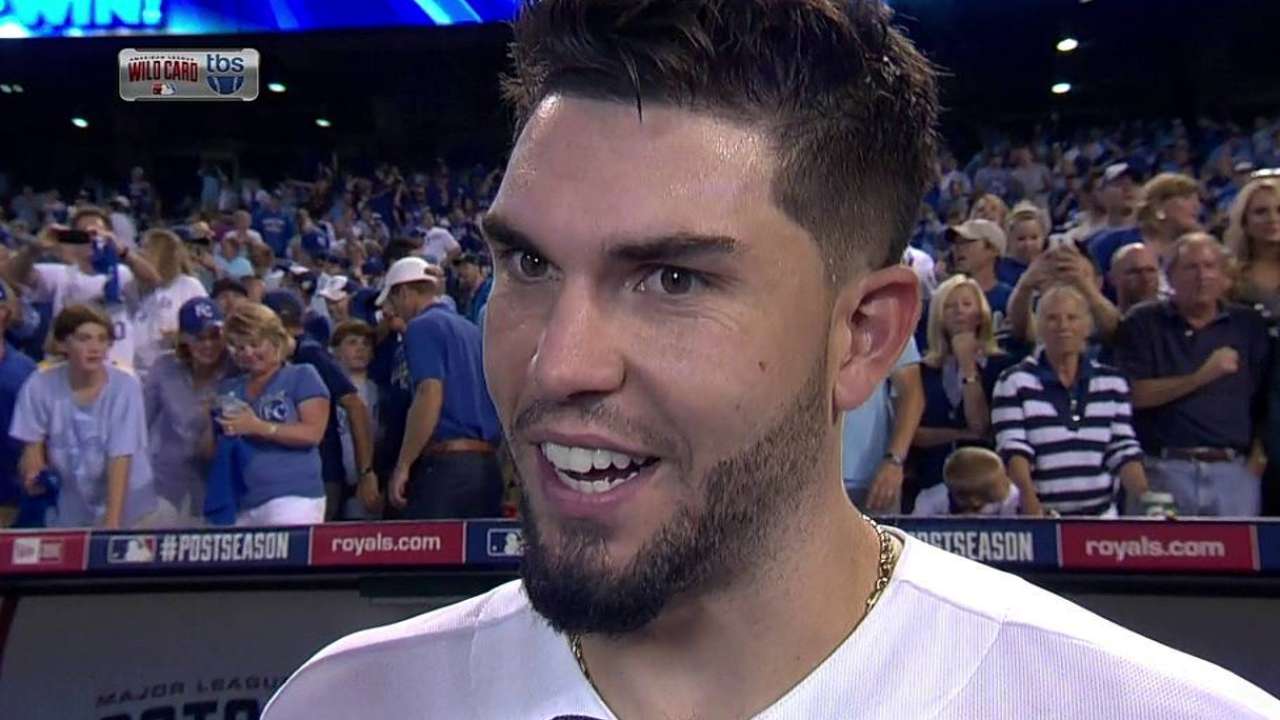 During the regular season, the Royals and Angels split their six meetings. Now, they've got up to five more games to settle the score.
After a thrilling victory in Tuesday night's American League Wild Card Game, Kansas City heads west to meet the top-seeded Angels in the AL Division Series -- the first ever playoff meeting between the two.
Game 1 is slated for Thursday night at 9:07 p.m. ET. Here's a breakdown of the matchup, position by position.
Catcher
Tuesday's hero, Salvador Perez, may get a little swing-happy at times, but there's still plenty of pop in his bat, and perhaps more importantly, he's one of the best defensive catchers in the AL. The Angels, meanwhile, have a reliable and experienced backstop in Chris Iannetta. In his ninth big league season, Iannetta reached base at a .373 clip this year -- the antithesis of Perez's swing-first, ask-questions-later approach. But with Perez's Gold Glove Award-winning defense, we'll give K.C. the slight edge. Advantage: Royals
First base
Among players with at least 75 postseason games, only Derek Jeter has a batting average above .300. Well, Albert Pujols' next playoff game will be his 75th, and he's about to shatter Jeter's mark. Simply put, there aren't many better postseason performers than Pujols, who has a .330/.439/.607 slash line in the playoffs. No, he isn't the player he once was, but Pujols still launched 28 homers and posted a .790 OPS this season. Eric Hosmer introduced himself to the big stage with a monster game Tuesday night. But, simply put, Pujols has owned the big stage for a long, long time. Advantage: Angels
Second base
It's not much of a contest at second base, where the Angels' Howie Kendrick has been a mainstay for nearly a decade. Kendrick had one of his best seasons this year, hitting .293 with a career-high 181 hits. But he'll be looking to avenge some personal postseason demons (.196 with just two extra-base hits in four career playoff series). The Royals start Omar Infante, who has seen playoff action the last two seasons with Detroit. He's a solid all-around player, but there really isn't a phase of the game in which he definitively trumps Kendrick. Advantage: Angels
Third base
For the first half of the season, David Freese looked like little more than a disappointing offseason acquisition for the Angels. When the former World Series MVP finally picked it up, the Halos finally started to run away with the division. Coincidence? Probably, but if the Angels can get the Freese who hit .267 and slugged .429 during the second half, this one's a no-brainer. Kansas City's Mike Moustakas brings some solid range to the table at third, but there's not much he has to offer at the plate, as evidenced by his .632 OPS this season. Advantage: Angels
Shortstop
One of the cooler sub-plots of this series is the underrated excellence of these two shortstops. Without question two of the best in the game, defensively, the Angels' Erick Aybar and the Royals' Alcides Escobar put together very solid (and very similar) numbers at the plate. Neither player walks all that much, but they both get on base enough to make a difference. And since Escobar was moved to the top of the batting order on Sept. 13, he's batting .375, including a hit in every game but two. Advantage: Even
Left field
When Josh Hamilton is healthy, there aren't many better options in left field. Problem is, Hamilton isn't healthy, and there's no telling what the Angels can expect from their beleaguered slugger. Alex Gordon, meanwhile, has been an absolute rock for the Royals. And even though he struggled a bit down the stretch, his defense remains Gold Glove-caliber. Don't be surprised if he wins his fourth straight defensive award. Advantage: Royals
Center field
Is there even a debate here? Meaning no slight to Lorenzo Cain (and Jarrod Dyson, too), Mike Trout owns this category -- both in this series and in the AL overall -- by a landslide. The 23-year-old superstar may be poised to win the first AL MVP Award of his young career. Trout led the league in total bases and WAR, and he'll be facing the Royals -- one of his favorite matchups. In 19 career games against Kansas City, Trout is hitting .361 with seven homers and a 1.154 OPS. Welcome to October, Mike. Advantage: Angels
Right field
Kole Calhoun's 2014 season has been a revelation, and he has filled an important void at the top of the Angels' lineup with his .776 OPS. Calhoun's 90 runs scored were ninth in the AL, and he showcased some serious pop with 17 homers and 31 doubles in his 127 games. There isn't much of a drop-off to Kansas City's Nori Aoki, who also plays an important role at or near the top of the Royals' order. But he can't impact a games with his power in quite the same way that Calhoun can. Advantage: Angels
Designated hitter
Royals mainstay Billy Butler is finally getting his first taste of the postseason, and he started things off with a 2-for-4, two-RBI night on Tuesday. Compared to his past few seasons, it's been a bit of a down year for Butler -- his nine homers and .271 average were both career lows for a full season. But the Angels will apply a revolving-door approach, and C.J. Cron (against lefties) and Brennan Boesch and Efren Navarro (against righties) haven't done nearly enough to top a proven hitter like Butler. Advantage: Royals
Bench
The Royals showed the speed on their bench in Tuesday's Wild Card Game, but that quickness may be quashed by roster limitations. In need of a full rotation for the ALDS, K.C. manager Ned Yost may not be able to keep all of that speed on his bench. The Angels, meanwhile, seem to have the pieces in place for their bench -- a capable backup catcher in Hank Conger, a utility man in Gordon Beckham, a multi-purpose outfielder who can reach base in Collin Cowgill and a power threat in Cron. Advantage: Angels
Rotation
Here's where the debate gets real fun. Keep in mind, Royals ace James Shields started Tuesday's Wild Card Game, meaning he'll only pitch once in the ALDS. Jered Weaver, meanwhile, will get the ball in Game 1 and then later in the series, should it extend that far. C.J. Wilson has the next-most postseason experience for the Angels, but he's traditionally a mixed bag. Undoubtedly, the Angels will miss Garrett Richards in a short series, and Matt Shoemaker's rib cage is still a question mark, even though he says he's good to go after throwing 40 pitches Tuesday. After Shields, the Royals' staff is probably a little better than the Angels' staff after Weaver. Danny Duffy put together one of the more underrated pitching seasons, and Jeremy Guthrie, Yordano Ventura and Jason Vargas have been mostly very reliable. It's an incredibly close call -- one that swings in the Angels' favor because Weaver gets the ball twice. Advantage: Angels
Bullpen
The Angels saw their bullpen as a weakness, so they went out and turned it into a strength. The Royals, meanwhile, saw their bullpen as a strength, and they turned it into one of the most dominant 'pens in baseball. There may not be a better 7-8-9 punch than Kansas City's Kelvin Herrera-Wade Davis-Greg Holland. By trading for Huston Street midseason, the Angels seemed to have their entire pitching staff fall into place behind him. Kevin Jepsen and Joe Smith have been brilliant. But Kansas City's late-innings track record is other-worldly. Advantage: Royals
Closer
You can't go wrong with either Street or Holland. In fact, the case can be made that they were the two best closers in baseball this season. Among pitchers with at least 20 games finished, they ranked 1-2 in ERA. One caveat, however: Holland struggled in his first taste of playoff baseball on Tuesday, walking three (one intentional) in a nervous ninth inning. Street has also struggled in his three postseason series, allowing nine earned runs in nine innings. Sure, those came a long time ago, but for some pitchers, the postseason can be an entirely different animal. Advantage: Even
AJ Cassavell is a reporter for MLB.com. Follow him on Twitter @ajcassavell. This story was not subject to the approval of Major League Baseball or its clubs.