Athletics' season ends in Wild Card heartbreak
Moss homers twice to build four-run lead, but Royals win in 12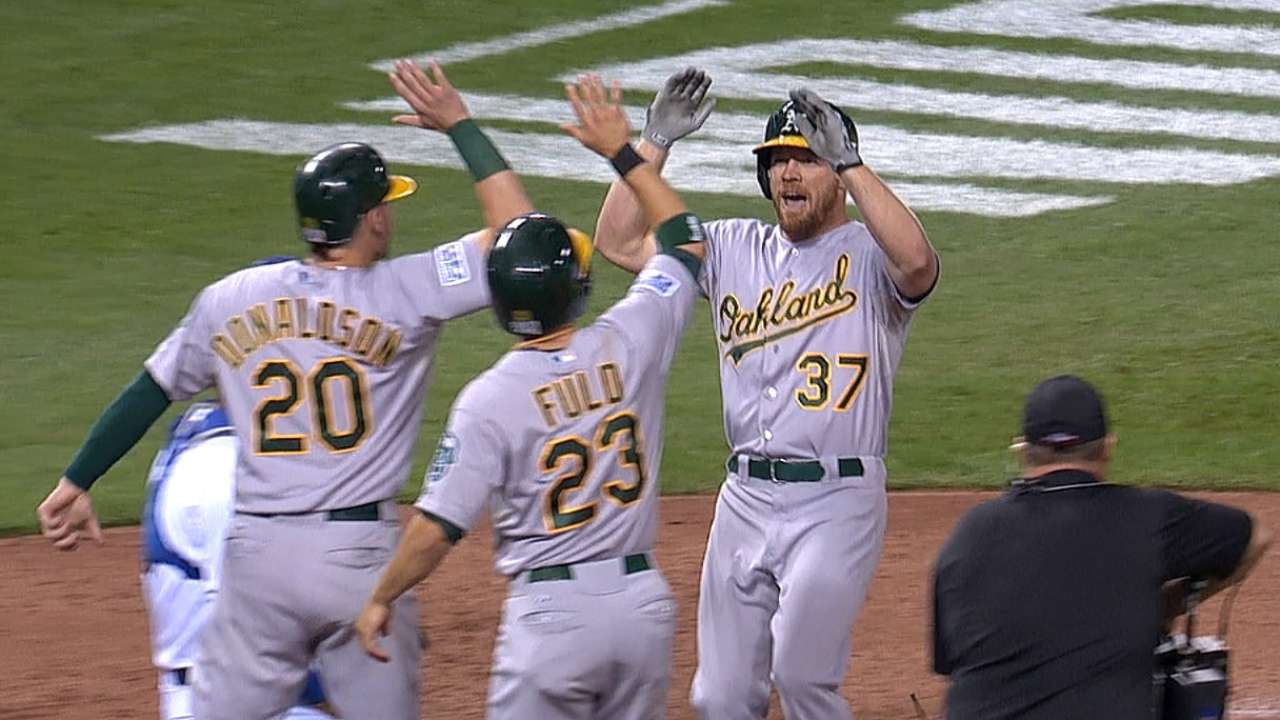 KANSAS CITY -- Nearly five hours of grueling, gritty, great baseball was played at Kauffman Stadium on Tuesday night, the type of postseason game that will be talked for a long time. The A's, though, losers of a 9-8 thriller to the Royals in the American League Wild Card Game, will feel it for a long time, that familiar heartache that has attached itself to every one of their playoff series under general manager Billy Beane.
Oakland has reached the postseason eight times since the start of 2000, advancing as far as the AL Championship Series just once, and never beyond it. Another AL Division Series was at least in sight, following a five-run sixth inning that erased a 3-2 deficit, but the Royals, playing in the postseason for the first time in nearly 30 years, fought back to the soundtrack of a deafening crowd to tie the game and, ultimately, win it in the bottom of the 12th.
A pair of homers and five RBIs from Brandon Moss went to waste, as did a season that began with so much promise and ended so miserably. Tuesday's affair was simply a short version of this, even with Jon Lester on the mound.
Beane reeled in Lester from the Red Sox at the Trade Deadline, albeit at the cost of Yoenis Cespedes, for exactly such a game. But the lefty far from resembled his sharp self at the beginning or end of his 7 1/3-inning outing, coughing up six runs total, after allowing no more than three since June 7.
By the time closer Sean Doolittle entered the ninth, the A's were clinging to a one-run lead, erased on Nori Aoki's sacrifice fly.
"We got off to a fast start. We were able to get a significant lead and unfortunately down the stretch we weren't able to nail it down," said Doolittle. "It's kind of the way the season went as a whole."
The A's were prematurely heralded winners of the AL West in the first half, entering the All-Star break with baseball's best record before plummeting down the standings and falling into the AL Wild Card Game with a win on the final day of the regular season, a champagne-soaked celebration that's now a distant memory. For it's the Royals, the first team to come back from at least four runs down in the eighth inning or later in an elimination playoff game, who now head to Anaheim for a best-of-five ALDS with the Angels.
"Initial thoughts are: The season's a failure," said Dan Otero. "We didn't get to our ultimate goal. We had this game right where we wanted it, didn't get the job done."
The 12th inning began with Otero on the mound, after an unlikely hero, Alberto Callaspo had provided a go-ahead RBI hit in the top of the frame. Eric Hosmer tripled, with Jonny Gomes and Sam Fuld nearly colliding at the wall, and he scored on Christian Colon's high chopper toward third base with the infield in. Colon stole second, the Royals' seventh stolen base of the game, and scored on Salvador Perez's game-winning liner down the third-base line off Jason Hammel.
Mayhem ensued on the field. Silence filled the A's clubhouse, as it did at the conclusion of ALDS Game 5 losses to Justin Verlander and the Tigers the previous two years.
"This is way worse. It hurts way more," said Doolittle. "Knowing that it's a must-win game, and in the position that we had them in, not being able to get it done, it's way worse than the last two years.
"It's tough to put into words right now. It was an absolute battle all night long. It's tough, but a team like that, playing at home with this crowd they had here tonight, in a way, you expected them to come back and make a push."
"That's the best game I've ever been a part of," said Jed Lowrie. "I've never seen two teams want that game more and leave it all out there. It's too bad someone had to lose."
The fact that the A's did despite handing Lester a four-run lead made it that more perplexing.
"For a lineup that didn't produce most of the second half, you score eight runs, you feel like you're going to win this ballgame," said Josh Reddick. "You have one of the best guys in baseball on the mound for you, score seven in the first five, you know you're winning that game. This game is unpredictable."
Consider this: Moss had just two home runs in 154 regular-season at-bats since July 24 and only five RBIs in September. Now, he's the first Oakland batter in history to notch at least two homers and five RBIs in a postseason game.
Then there's Lester, who had not allowed more than three earned runs in a postseason game since Oct. 8, 2009. Having carried his new team on his shoulders so many times in that trying second half, it was their turn to pick him up.
That they did, though the end didn't go according to plan. Then again, nothing did for the A's this year.
"It's a weird game," said Lester, now a free agent. "You don't see games like that in the playoffs very often. Unfortunately, we're on the bad end of it. That's a tough one to end on."
Jane Lee is a reporter for MLB.com. Read her blog, Major Lee-ague, and follow her on Twitter @JaneMLB. This story was not subject to the approval of Major League Baseball or its clubs.