Shoemaker has 'no doubt' he'll be available to start
Feeling good after bullpen session, Angels righty may get Game 2 nod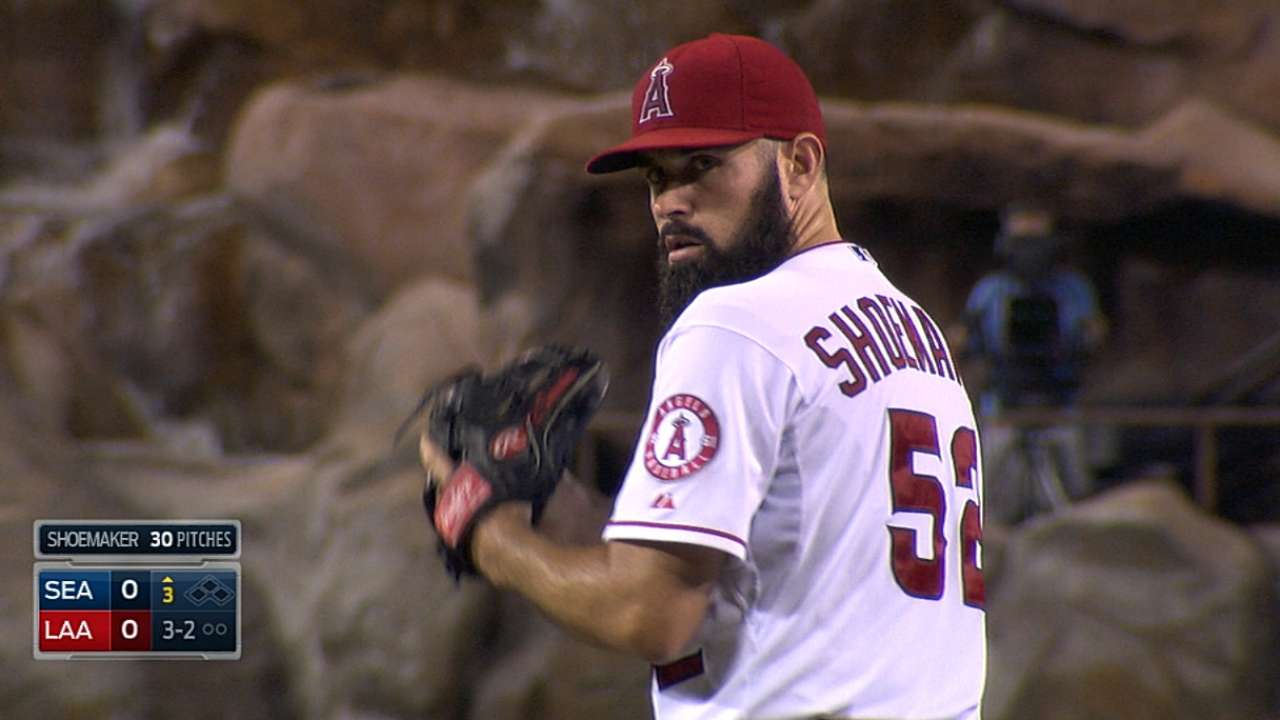 ANAHEIM -- Right-hander Matt Shoemaker said after Tuesday's bullpen session that he has "no doubt" he'll be available to start for the Angels in the American League Division Series -- and don't rule him out for Game 2, either.
Starting Game 2, after ace Jered Weaver, would allow Shoemaker to also pitch in a potential Game 5 and would mean C.J. Wilson starts only once, after his worst regular season as a starter. Shoemaker threw his second bullpen session in three days during the team's first mandatory workout from Angel Stadium, and he came out of it with no pain in the left oblique that has put him on a rehab program for the last two weeks.
"Everything felt great," Shoemaker said. "I'd say great, but it felt normal, which is great."
Shoemaker threw an estimated 40 pitches, with a break in the middle to simulate the time between innings in a game, and didn't feel the slight tightness that was still present when he got off the mound at Safeco Field on Sunday.
"A few days ago, it was a little tight," Shoemaker said. "Now, I don't feel it at all."
The 27-year-old rookie is coming off a breakout season that saw him go 16-4 with a 3.04 ERA and a 5.17 strikeout-to-walk ratio. Manager Mike Scioscia won't reveal his rotation after Weaver until Wednesday, and he has Wilson lined up to pitch Game 2 on five days' rest.
But Shoemaker would be their ideal choice if he's ready. And the fact he only missed two turns through the rotation means he may still have his normal length.
"I haven't thrown 100 pitches yet, but I definitely feel I'm capable, for sure," Shoemaker said. "Just the way my arm feels, my body feels, definitely feels doable."
The Angels, it seems, dodged a bullet with Shoemaker. His left side grabbed on him in the eighth inning of yet another brilliant start against the Mariners on Sept. 15, the day the Angels became the first team to clinch a spot in the postseason, and Scioscia feared the worst. But a next-day MRI revealed what Shoemaker said was a "very mild" strain, and he's been making steady progress since.
"It's definitely a pleasant surprise," Shoemaker said. "But also, going in when it happened, the very positive thing, that was a blessing, was that it was just mild. It wasn't anything more than that. Given its mild state, we were able to heal and knock it off really quick, which I'm definitely really happy with."
Alden Gonzalez is a reporter for MLB.com. Read his blog, Gonzo and "The Show", and follow him on Twitter @Alden_Gonzalez. This story was not subject to the approval of Major League Baseball or its clubs.