Dodgers trim roster as NLDS approaches
Five players cut; LA yet to decide whether to carry 11 or 12 pitchers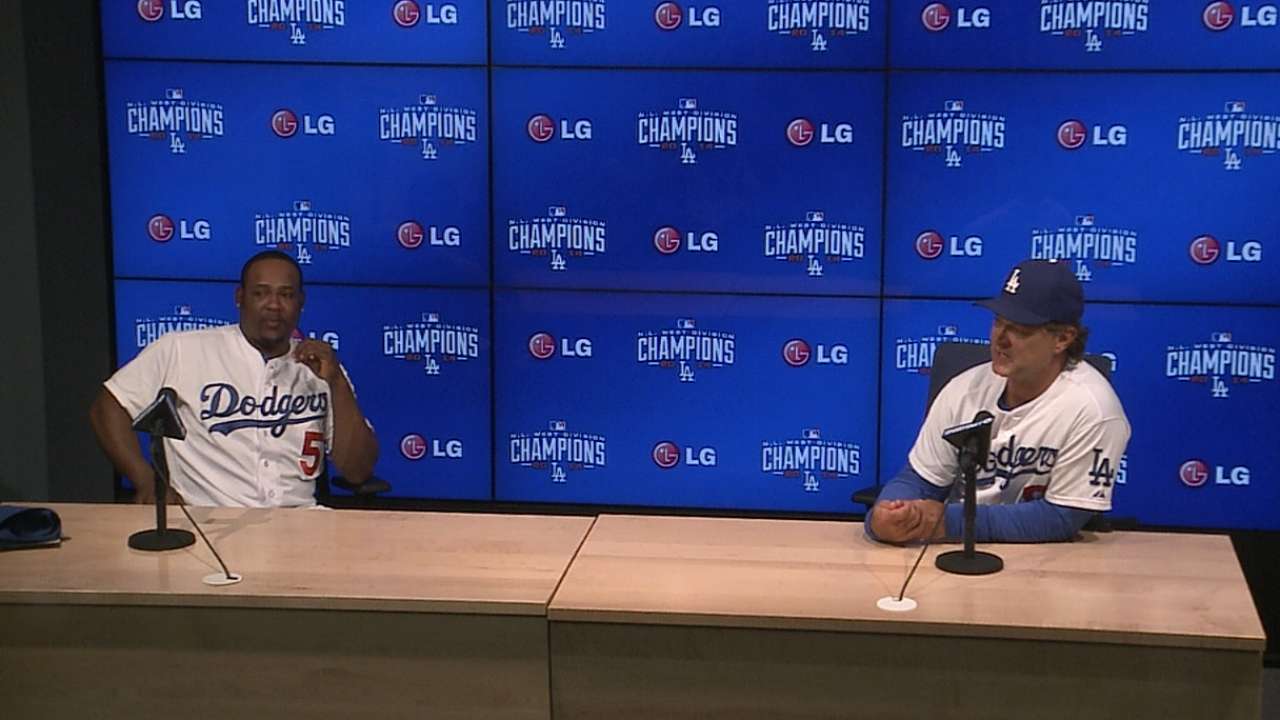 LOS ANGELES -- Infielders Alex Guerrero and Erisbel Arruebarrena, pitchers Yimi Garcia and Daniel Coulombe and outfielder Roger Bernadina were trimmed from the Dodgers' squad as the club whittles its roster leading up to Friday's Game 1 of the National League Division Series vs. the Cardinals at Dodger Stadium (3:30 p.m. PT on FS1).
Those five players were told after Sunday's regular-season finale that they wouldn't be on the NLDS roster, and their departures were confirmed Tuesday by manager Don Mattingly. All but Bernadina are expected to report to the club's Spring Training complex in Arizona to continue working out in case they are needed because of an injury or for a later round of the postseason. Bernadina was allowed to go home.
After Tuesday's workout, pitchers Chris Perez and Roberto Hernandez were called into meetings by pitching coach Rick Honeycutt, but Hernandez would not comment on the reason for the meeting, and there was no announcement from the club of any further moves.
The team will hold a Wednesday workout at Dodger Stadium that will be closed to the media and will include a simulated game to test pitcher Hyun-Jin Ryu's left shoulder. Ryu's health will influence the final pitching decisions.
While most of the Dodgers' roster is predictable, there appears to be three spots available with six players under consideration -- pitchers Jamey Wright, Scott Elbert, Paco Rodriguez and Carlos Frias; infielder Darwin Barney and outfielder Joc Pederson.
Mattingly said the club hasn't yet decided whether to go with 11 or 12 pitchers or how many left-handers would join J.P. Howell in the bullpen.
The 25-man roster is due Friday morning.
Ken Gurnick is a reporter for MLB.com. This story was not subject to the approval of Major League Baseball or its clubs.