Giants relying on power, balance combination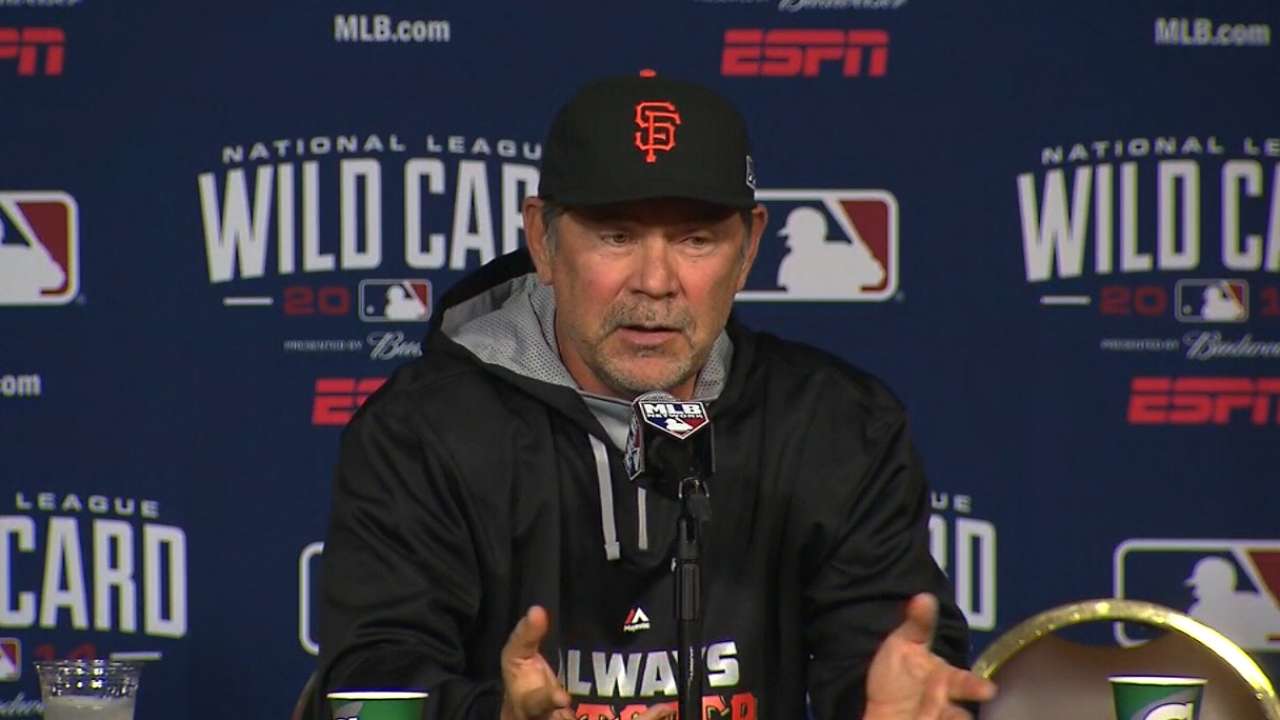 PITTSBURGH -- Ideally, the Giants' lineup for Wednesday's National League Wild Card Game (5 p.m. PT on ESPN) against the Pirates would feature center fielder Angel Pagan leading off and left fielder Michael Morse batting somewhere in the middle of the order.
But Pagan's back surgery has sidelined him, while Morse can't shake the effects of an injured left oblique. So if the Giants are to prolong their bid to win another World Series in another even-numbered year, they'll have to survive with a lineup that includes Gregor Blanco and Travis Ishikawa, both of whom have been regarded as platoon players for most of their careers.
This doesn't faze the Giants, who displayed a knack for two-out scoring through much of the season, due to their somewhat revived power -- their 132 homers represented their highest total since 2010's total of 162 -- and improved balance in the lineup.
Manager Bruce Bochy didn't officially announce Wednesday's lineup, but it'll likely resemble this:
1. Blanco, CF
2. Joe Panik, 2B
3. Buster Posey, C
4. Pablo Sandoval, 3B
5. Hunter Pence, RF
6. Brandon Belt, 1B
7. Brandon Crawford, SS
8. Ishikawa, LF
9. Madison Bumgarner, P
Blanco's batting only .213 (30-for-141) from the leadoff spot. Some might think that Pence (.267, 35-for-131) might be a better choice for the top of the order, but that would leave a void in the middle. Panik, the rookie who performs with a 10-year veteran's poise, looked more and more like a prototypical No. 2 hitter as the season progressed, capable of executing the hit-and-run and making consistent contact.
Sandoval finished the season as a cleanup hitter in name only. He collected just two extra-base hits in his last 20 games. Pence ended the season in a 1-for-28 funk. If neither of these guys hits proficiently against the Pirates, the Giants could be in for a rough night.
Belt might hit a couple of home runs or strike out a couple of times. Having appeared in only 61 games while sidelined mostly by concussion symptoms, he's still trying to regain consistency. Crawford hit a robust .365 in September, finished with a career-high 10 homers and finished third among NL shortstops with 69 RBIs.
Bumgarner is virtually as effective as a designated hitter. A near lock to win the NL Silver Slugger Award as the best hitter at his position, he batted .258 with four home runs and 15 RBIs this season.
Chris Haft is a reporter for MLB.com. Read his blog, Haft-Baked Ideas, and follow him on Twitter at @sfgiantsbeat. This story was not subject to the approval of Major League Baseball or its clubs.