Driving force: McCutchen leads with grit, selflessness
Pirates star inspires team by quietly playing through pain of fractured rib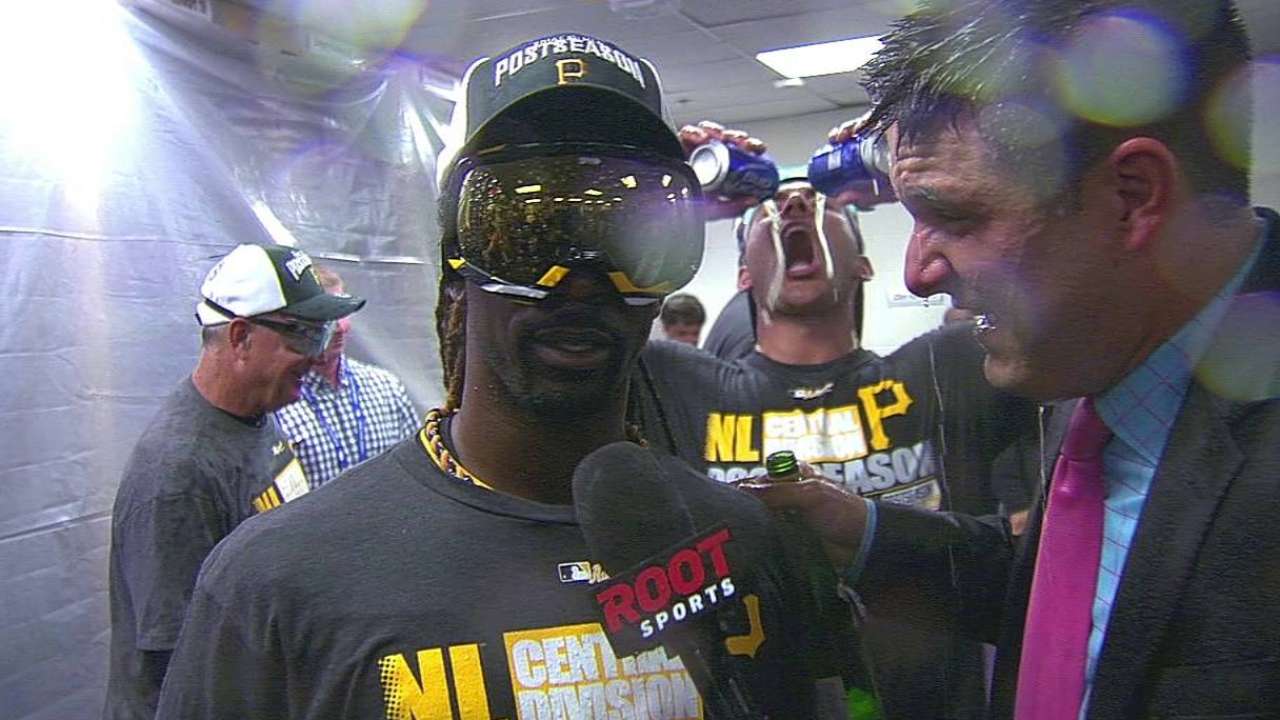 PITTSBURGH -- "Another day, another guy." That could be the subhead to another headline Pirates season. It is definitely how the Bucs see themselves, individuals blended into a team.
In support of that image, no one player is deemed more vital than another. That might play around the apocryphal campfire, but don't you believe it. Andrew McCutchen is still the engine under this hood.
It is not just the performance, substantial as it is. It goes beyond the clutch swings, the thefts of bases and hits, the patience and trust to take being pitched around and leave it up to the next guy.
It's the quiet, selfless, pain-tolerant way McCutchen leads, making it impossible for others not to follow.
McCutchen suffered a rib fracture on Aug. 3. A fractured rib. It was carefully described as an avulsion rib fracture, downgrading it to merely a fragment breaking off. Regardless, a baseball player, for whom torque affects everything, had a fractured rib.
McCutchen was off the disabled list and back on the field in the minimum 15 days.
"We know how tough a guy Andrew is," Neil Walker said during Tuesday's workout at PNC Park before Wednesday's National League Wild Card Game against the Giants (8 p.m. ET on ESPN). "The fact it was his first time on the DL tells you he plays through a lot of stuff, a lot of situations maybe other guys couldn't."
Tough? His first week back, McCutchen had to leave three games early when otherwise normal movements -- a swing, a leap in the outfield, a burst on the bases -- aggravated the injury.
But the Pirates were at the end of a seven-game losing streak -- until then, their longest skid had been four games, once -- so McCutchen returned ASAP, saying whenever asked, "I'm good enough to play."
"It took some time," McCutchen said Tuesday, "but now, I feel really good, right where I need to be. There's no issues, nothing hindering me from doing what I want to do. So I feel really good."
When McCutchen first merged back into the lineup, there were "quite a few things, physically" still bothering him, he now admitted.
"Just getting back in the swing of things, to get myself prepared, getting back to that baseball speed ... that took some time," McCutchen said.
"It was good to see him back in two weeks," Josh Harrison said. "With an injury like that, you never know how long it could've kept him out. We were excited when he returned, but it meant more to him. We wanted him to take his time, to be healthy enough to play at the level he needed."
How about, a higher level?
Up until his injury, McCutchen was batting .311 with an OPS of .947. From his return to the wire, he batted .324 with an OPS of .968. We repeat: With a healing rib fracture.
Putting it all together, McCutchen led the NL with an OPS of .952 and an on-base percentage of .410, while tying for the lead with 69 extra-base hits and finishing third in the batting race at .314.
This was the third straight season McCutchen reached those .300/.400/.900 split levels. A year ago, he had become the fourth center fielder to put such seasons back to back, following Mickey Mantle, Willie Mays and Ken Griffey Jr. Now he has threepeated -- the only center fielder other than Mantle (1954-58) to pull that off.
Name-dropping Mantle and Mays is very appropriate in this context, given Pirates manager Clint Hurdle's recollection of his first sighting of McCutchen.
It was during the summer of 2010, when Hurdle was serving as the hitting coach of the Texas Rangers as the Bucs and their 23-year-old outfielder went to Arlington for a late-June Interleague series.
"The thing that jumped out," Hurdle recalled, "is he went gap to gap a half-dozen times, running down stuff that we hit like nobody we had seen the entire season. The closest thing to him was our guy at the time, [Josh] Hamilton, and when Hamilton went on a streak, you thought you were watching Mickey Mantle.
"I'm watching McCutchen thinking, 'Dude, if that's Mantle, this might be Mays.'"
You bet Hurdle kept that impression in mind when months later he interviewed for the Pirates' managerial opening. That was one reason he sought the job: He knew he had a cornerstone in place.
"Yes, yes. He's special, that was my takeaway," Hurdle said. "And he's grown every year. When he talks, he's E.F. Hutton: People listen. 'Cornerstone' would be a good word."
On Tuesday, McCutchen talked softly. He hoped his brothers in the clubhouse were listening, because waves of media were asking them about the unbearable pressure of win-it-all games like the Wild Card Game.
Stepping in front of the media horde congregated by his locker, McCutchen asked, "Why so many people here? It's just another day at the ballpark."
"That's how I play every day," McCutchen later said. "To win. That's how we should take it. Just another game we're out there trying to win."
Tom Singer is a reporter for MLB.com and writes an MLBlog Change for a Nickel. He can also be found on Twitter @Tom_Singer. This story was not subject to the approval of Major League Baseball or its clubs.