Phils need increased production from every spot in '15
Utley, Howard disappointed at the plate this year; outfield also fell short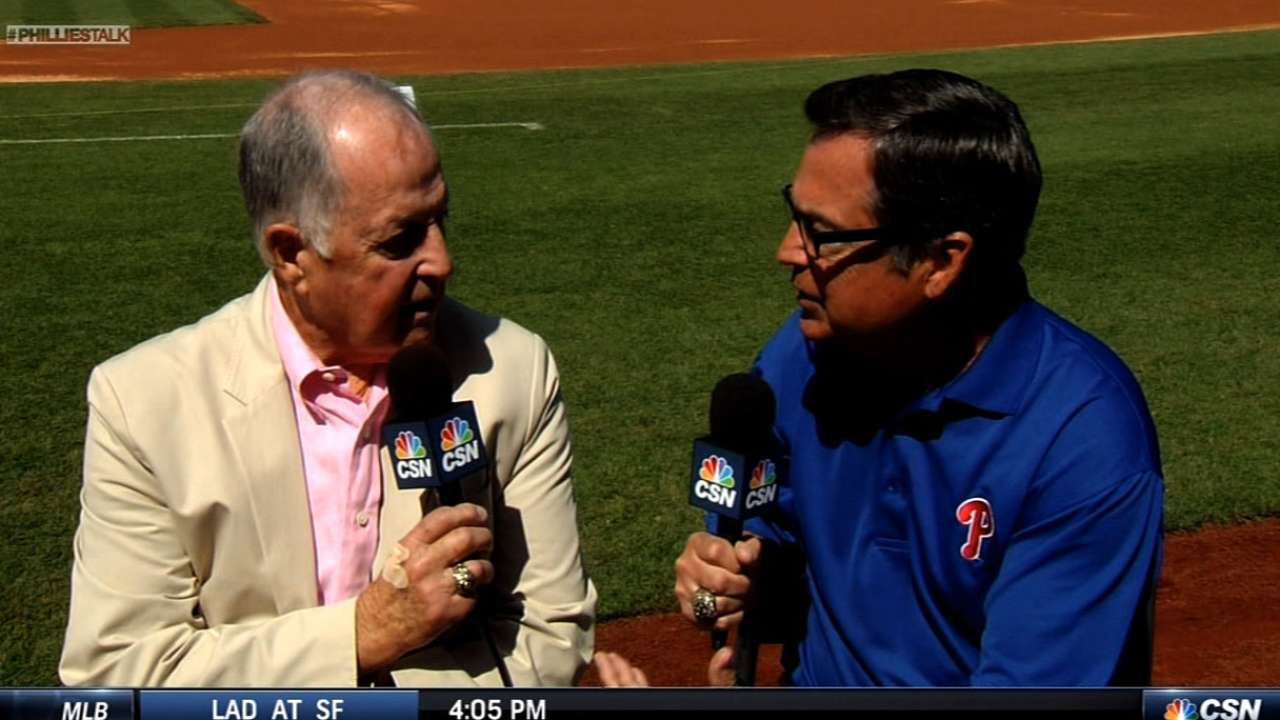 PHILADELPHIA -- Pat Gillick made a couple of interesting comments in early September, when he discussed the future of the Phillies.
First, he said because there are few dominant teams in the National League, a smart tweak or two could push the Phillies back into postseason contention. Second, he said, "I'm not saying we'll get better completely overnight. I think it's going to take a little while."
Contradictory?
Yes, but it also made sense. He acknowledged the fact that the Phillies might be a few solid moves away from turning around their fortunes, but also recognized that those moves are going to be incredibly difficult to make. Sure, if the Phillies can find a couple of legitimate middle-of-the-lineup hitters and a solid starter, maybe they could creep back into NL Wild Card contention in 2015. But good luck finding legitimate run producers plus a solid starter in the same offseason.
Those players are hard to find, although the Phillies are expected to make a run at one in Cuban outfielder Yasmany Tomas.
Regardless, this winter should be fascinating. It seems like anything and everything will be on the table. Will the Phillies listen to offers for Cole Hamels? Absolutely. They also will continue to try to trade Ryan Howard, Jonathan Papelbon and Marlon Byrd. And, yes, they will be open to dealing Chase Utley and Jimmy Rollins.
Of course, listening and talking is much different than accomplishing. But Gillick and Phillies general manager Ruben Amaro Jr. seem to have moved past the belief that putting complementary players around Rollins, Utley, Howard and Hamels is enough to win.
The Phillies need more. Here is where the Phillies stand entering the offseason:
Arbitration eligible: INF Andres Blanco, OF Domonic Brown, LHP Antonio Bastardo, LHP Cesar Jimenez, OF Tony Gwynn Jr. and OF Ben Revere.
Free agents: RHP Mike Adams, RHP A.J. Burnett, RHP Kyle Kendrick, C Wil Nieves
Rotation: Cliff Lee made just 13 starts because of an injured left elbow, but the Phillies believe he will be ready to pitch come Spring Training. If that is true, the Phillies have three starters locked into next season's rotation: Hamels, Lee and David Buchanan. The club re-signed Jerome Williams to a one-year deal. It is difficult to see Kendrick returning, although the Phillies do not have anybody in the farm system knocking on the door. But one thing is certain: They need the rotation to be better than it has been in the past couple seasons.
Bullpen: Will the Phillies finally trade Papelbon? The same difficulties remain. First, he makes $13 million next season with a $13 million club option for 2016 that automatically vests based on games finished. Second, Papelbon's seven-game suspension for grabbing his groin on the field and critical comments he has made about the organization in recent years will not endear him to owners and general managers around the league. If Papelbon is traded, Ken Giles will be the closer. If not, Papelbon remains in that role. Giles, Jake Diekman, Justin De Fratus, Mario Hollands and possibly others like Miguel Alfredo Gonzalez should be in the bullpen next year. (It would not be a surprise to see Bastardo traded.) Regardless, the bullpen should be strong, so this is probably the one area in which the Phillies will not need to invest substantial time or money.
Catcher: Carlos Ruiz bounced back a bit from a forgettable 2013, but his numbers are still down from his career averages. He played with a sore shoulder for much of the season, which could be a factor. But Ruiz's health is a concern. He also has two years and $17.5 million remaining on his contract, and nobody in the farm system is ready to take over. Nieves had a nice season as a backup. He could return, considering Cameron Rupp hit just .165 in 219 plate appearances in Triple-A.
First base: The Phillies are going to try to trade Howard to an American League team in the offseason. But it is going to be difficult, considering he has two years and $60 million remaining on his deal and a complete no-trade clause. The Phillies know they will have to absorb most of the contract to get an AL team to even listen. That is because Howard had some of the worst production of any everyday cleanup hitter in baseball history. But if the Phillies can move Howard (or if they release him), first base could become a combination of Maikel Franco, Darin Ruf and Utley. That at least would provide the Phillies with more flexibility.
Second base: It looked like Utley turned back the clock the first two months of the season, but then his production plummeted the final four months. Is it a matter of wear and tear and his chronically injured knees? It could be. If so, the Phillies will need to make a real effort to spell Utley more regularly next season. Phillies managers have always talked about resting Utley, but they have never followed through. It might be time. Would it be better to play Utley 150 games a season with a .750 OPS, or 140 games with an .830 OPS?
Third base: The Phillies like Cody Asche, who they believe can get better offensively. But they can platoon Asche and Franco at third, with Asche possibly getting some time in left field or at even second base.
Shortstop: Rollins takes some criticism from Phillies fans, but he remains one of the top shortstops in baseball. He finished among the top third among qualifying shortstops in OPS. He also remains a top defender. The Phillies could try to trade Rollins in the offseason, but why would they? Freddy Galvis has shown he can be brilliant defensively, but if the Phillies want to improve the offense, Galvis is not the way to go right now.
Outfield: With Grady Sizemore back on a one-year deal, one wonders how many other Phillies outfielders will next year. Byrd could be traded. Revere had a solid second half, but he still remains a below-.700 OPS hitter with a weak arm. There are indications the Phillies would like to upgrade in center field, if possible. Brown took a big step back. It isn't a stretch to think two or more of those players will be elsewhere next season, which makes sense. Other than Byrd, the Phillies had some of the worst outfield production in baseball this season. They need to do better.
Todd Zolecki is a reporter for MLB.com. This story was not subject to the approval of Major League Baseball or its clubs.