Reds have crucial offseason decisions to make
Bullpen, offense need to be addressed as sluggers look to get healthy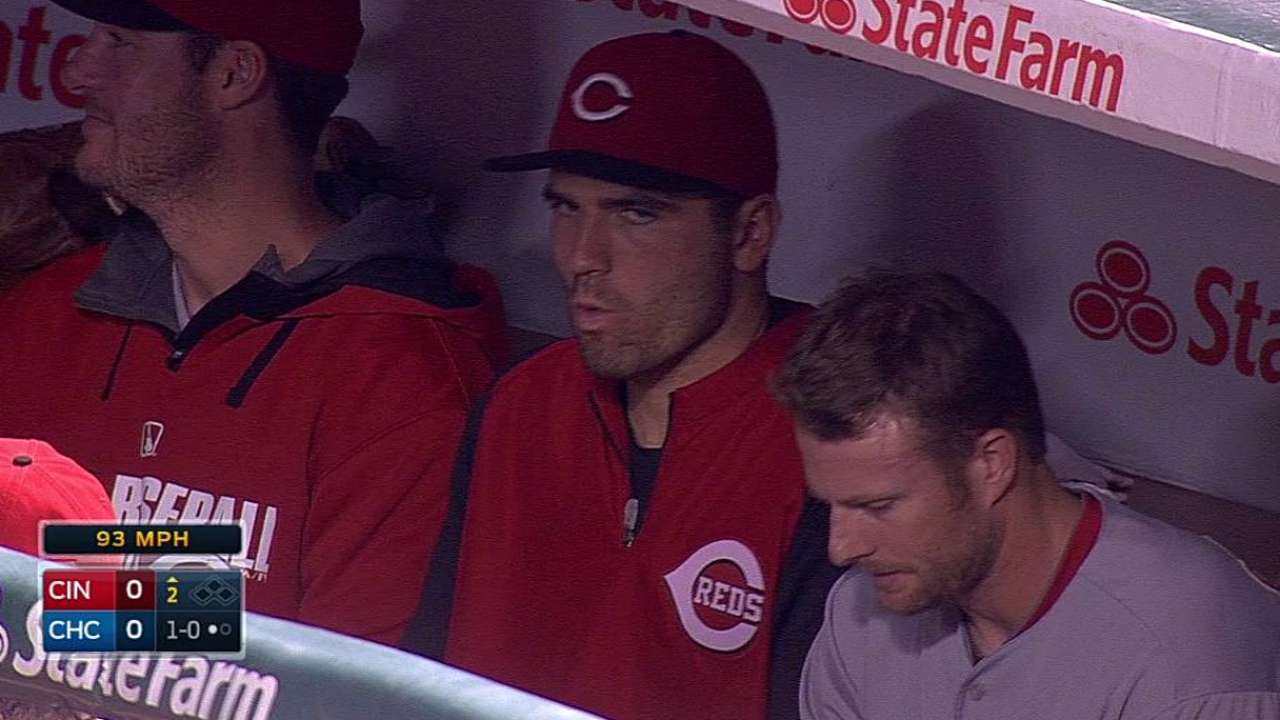 CINCINNATI -- Now that a disappointing 2014 Reds season is in the books, one of the more interesting offseasons in years looms ahead. What brings intrigue is that the club could pivot in a couple of different directions.
Cincinnati could do a major retool and reload by trading some of its more coveted players (starting pitching) and longtime fixtures to fill needs in other areas (offense). Or, it could make small modifications and keep the roster largely intact for another push to go for it with its core players feeling 100 percent again.
"We're going to have to take a hard look at our roster, obviously. That goes without saying any time you struggle," Reds manager Bryan Price said. "Secondarily, we have to look at what our team would have looked like if we got healthy performances."
But lacking healthy personnel didn't account for all of the struggles.
"We've had some years from some players that have been disappointing from a performance standpoint," Price said.
Still, a complete teardown and rebuild would seem less likely considering the competitiveness of president/CEO Bob Castellini, and that the All-Star Game will be at Great American Ball Park in 2015. Plus, if the Reds were going to blow it all up and start over, they should have done that at the Trade Deadline.
One thing that is known -- the Reds are facing some tough decisions and little wiggle room with the payroll that could again top $100 million.
There are nine players under contract for next season owed roughly $71 million, and that does not include the $10 million club option for ace Johnny Cueto which was recently picked up. Four starting pitchers, including Cueto, are one year away from becoming free agents. If none of the pitchers are dealt and they all stay healthy, the Reds would again have a strong rotation to take into the 2015. Aroldis Chapman is coming off a superb season as the closer.
From the lineup, Joey Votto and Jay Bruce bring 30-home run power if they can show they are fully healthy again. Devin Mesoraco and Todd Frazier have shown during breakout seasons they are both capable of hitting 30 homers. Billy Hamilton has demonstrated promise from the leadoff spot, but he still has room for growth. On the other hand, more offense is needed from a team that flatlined at the plate in the second half.
The question the Reds' top officials will be asking themselves this winter: Do they have enough in place to challenge the Cardinals, Pirates, Brewers and perhaps the up-and-coming Cubs in the National League Central? Their answer to that question will come in the moves that are made -- or not made.
Here is a look at where the Reds' roster stands as the club heads off to the off-season:
Free agents: INF Jack Hannahan ($4 million club option for 2015 with a $2 million buyout); OF Ryan Ludwick ($9 million mutual option for 2015 with a $4.5 million buyout); Ramon Santiago
Arbitration-eligible: LHP Chapman (second year); SS Zack Cozart (first year); 3B Frazier (first year); OF Chris Heisey (third year); RHP Mat Latos (third year); RHP Mike Leake (third year); C Mesoraco (first year); RHP Logan Ondrusek (second year); RHP Alfredo Simon (third year)
Rotation: Starting pitching is the club's best asset, and it could also be where it has the most coveted trade chips. Four of this season's five starters -- Cueto, Latos, Leake and Simon -- are a year away from becoming free agents after 2015. Cueto has a relative bargain $10 million club option that will surely be exercised, but he could also bring a strong return. The other three pitchers are all third-year arbitration-eligible.
The Reds could sign Cueto or Latos to long-term deals, but probably not both after Homer Bailey signed for six years and $105 million in February. Bailey will be coming back from flexor mass tendon surgery in his right forearm. Lurking behind the main five is a curious name in Cuban defector Raisel Iglesias, who is on the 40-man roster and is being groomed as a starter. Prospects Robert Stephenson and Michael Lorenzen are probably another year away from being ready.
Bullpen: One of areas most in need of a makeover, the Reds had trouble bridging the gap from the starter to the back end of the bullpen and Chapman. No relievers struggled more than J.J. Hoover and Ondrusek -- both were frequently beat up with hits and homers, while also struggling with location. Lefty Sean Marshall, who is owed $6.5 million next season, has pitched sparingly the last two seasons because of shoulder issues. There was a bright spot in 30-year-old rookie Jumbo Diaz, and Pedro Villarreal impressed the club in September. Chapman, who recovered quickly from a line drive to the face in Spring Training, remains one of the league's most dominant closers.
Catcher: Mesoraco showed he was ready to be the everyday catcher, and he became a first-time All-Star with a strong offensive performance and improved defense. With more experience, he could become an elite catcher. Brayan Pena was a strong backup and worked well with Cueto on a near-regular basis. Prospect Tucker Barnhart got some big league exposure and is available for added depth when needed.
First base: The question isn't whether the position belongs to Votto, because that will be a stone-cold lock for the next decade. It's whether he'll be healthy and able to return to the form that made him one of the game's most successful hitters in 2010-11. The distal strain of his left quadriceps robbed Votto of leg strength, which he will need to get his power back and the ability to drive the baseball.
Second base: With three years and $39 million remaining on his contract and 10-and-5 rights that give him no-trade protection, Brandon Phillips isn't expected to be going anywhere after being the No. 1 trade rumor on the club last winter. Many of Phillips' offensive numbers have been in decline the past two seasons, and a torn left thumb ligament and a rush back from surgery did not help him in 2014.
Shortstop: Cozart played the best season of his career, defensively, and easily had his worst year offensively. Cozart could be a future Gold Glove Award winner, but his lack of hitting can only work in a lineup that is firing on all cylinders. When the offense is lacking like it really did this season, his struggles stood out more.
Third base: While earning his first All-Star nod, Frazier became a 20-20 guy in homers and steals, while stepping up in the void while the team's key hitters either struggled or were hurt. Frazier also played strong defense at third base and should be a fixture for the immediate future.
Outfield: There is no doubt that Bruce will be hungry for redemption following the worst year of his career at the plate. With a chance to fully rehabilitate the left knee that underwent surgery in May, he should be 100 percent. Hamilton should be able to build from the rookie experience he gained, and he needs to improve at getting on base any way he can. Ludwick isn't expected to be back, and Heisey did not thrive when again given the chance to take an everyday job. Skip Schumaker will be returning from left shoulder surgery. The bottom line is that left field is wide open and a place where Cincinnati can address its offensive shortcomings either via a trade (more likely) or free agency (less likely).
Mark Sheldon is a reporter for MLB.com. Read his blog, Mark My Word, and follow him on Twitter @m_sheldon. This story was not subject to the approval of Major League Baseball or its clubs.