Continuity key as Marlins continue to rebuild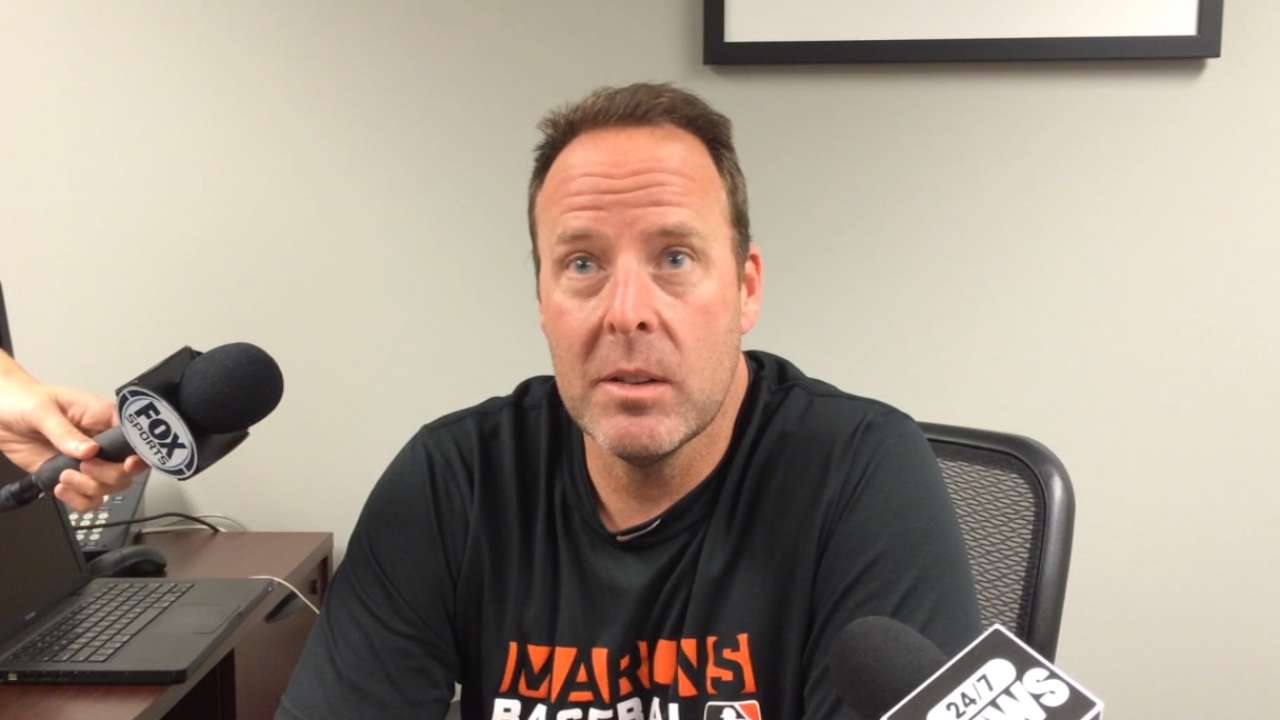 MIAMI -- Extending manager Mike Redmond's contract through 2017 was a big step toward establishing organizational stability. Not that the Marlins were considering a change, but without a new deal, the issue would have lingered into next season.
The Marlins made a 15-win jump in 2014, and after finishing 77-85, they are trending in the right direction. The last thing they wanted was to create doubt about the future of their manager, initially signed through 2015. With Redmond locked up, the front office can now focus on maintaining continuity in other areas.
Before turning their attention to rounding out the roster, the Marlins realized the importance of rewarding Redmond, who is molding a young squad into contenders.
"Mike Redmond was an overachiever as a player, and brought that workmanlike, grinder attitude to the field as a player," president of baseball operations Michael Hill said. "Those were the same qualities that made him attractive to us as a manager. I think those qualities have rubbed off on his team."
With the offseason underway, here are five areas in which the Marlins are looking to retain stability.
Coaching staff
Without an extension for Redmond, members of Miami's staff may have sought other options. After all, if the manager wasn't safe, how could they be?
Pitching coach Chuck Hernandez, hitting coach Frank Menechino, infield/first base coach Perry Hill and outfield/third base coach Brett Butler all were on multiyear deals. All are expected to return. The same is true for bench coach Rob Leary and bullpen coach Reid Cornelius. Also expected back are bullpen coordinator Jeff Urgelles and Major League administrative coach Pat Shine.
Catcher
Jarrod Saltalamacchia, coming off a down year, is signed for two more seasons. The hope is Salty will bounce back. Adjusting to the National League wasn't as smooth as the veteran catcher would have liked, but he is just 29 and still is a power threat at the plate. Having a full season working with the staff also should be beneficial.
The status of Jeff Mathis still must be addressed. The 31-year-old has a club option of $1.5 million, which the Marlins have until five days after the World Series ends to exercise. Indications are the team will pick up the option.
The Marlins are grooming a talented young pitching staff, and Mathis is seen as part of that process. In 2013, for instance, Mathis was highly praised for how he worked with Jose Fernandez.
J.T. Realmuto, a promising prospect, is getting closer to being an everyday big leaguer. For now, he is waiting his turn.
Outfield
The Marlins feel they have the best outfield trio in the NL, and they intend to keep it together. The club is on record saying it will seek a contract extension with Giancarlo Stanton. With or without a multiyear deal, the two-time All-Star will be with Miami in '15.
The front office also is considering long-term contracts for Christian Yelich and Marcell Ozuna.
Closer
Steve Cishek, entering his second season of arbitration, is due a nice raise after making $3.8 million. His price tag will rise, but so have his numbers. He saved 39 games, and that figure is hard to replace.
If another option surfaced, perhaps Cishek would be traded. The way things are shaping up now, it appears the 28-year-old will return for a figure that could be close to $6 million.
Shortstop
You hear the word "special" often used by member of the organization when they talk about shortstop Adeiny Hechavarria. The 25-year-old made big strides at the plate, batting .276. Defensively, the team feels he is Gold Glove-caliber.
Hechavarria also is a candidate for a multiyear extension.
Joe Frisaro is a reporter for MLB.com. He writes a blog, called The Fish Pond. Follow him on Twitter @JoeFrisaro. This story was not subject to the approval of Major League Baseball or its clubs.