After late-season stumble, Brewers look for fixes for '15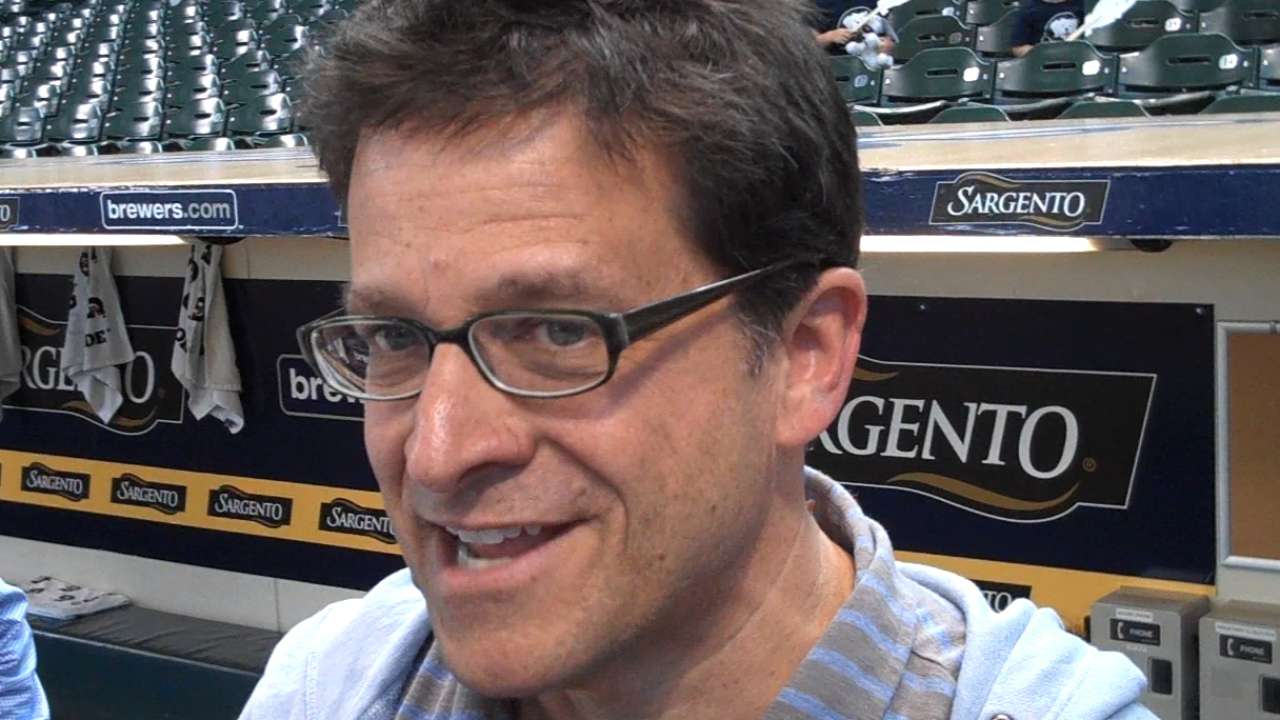 MILWAUKEE -- When the Brewers limped into the All-Star break with a 2-11 stretch, general manager Doug Melvin gathered his baseball men for a debate.
Were the Brewers a good team that stumbled to the break with a bad two weeks? Or were they not as good as their early-season record seemed to indicate?
Two and a half months later, those questions are still being asked. Amid a brutal second-half collapse, principal owner Mark Attanasio promised a fundamental review of all aspects of the organization, including manager Ron Roenicke and his coaches, the disappearing Brewers offense and whether significant changes are necessary before 2015 to ensure a better result.
"There were some good things this season, too, so we're going to try not to forget those," Attanasio said. "When you have a 162-game season, it's a marathon, so at Mile 21 we were in the lead and looked strong. So we want to make sure we want to embrace what got us through those first 21 miles and change out what happened the last five."
He made it clear he was disappointed, to say the least.
"Frankly, even into mid-September I believed in this team and thought they were going to turn it around," Attanasio said. "They just didn't. And, so, you can pick the adjectives -- frustrated, disappointed, catatonic. Very disappointed.
"In fact, I'm disappointed in the team, disappointed in the guys. They're better than this and they didn't show it."
Here is a look at where the Brewers stood heading toward 2015:
Arbitration-eligible: Marco Estrada, Brandon Kintzler, Martin Maldonado, Gerardo Parra
Free agents: Zach Duke, Tom Gorzelanny, Francisco Rodriguez, Lyle Overbay, Mark Reynolds
Options: Yovani Gallardo ($13 million club option), Aramis Ramirez ($14 million mutual option, $4 million buyout), Rickie Weeks (Brewers may void vesting option).
Rotation: If the Brewers could take solace in one area of the team during the second half of the season, it was a starting rotation that performed well outside of one stretch during which Kyle Lohse and Matt Garza were injured. Assuming the Brewers exercise Gallardo's option -- which is all but certain to happen -- then everybody will be back in 2014, starting with the experienced top three of Gallardo, Garza and Lohse. Wily Peralta took a big step forward in his second Major League season, lowering his ERA and walk rate while becoming the Brewers' third 17-game winner since 1992. Then the Brewers could decide between Jimmy Nelson, who had a great first half in Triple-A, and Mike Fiers, who had a great finish in the Majors, for the fifth spot. With Tyler Thornburg a wild card coming back from an elbow injury, there is depth and talent here. If it helps them solve other issues, including first base, the Brewers might even consider trading someone from this group.
Bullpen: The team answered one significant question -- who'll be the closer -- when it acquired Jonathan Broxton from the Reds at the end of August. Broxton is due $9 million in 2015, and with Rodriguez heading into free agency, Broxton is by far the leading candidate to take over. The other key returning arms are left-hander Will Smith and right-hander Jeremy Jeffress, power pitchers who had some terrific moments in 2014. After that, Melvin & Co. will have to do the usual offseason bullpen reassembly. They will spend a lot of time examining relief workloads from early in the season, which may have contributed to Thornburg getting hurt and Smith wearing down.
"You have to trust everybody on your roster, and that's something I think we can do a better job of," Melvin said. "You can't just wear everybody down. Early in the year, we were on a roll and things were working. When things work, you use them."
Catcher: It was obvious to Brewers coaches and everybody else around the team that no player was more devastated by the team's collapse than its All-Star catcher, Jonathan Lucroy, who played virtually every day and remained Milwaukee's most consistent hitter until a late-September slide. An All-Star Game start gave one of baseball's premier all-around catchers some national notice. In Martin Maldonado, the Brewers also have a premium defensive backup.
First base: The Brewers knew they'd have a hard time replacing larger-than-life Prince Fielder, and three years in, they're still searching. In 2011, Fielder's final season in Milwaukee, the Brewers led the National League in OPS at first base. In 2012, when Corey Hart filled in, the Brewers fell to ninth. In 2013, with Yuniesky Betancourt & Co., the Brewers fell to dead last. And in 2014, with veterans Mark Reynolds and Lyle Overbay, they were last again. Reynolds and Overbay are free agents, so the Brewers will spend another winter seeking a long-term solution to this problem. The leading internal candidate is Matt Clark, who was in Japan in 2013 and began 2014 with the Mets' Double-A club.
Second base: Scooter Gennett batted .103 in very limited chances (39 at-bats) against left-handed pitching in 2014, but will probably get an opportunity to play every day next year with the departure of former second overall Draft pick Rickie Weeks. Gennett batted .235 in the Minor Leagues in 2013 against lefties, and .241 in 2012.
Third base: With no clear candidates in the Minor Leagues at this position, there is a possibility Ramirez returns for another year with the Brewers. He is finishing the final season of a three-year deal that includes a mutual option for 2015. It would pay $14 million if both sides agree, a $4 million buyout if the Brewers decline and nothing if the Brewers exercise their half but Ramirez declines in order to seek one more multi-year deal on the free agent market. Ramirez admitted feeling a bit weary at the end of the least productive full season of his long career, and posted his lowest home run and RBI totals of any season in which he has played at least 100 games.
Shortstop: Jean Segura was an All-Star during the first half of 2013 but has not been the same hitter since. He was already on the way to a tough sophomore season when personal tragedy struck; on July 12, Segura learned that his infant son had passed away unexpectedly in the Dominican Republic. The Brewers believe some offseason downtime and perhaps some changes to his swing will help rejuvenate the 24-year-old. If not, Hector Gomez could see an opportunity next season after a productive Triple-A season.
Outfield: If the Brewers go through arbitration to bring back Gerardo Parra, they will have a solid backup to starting left fielder Khris Davis, center fielder Carlos Gomez and right fielder Ryan Braun. On paper, that is a solid group, though Davis could be more consistent and the electric Gomez is prone to mistakes at the plate and on the bases. The key piece is Braun, who has not been an MVP-caliber player since 2012, and hopes a surgical fix will relieve the thumb pain that limited his production in 2014. Braun is still a year away from entering a five-year, $105 million extension, so there is a lot riding on that surgery.
Adam McCalvy is a reporter for MLB.com. Read his blog, Brew Beat, and follow him on Twitter at @AdamMcCalvy. This story was not subject to the approval of Major League Baseball or its clubs.