Martinez honored at Great Sports Legends Dinner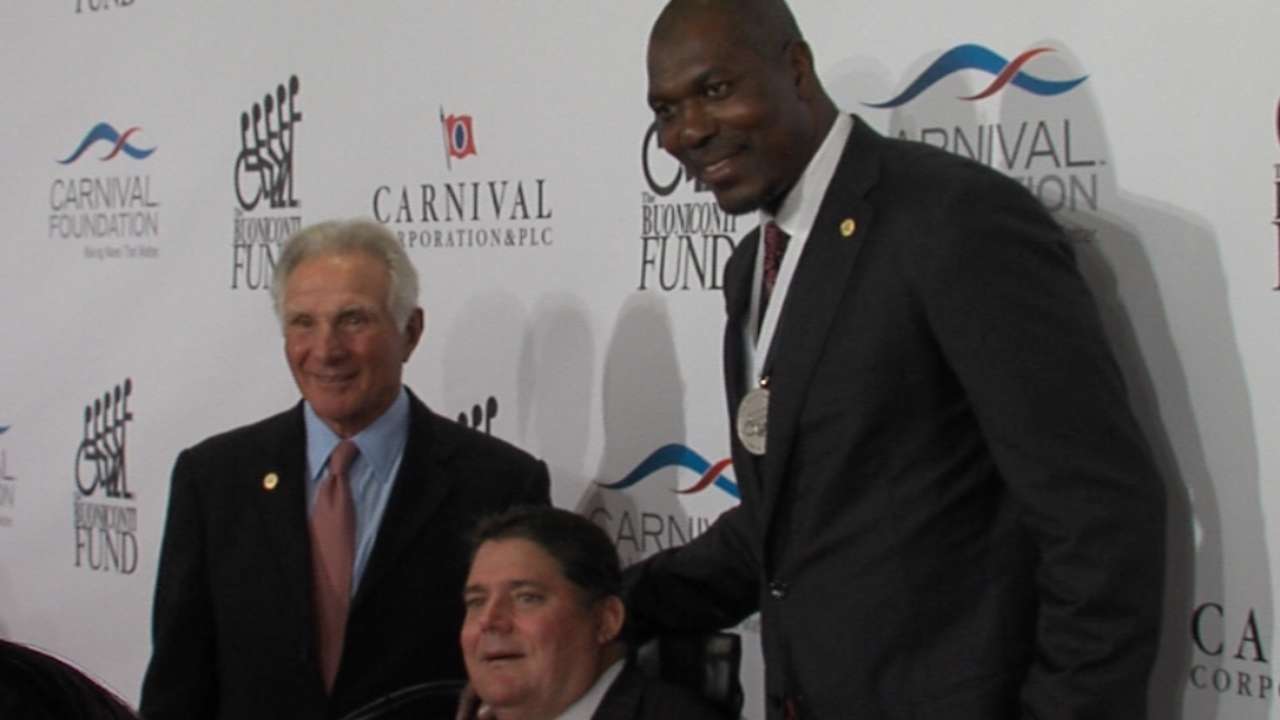 NEW YORK -- Pedro Martinez is only two months away from seeing his name on the Baseball Hall of Fame ballot for the first time, alongside that of newcomers Randy Johnson and John Smoltz plus a glut of legendary holdovers. Martinez knows there will be a crowd again, but he hopes they make room for another oversized induction class next summer.
"It's a great honor, a great joy for me to know that I'm going to go [on the ballot] with so many big names and big players who I competed against, who I have so much respect and admiration for," Martinez said. "I wish we all could go in at the same time. To me it would be a great honor. I'm praying to God that everyone recognized what we did for baseball and how we did it, and hopefully by January we will all be celebrating together."
While the baseball world awaits that next Hall announcement this winter, Martinez has plenty to talk about in the meantime. Just hours after participating on a national TBS postseason conference call Monday with fellow studio analyst and 2015 Hall first-time eligible Gary Sheffield, the three-time Cy Young Award winner was with his wife Carolina on the red carpet at the Waldorf-Astoria and then at the dais to accept an award at the 29th annual Great Sports Legends Dinner benefiting The Buoniconti Fund to Cure Paralysis.
Martinez was honored along with Hakeem Olajuwon, Warren Sapp, Bill Cowher and other luminaries at the dinner, which draws sports legends and celebrities galore in support of NFL Hall of Fame linebacker Nick Buoniconti and his son, Marc, who sustained a spinal cord injury three decades ago during a college football game.
Nick and Dr. Barth Green helped found The Miami Project to Cure Paralysis, and this dinner raises funds to support the groundbreaking spinal cord injury research done by scientists at The Miami Project. Since its inception in 1985, the Great Sports Legends Dinner has honored more than 303 sports legends and other dignitaries and raised $99 million for The Miami Project.
"It's a great honor to be a part of so many athletes who have been recognized," Martinez said. "I'm extremely proud to take part in this and to be recognized by them. The research they are doing is important. As a baseball player, you don't see this happen very often, but as an athlete, I feel committed to them, and I feel like I need to show support for them."
Martinez was one of the game's dominant hurlers during his 18-year run, including a 2000 season with Boston (0.737 WHIP) that is considered one of the best in baseball history and brought him his third Cy. He led the Red Sox to their breakthrough World Series title in 2004, finishing with 219 wins and a WHIP of 1.050 that ranks fifth in baseball history.
He said helping others in this way is the ultimate satisfaction.
"I think it's really important, because today we're not on this bad side, but it could happen to anyone," Martinez said. "And there are the people less fortunate who don't have the resources to probably get something done ... they need some help, and we're here to offer it. It's important to do it for the community, to realize that the package that we bring, along with the fame, the good moments and the trophies and all that, bring this part of life as well."
Hall of Famer Andre Dawson was among those in attendance as well.
Sharing in Martinez's community outreach is Carolina, who runs his Pedro Martinez and Brothers Foundation. It focuses on children, education and health-care issues.
"I'm just really proud," she said, standing beside Pedro on the red carpet. "It's a privilege for us, especially him representing the Dominican Republic, our family members, and our foundation as well, so we are just blessed to be here."
Martinez -- who likes the Dodgers and Tigers at this point -- took special notice of the no-hitter pitched by Jordan Zimmermann on the last day of the regular season. It was the first one in Nationals history, but not the first in franchise history, going back to Montreal. He almost had one of those, too. On June 3, 1995, Martínez pitched nine perfect innings against the Padres before giving up a hit in the tenth and exiting the game, which the Expos then won, 1-0.
"I think it's great," he said of Zimmerman's gem. "It couldn't happen at a better moment. Especially going into the playoffs, it's really important for them to go with a positive attitude -- especially him and [Stephen] Strasburg. I saw Strasburg pitch the other day, did a great job, had full confidence, and Zimmerman without a doubt has to be even more confident than Strasburg is after pitching a no-hitter in his last outing."
Mark Newman is enterprise editor of MLB.com. Read and join other baseball fans on his MLB.com community blog. This story was not subject to the approval of Major League Baseball or its clubs.