Gordon embodies Royals' rock-solid tenacity
Left fielder leads by example with stellar swing, dazzling defense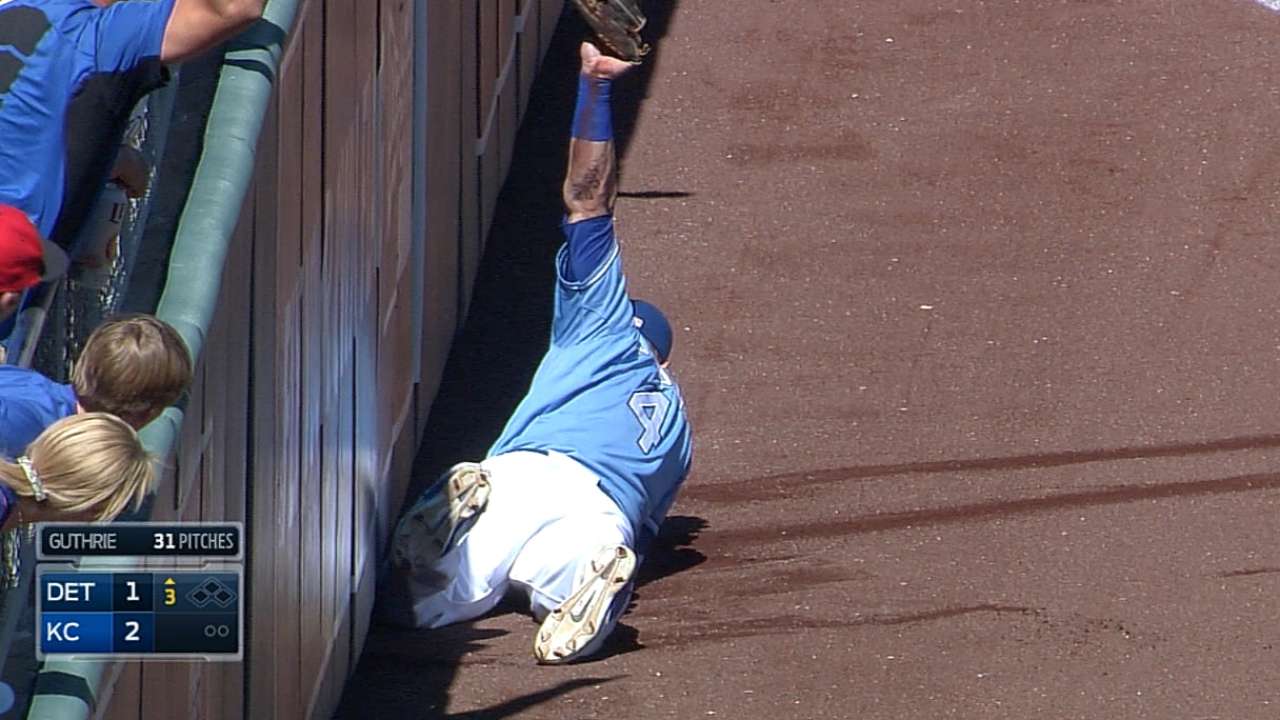 KANSAS CITY -- Alex Gordon is a rock, he's steel, he's the embodiment of the Royals' toughness.
It shows in his hard approach to baseball, his unyielding dedication to sculpting his body, his unending work in the batting cage and on the outfield grass.
It's not only made him an excellent player, it's made him the spiritual leader of a team that has finally reached postseason status.
"I think I'm considered a leader just because I've been around here so long and I've been through a lot over the years," Gordon said.
"I've had a lot of deal with, a lot of losing seasons and I think it's made me a better player, a better person throughout the years. And I think guys respect that. I try to go about my business in the most professional way and I think guys notice that. And that's why some might call me a leader."
What Gordon has done personally should be an inspiration to other players in the view of Royals outfield coach Rusty Kuntz.
"You wonder why some of the younger players just don't follow him around for a day and try to keep up with him," Kuntz said. "Everybody wants to be Alex Gordon but they don't want to put in the time and the effort to be that guy."
Gordon has certainly gotten on the right track and so has this 2014 Kansas City team.
"Nothing against the teams we had before. We had some good players. I think the chemistry for the most part is a lot better than it was before. Everybody gets along, everybody has a good time. We like hanging out, outside of the clubhouse, together. I think that's a big part of it," Gordon said.
"You play 162 games a year and if you don't like being around the guys in the clubhouse, it's not going to be a fun time. I just think bringing in the right guys with the right attitudes, the right personalities jelling together has been a big part. Also, getting the talent."
Ah yes, talent. The Royals already had quite a package of it in Gordon.
This season Gordon led the club in runs, 87; home runs, 19; RBIs, 74; walks, 65, and on-base percentage, .351. Although his average was a modest .266, his 150 hits were second to Alcides Escobar's 165.
Check out the Gordon video clip collection for some of the most outstanding defensive plays you'd want to see in left field. He should win a fourth straight Gold Glove Award. He had just eight assists this year but that's merely because the rest of baseball gives his accurate arm so much respect.
"He's been very important to us," said first baseman Eric Hosmer. "He's carried this team a good majority of the season, and he's been a leader off the field and he's been a leader on the field. He's a guy that leads by example, and we wouldn't be in this situation we're in right now without Alex Gordon."
Now Gordon and the Royals find themselves in a new situation -- a first for Kansas City since 1985 -- a run for the World Series.
"It means a lot to us. There have been a lot of frustrating years where, at this time of the year, I'm on my couch watching it on TV and wishing I was there," Gordon said.
"I was thinking every offseason what I needed to do to make this team better, to make myself better, to get in this situation. And now that it's here, I think everybody in that clubhouse needs to enjoy it and have fun with it. And that's what we're going to do."
But this postseason commotion is a new experience for most of the Royals, so he cautions his teammates to cool it in the face of all the attention.
"It's really just making the game as simple as possible and trying to just picture it as a July Sunday day game and just go about your business the way you've been doing it all year and not try to make it bigger than it is," Gordon said.
"Everybody wants to be a hero in these kinds of situations and you've just got to do your job. The other stuff will take care of itself."
Dick Kaegel is a reporter for MLB.com. This story was not subject to the approval of Major League Baseball or its clubs.