A's game plan is to slow down speedy Royals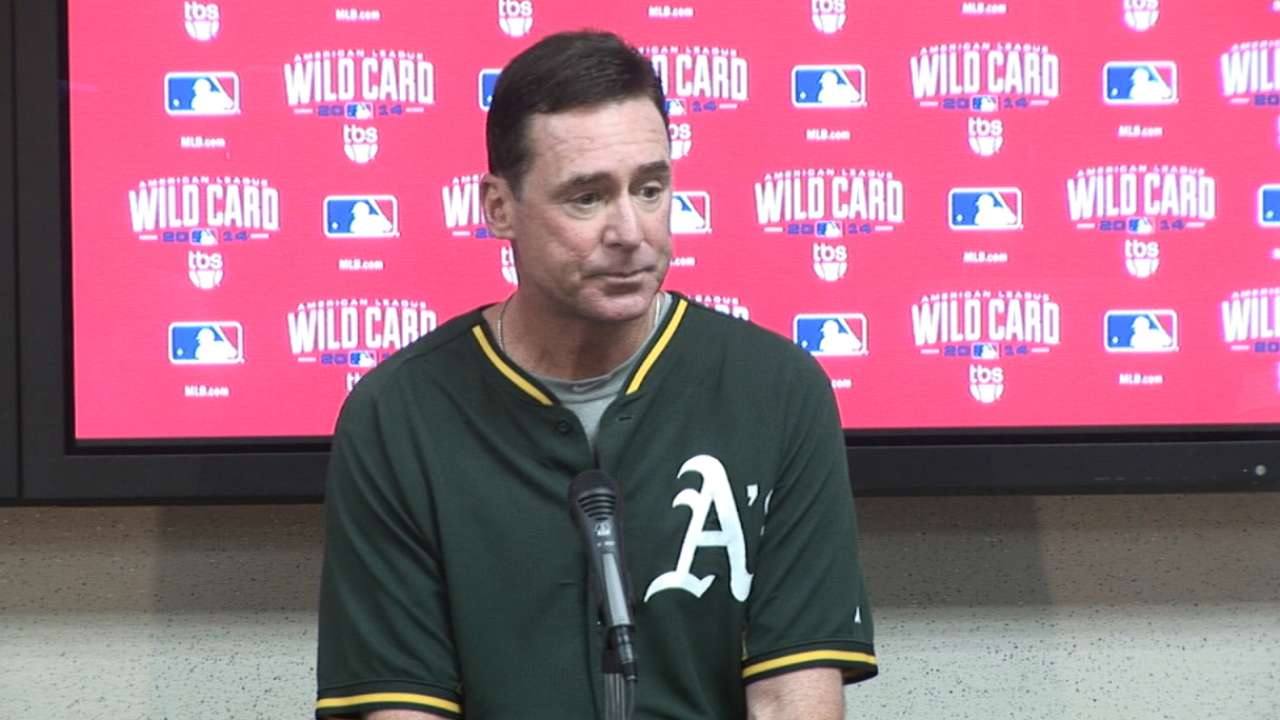 KANSAS CITY -- Though the A's don't anticipate ace Jon Lester to board many baserunners in Tuesday's American League Wild Card Game, they're in planning mode to attack the Royals' running game when he does.
It haunted Oakland in its regular-season series, when the Royals were 6-for-6 in stolen base attempts in seven games, including five losses. Overall, Kansas City led the Majors with 153 swipes.
"They got a good running team, obviously, and we just have to prevent them from getting to first base first of all," catcher Geovany Soto said. "You try to combat it as best you can. You know they're still going to run, you know they're going to be aggressive. Just prepare for that, and hopefully we can contain them a little bit."
Soto wasn't yet in an A's uniform when they last played the Royals, but he has showcased an excellent arm since joining the club in late August, throwing out eight of his 16 runners, and it could land him a starting bid with Lester on Tuesday.
Opponents stole just six bases under Lester's watch this year.
"He's really good at holding runners on, monitoring his moves and getting the ball home quick," Soto said. "He knows what to do and how to do it. He's done it a long time."
A's manager Bob Melvin, though, has yet to decide between Soto and Derek Norris, whose 11.8 percent success rate during the regular season was the lowest in the Majors. It's also the lowest mark in Oakland history, previously held by Kurt Suzuki (13.2 percent, 2010).
"You have to factor everything in," Melvin said. "That is a strength of their team, and even more so with this type of roster where you don't have to keep as many pitchers, and you can keep some guys on the bench that can affect the game with their legs, so it's definitely something you have to think about."
Jane Lee is a reporter for MLB.com. This story was not subject to the approval of Major League Baseball or its clubs.