With new GM, Padres may be in for many changes in '15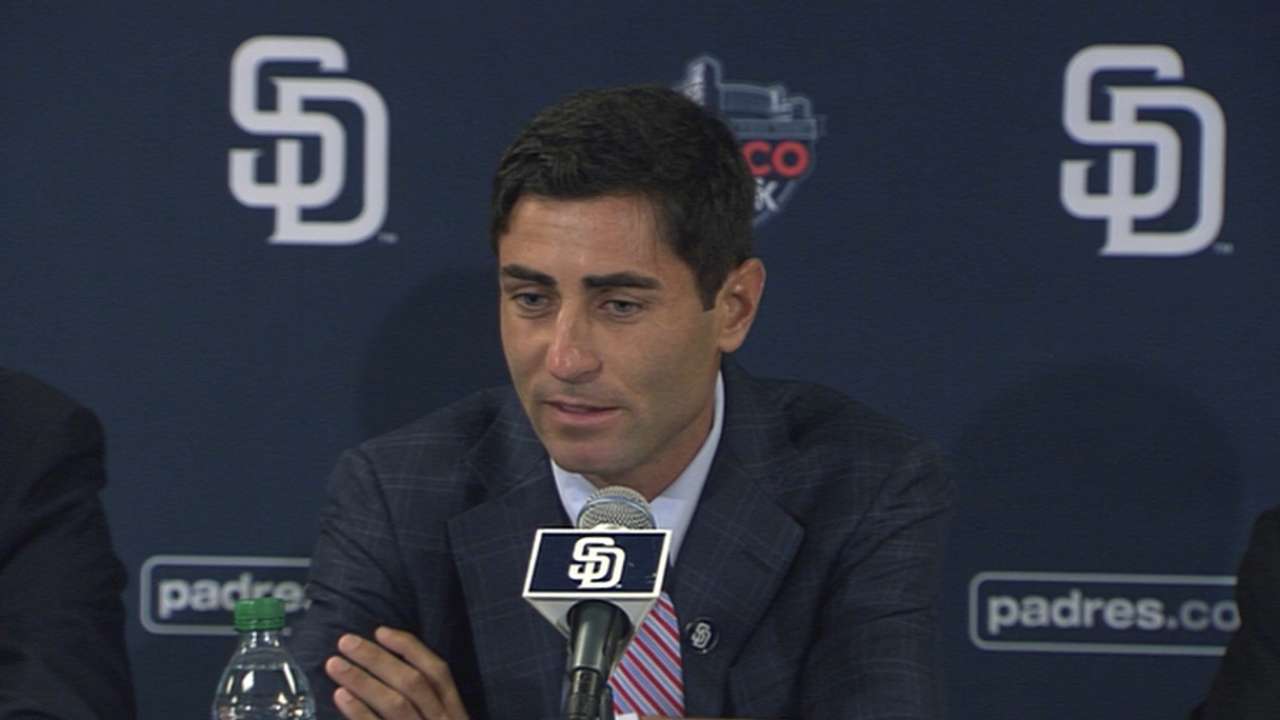 SAN DIEGO -- The offseason always offers up the potential for some intrigue, and with the recent hire of new general manager A.J. Preller, Padres manager Bud Black can easily envision a scenario where this winter is anything but mundane.
And in terms of shaping the roster for 2015, Black has a suspicion that the team that ended the season against the Giants on Sunday could look dramatically different come Opening Day.
"I think there's quite possibly a lot of positions on our club where there could be new faces," Black said.
The Padres will certainly look to improve their offense after a third-place finish in the National League West, one that certainly could have been far worse if it wasn't for a better second half and a pitching staff that ranked among the best in baseball.
"With the way we played the last two months, we played with a lot of energy, we played good baseball and we were scoring runs and starting to produce like we know we can," said second baseman Jedd Gyorko.
"You don't know how the roster is going to shake out during the offseason, but I think there is a lot of excitement and energy here."
To improve the position player group on the roster, the Padres might have to part with pitching. Could that potentially mean moving Andrew Cashner or Tyson Ross for offensive help? The Padres haven't shown a willingness to spend big in free agency in recent years and there's not much immediate help coming from their Minor League system.
"Given a few smart acquisitions to the offense and some depth for the pitching staff, I don't think this is a bad club," said a National League scout.
Stay tuned, it could be an interesting winter.
Arbitration-eligible: SP Ian Kennedy, SP Eric Stults, SS Everth Cabrera, SP Andrew Cashner, SP Tyson Ross, 1B Yonder Alonso, RP Dale Thayer, INF Alexi Amarista, C Rene Rivera, SP Joe Wieland, and RP Blaine Boyer.
Free agents: RP Tim Stauffer, SP Josh Johnson (the team owns a $4 million option on Johnson since he made fewer than seven starts in 2014).
Rotation:The Padres could enter the season with Cashner, Ross and Kennedy, all capable of posting double-digits in wins, throwing 200 innings and compiling 200 strikeouts. If the team deals one of them for a bat, they could still retain veteran lefty Eric Stults, who pitched considerably better in the second half to go with promising rookies from 2014 -- Jesse Hahn and Odrisamer Despaigne, who likely pegs as a No. 5. Don't forget about Matt Wisler, the 22-year-old who took some lumps in the hitter-friendly Pacific Coast League, but who has good stuff and good makeup. Robbie Erlin and Joe Wieland could be options. Johnson, even if the team opts to decline his $4 million option, could possibly return.
Bullpen: The Padres will retain closer Joaquin Benoit, who will make $8 million in 2015 in the second year of a two-year deal. Rookie Kevin Quackenbush showed promise closing games when Benoit rested a tired right arm in September, but he might not be ready to handle the job on an everyday basis. Nick Vincent, Dale Thayer, Alex Torres and Blaine Boyer all figure to return, and the team is very high on R.J. Alvarez, who came to the team in the Huston Street deal. Look for the bullpen to again be an area of strength.
Catcher: Rene Rivera made the team as a third catcher out of Spring Training and then promptly took the starting job and ran with it. He led all of baseball in caught stealing and stole enough strikes and made an impression on the pitching staff at the age of 31 to qualify this as a career revival. The bat played well, too. He reached several offensive bests. The Padres used Yasmani Grandal at first base a lot in the second half, but haven't given up on him as a catcher by any means. Top prospect Austin Hedges is a plus-defender, but he's just 22 and had a down year offensively in Double-A. Rivera and Grandal should handle the catching duties moving forward.
First base: This is where things get interesting. Alonso, he of the 39 doubles two years ago, needs to reestablish himself after injuries derailed him the last two years. Grandal played some first base and fared well, and Tommy Medica also saw time there, but didn't hit much. If the Padres are looking for an offensive upgrade this winter, this could very well be the spot where they do it. However, given how well Grandal can turn on a ball from the right side, he could be a fit there, spelling Rivera behind the plate as well.
Second base: Gyorko is certainly hoping his third season in the big leagues resembles his first one of 2013 when he hit 23 home runs. He got off to a slow start and things snowballed on him, though he began to hit in September after a few mechanical fixes, including a better swing path that included a shorter path to the ball. There are some who think he could end up at third base, but there are no current plans to make that move. The team can use Amarista and Yangervis Solarte at second base, though Solarte's lack of footwork pegs him better at third base. Rookie Cory Spangenberg showed potential and an exciting skill set in September, but he likely needs a little more Minor League time.
Shortstop: Another position of intrigue for the Padres moving forward, as no one is quite sure what to make of Cabrera's future with the club. An All-Star in 2013, he was suspended for the final 50 games of that season, had two disabled list stints this season because of his left hamstring and then ran afoul of the law after being arrested for driving under the influence of marijuana. Does the organization try to move him in a trade? One thing is for certain -- a .272 on-base percentage won't fly. Amarista has shown he can handle the position defensively, though probably not on a full-time basis This is a premium position and these spots are hard to fill.
Third base: For so long, this conversation solely revolved around Chase Headley, who was dealt to the Yankees in July. Solarte can play several positions, but third base is where he fits the best. But will he hit enough to hold down the position full-time? If you're getting your offense elsewhere, maybe. But, again, this could be a spot where the team looks to upgrade, especially through a trade. Could the Padres, for example, land someone like Pedro Alvarez of the Pirates, who Pittsburgh could look to move in the winter? His power would play at Petco Park. Sure there are defensive deficiencies, but he would be an upgrade over anything you have internally.
Outfield: The Padres will enter 2015 with four outfielders under contract -- Carlos Quentin, Seth Smith, Will Venable and Cameron Maybin. But with those four, there are questions. Can Quentin, who has averaged 72 games in each of the last three seasons, remain healthy? Can Maybin? Smith can crush righties, but who will platoon with him? What happens with Venable, who slumped in 2014 after a big 2013 season? Rookie Rymer Liriano showed flashes of an athletic, toosly skill set late in the year, but he doesn't appear ready to win an everyday job.
Corey Brock is a reporter for MLB.com. Keep track of @FollowThePadres on Twitter. This story was not subject to the approval of Major League Baseball or its clubs.