Winds of change beginning to blow at Wrigley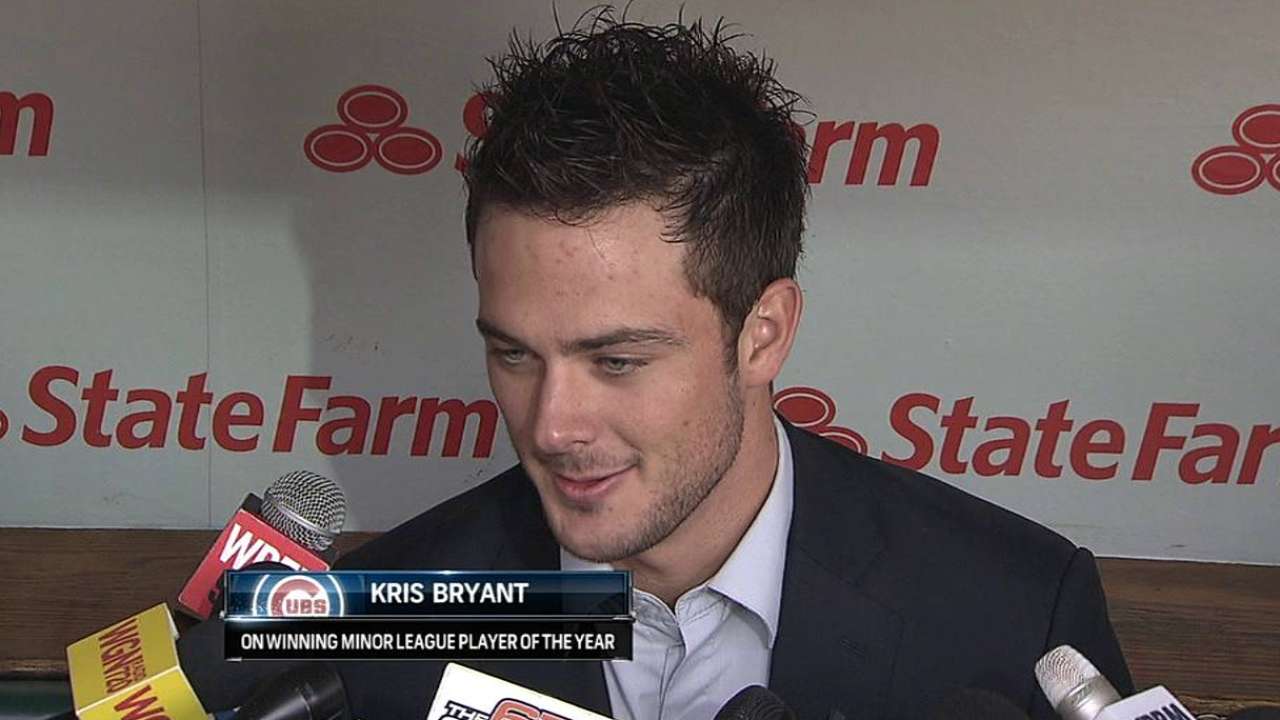 CHICAGO -- The biggest change for the 2015 Cubs won't be the lineup, but Wrigley Field.
The team's $575 million renovation of the 100-year-old ballpark begins this offseason, and next year will feature a new video scoreboard in left field, among other things.
The changes are projected over four years. That seems to be true of the team, which will enter Year 4 under Cubs president of baseball operations Theo Epstein in 2015. The past season provided a peek at some of the young prospects, such as Javier Baez, Jorge Soler, Arismendy Alcantara and Kyle Hendricks, who got a taste of big league pitching. There is a good supply of highly regarded young talent to complement the cornerstones, Starlin Castro, 24, and Anthony Rizzo, 25. The next step is, who's going to mentor the kids?
Besides bolstering the pitching, general manager Jed Hoyer also will be on the lookout for veterans to mix with the young players.
"I think both of those guys want to be leaders, and they're in the process of learning how to do it," Hoyer said of Castro and Rizzo. "They have all the attributes to do it. They probably need to have some guys around them to teach them exactly what the right things to do are.
"I've talked to both of them individually about that and they want to do it, but I don't think they have enough experience or have been around enough guys who are clubhouse leaders who have taught them the ropes, and I think we need to provide that for them," Hoyer said.
Being a good mentor isn't the only requisite. The Cubs want to improve their on-base percentage, continue to have good approaches at the plate, deliver clutch hits.
"One of the hardest things to do in the National League, and what we want to do, is have a good lineup one through eight," Hoyer said. "When you do that, it's hard on the pitchers over here. The more we can eliminate the easier outs and the lack of depth lower in the lineup, I think the better our offense will be."
The last three years, the Cubs have added pitchers in the offseason, only to flip them at the Trade Deadline. They're in the market for something else this winter.
"We're prioritizing building a group of talented young players and letting them grow up together and form a core," Epstein said. "I think we're inching into a different phase now and looking at the roster as a whole, and will add veteran players who complement what we have."
The 2015 lineup will be young. There will be hiccups. And Epstein knows that all the top prospects won't make it.
"Not all of [the prospects] work out, but we like these players quite a bit and they have a chance to play together for a long time at Wrigley Field," Epstein said. "When you put that together with a couple of 24-year-old All-Star caliber performers like Anthony Rizzo and Starlin Castro, you can't be but excited about our future."
2015 Outlook
Arbitration eligible: LHP Travis Wood, 3B Luis Valbuena, OF Justin Ruggiano, LHP Wesley Wright, RHP Pedro Strop, C John Baker, OF Chris Coghlan, LHP Felix Doubront, RHP Jake Arrieta, C Welington Castillo.
Free agents: RHP Carlos Villanueva, RHP Kyuji Fujikawa (club option).
Rotation: The Cubs will be linked early and often to the high-profile free-agent pitchers on the market such as Jon Lester, Max Scherzer and James Shields as they look for someone to complement Jake Arrieta, Travis Wood, Edwin Jackson and Kyle Hendricks. Arrieta took over the club's ace role after Jeff Samardzija and Jason Hammel were traded on July 4. Prospects such as Dallas Beeler, Chris Rusin and Eric Jokisch will get a look in Spring Training.
Bullpen: This is the first season in a few years that the Cubs don't have any question about who their closer is. Hector Rondon quietly took over the role, replacing Jose Veras, who stumbled at the start of the season, was hurt, then released. The Cubs carried an extra arm most of the season in the 'pen, and would like to avoid that in 2015. They may have a tough time picking seven. Neil Ramirez, Justin Grimm and Strop had solid seasons, and the Cubs hope Arodys Vizcaino emerges as another option.
Catcher: On the plus side, Castillo improved his game calling and blocking pitches. But he wasn't able to pick up where he left off in the second half of the 2013 season when he batted .288, and also missed time because of injury. Said Hoyer: "I believe there's a really good full season in there. Hopefully, he can get to that place where he can be consistent all year. He's worked hard at it." John Baker was a perfect mentor and backup, and even got to pitch one inning in relief.
First base: This is Rizzo's job, and he put up the numbers to secure it. The power hitter set a career high in home runs (32), and is the fifth Cubs left-handed hitter to reach 31 home runs in a season. He earned his first trip to the All-Star Game, winning the National League Final Vote campaign, and also was named winner of the 2014 Branch Rickey award for his foundation's efforts to help families fight cancer. If there were any concern, it was that Rizzo ended the year with a mild low back strain, and will need to focus on strengthening his core in the offseason.
Second base: If the Cubs want Baez's powerful bat in the lineup, this may be the spot. The Cubs' first-round pick in 2011, Baez was called up Aug. 5 after batting .260 and hitting 23 home runs at Triple-A Iowa, and delivered a game-winning homer in the 12th inning of his Major League. But he finished the year with a sub-.200 batting average and a ton of strikeouts.
"The kid's a freak of nature, and I have all the confidence in the world in him," said prospect Kris Bryant of Baez, who has always struggled at the start of each level. Said Hoyer: "My hope is he shows some adjustments over the course of the season, but really the adjustments come this winter when he thinks about his approach and in Spring Training, working on his approach."
Shortstop: Castro was determined to return to the All-Star Game, and did so. That, and playing in 162 games, will be his goal again for 2015. He finished the year injured after suffering a high ankle sprain, and Castro can expect another visit in the Dominican Republic this offseason from strength coach Tim Buss to work on his conditioning. The other good news for the Cubs is that 2014 was the first season in the last four years that Castro did not lead NL shortstops in errors.
Third base: Cubs fans will say this is Bryant's job, but the front office won't name their 2013 first-round pick as the Opening Day starter until they see him in Spring Training. Bryant was named the Minor League Player of the Year by many after hitting 43 home runs, driving in 110 runs, and batting .325 at Double-A Tennessee and Triple-A Iowa. The team's other options include Mike Olt, who led all NL rookies with 12 home runs at the All-Star break, but couldn't hit his weight, and Valbuena, who set personal highs in home runs, doubles and RBIs.
Outfield: All Soler had to do was hit a home run in his first big league at-bat Aug. 27 to make Cubs fans giddy about seeing him in right field for a full season. Soler collected at least one RBI or extra-base hit in his first eight games and showed an impressive level of patience at the plate. And, he's got an arm that is Andre Dawson like in terms of accuracy. As for the rest of the outfield, that's still to be determined. Coghlan finished strong, and looked more like the player who won the NL Rookie of the Year in 2009. Alcantara had the toughest assignment of learning how to play center field at the big league level after spending most of his pro career in the infield.
Carrie Muskat is a reporter for MLB.com. She writes a blog, Muskat Ramblings, and you can follow her on Twitter @CarrieMuskat. This story was not subject to the approval of Major League Baseball or its clubs.