In moments like this, Lester wants the ball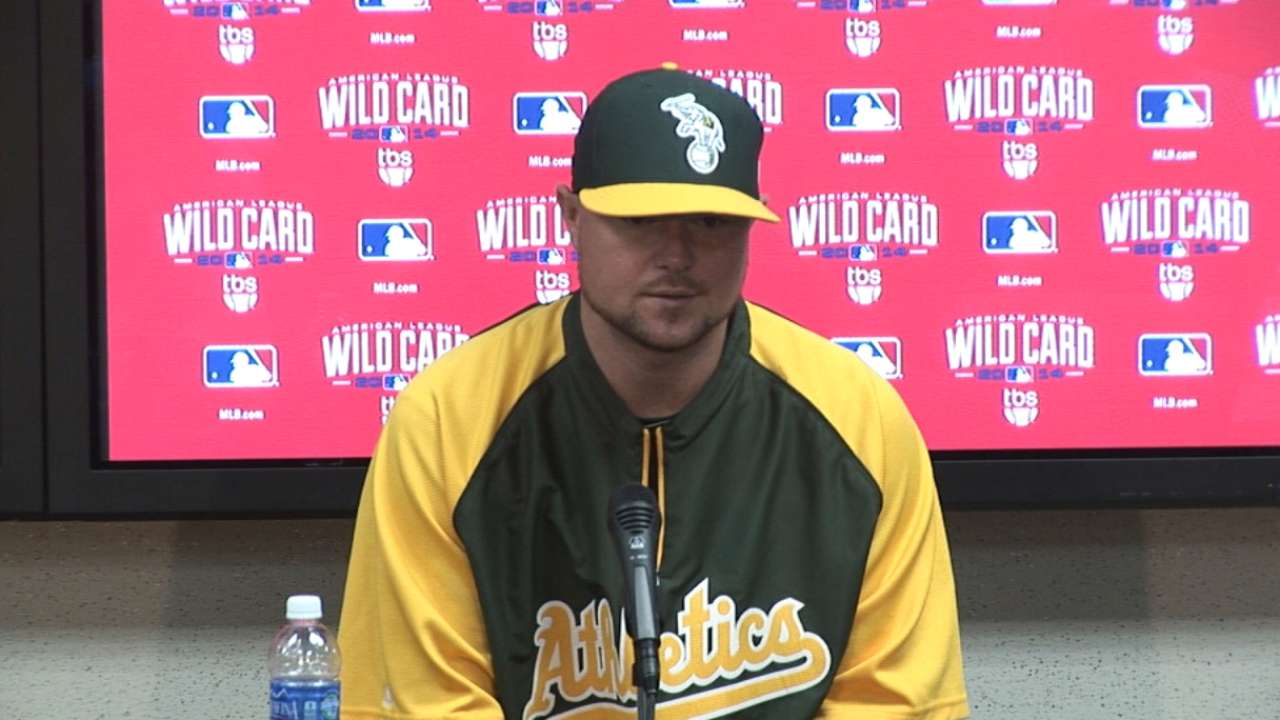 KANSAS CITY -- Don't look at the calendar, don't look at the uniforms and don't check the ticket stub. It doesn't matter that Jon Lester is pitching in a tense postseason elimination game Tuesday, because he doesn't need to turn it up a notch -- ever.
The intensity Lester will bring to the mound in a marquee matchup with the Royals' James Shields in the winner-take-all American League Wild Card Game on TBS at 5 p.m. PT is much the same as he brought to pickup basketball games as a kid growing up in Washington state. The attitude, he said, will be the same one he had in his starts at the beginning of the season, when the stakes weren't so high.
That's just how he rolls. He's on the mound, so it's on, all the way. Right now, way back then or the next time.
"Believe or not, I've kind of always tried to take this approach, whether it's a start April 15 or if it's this game now," Lester said on the eve of the biggest start in his short A's tenure. "The competitiveness in me does not allow me to throttle back or throttle more.
"I try to take that same mentality into every game, whether it's April 15 against the Royals or Sept. 30. It's the same mentality, same preparation, same routine. Nothing changes because the game means more. I think that keeps me even-keeled."
It's with that background that Lester will make the type of start the A's envisioned when they acquired him from the Red Sox along with outfielder Jonny Gomes for outfielder Yoenis Cespedes at the July 31 non-waiver Trade Deadline. Much has been made about how the A's went 22-33 the final two months after the deal, but Lester's performance since the swap has been unquestioned.
While in A's colors, Lester finished out what stands as his best regular season of his nine in the Majors, his 2.46 ERA a career standard by the better part of a run to go along with several other career bests. With a 2.35 ERA in 11 starts with the A's and a 1.80 ERA in his final 19 starts, his 2.46 ERA for the season was the second lowest since 1920 by a Major Leaguer who pitched for two or more teams in one season (John Tudor, 2.32, Cardinals/Dodgers, 1988).
Add in a sparkling postseason resume, and this guy at this moment is the dictionary definition of an ace perfectly suited for this type of game.
"It's one of those things you can't help but see what he's done -- he's pitched in the World Series, he's pitched in big games," said A's third baseman Josh Donaldson, the team's leader on the lineup side. "He's going to pitch in another big game for us [Tuesday]."
Certainly, A's manager Bob Melvin is glad to have the veteran left-hander on the mound for the most important game of the year.
"This is why you get a Jon Lester, to pitch in big games," Melvin said Monday. "The way we set up our rotation coming down the stretch had this game in mind."
Lester's history on the mound in the postseason takes his ace status to a whole new level. He has gone 6-4 with a 2.11 ERA in 13 postseason appearances overall, including a 1.97 ERA in his 11 starting assignments. Last October, he was 4-1 with a 1.56 ERA in five postseason starts as the Red Sox rolled to the World Series title.
"Last year if David Ortiz hadn't done what he did, Jon Lester would have probably been the World Series MVP with the way he steps up in the postseason," Royals manager Ned Yost said.
And then there's Lester's history against the Royals -- his best results against any team he has faced.
Lester is 9-3 with a 1.84 ERA in 13 career starts vs. the Royals, covering 88 innings of work, no small sample size. He is 3-0 with a 2.61 ERA in three starts vs. Kansas City this year -- the first with the Red Sox and the other two accounting for the only victories the A's had in seven regular-season meetings with the Royals this season.
His career ERA vs. Kansas City is his best against any American league team, and it ranks as the lowest career ERA vs. the Royals for any pitcher with 75 innings pitched or more. Lester obviously has made his presence known in Kansas City.
"We know we have a tough situation tomorrow with him," said Royals veteran left fielder Alex Gordon, who is 4-for-25 (.160) vs. Lester for his career. "We faced him three or four times this year, and he's been tough on us every time. So it's going to be a fight, but we're up for the challenge."
The Royals, and anybody else who has followed the left-hander the past several years, know for sure Lester will be up for it, too. He's always up for a challenge.
Lester takes on each challenge with the same intensity and focus, something the Royals have seen plenty of over the years entering this matchup on the postseason stage.
"But 9-3 and all that other stuff doesn't really matter now," Lester said. "It's the postseason. Start back at zero and see what happens."
John Schlegel is a reporter for MLB.com. This story was not subject to the approval of Major League Baseball or its clubs.