D-backs' front office ready to hit the ground running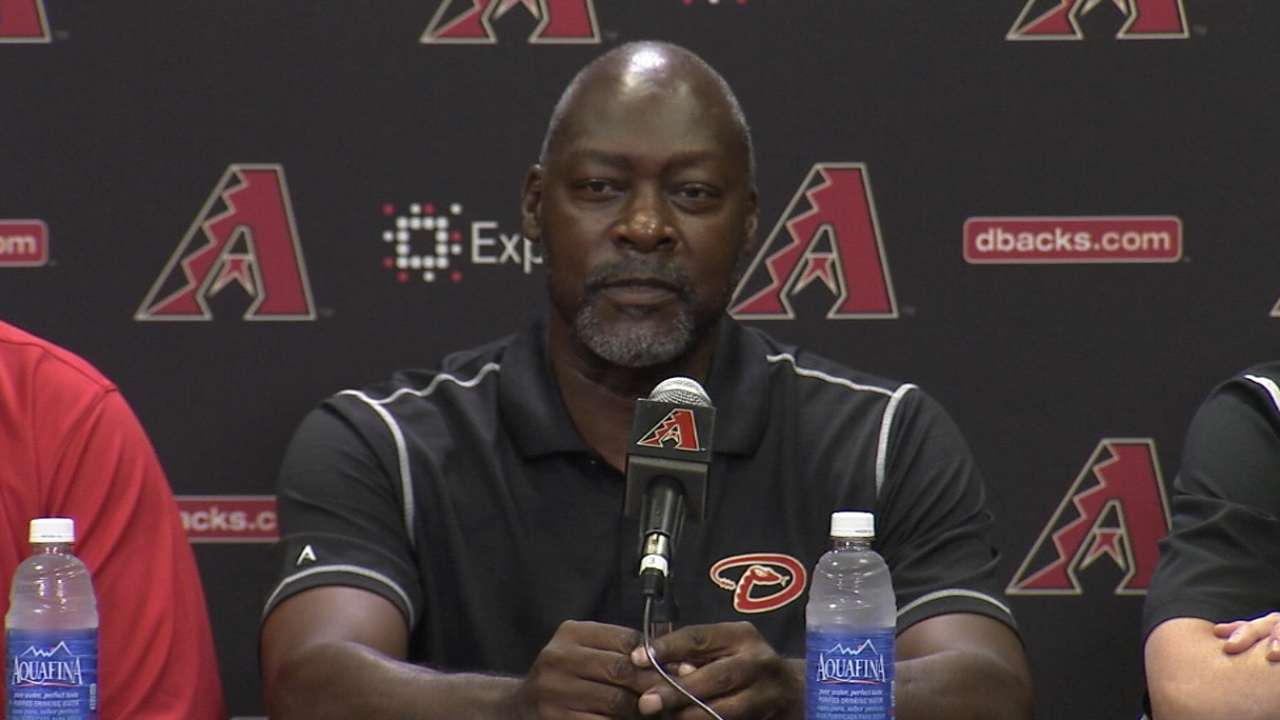 PHOENIX -- The D-backs' baseball operations brain trust of Tony La Russa, Dave Stewart and De Jon Watson met with the media late Monday morning, one day following the end of the regular season.
Here is a look at what they had to say on a variety of key topics:
On the search for a new manager
The organization is still putting together a list of candidates and La Russa has asked his team to be creative and come up with a big list that they will then narrow down.
"I think the first priority is leadership, a personality," La Russa said of the most important traits. "You just think about when he stands in front of the club and it's Spring Training in front of 50 or 60 guys, there's got to be something about him that gets their attention. So the leadership part of it is, will guys follow? And it's relationship building. I think the thing that I should add in personality is, there's not one personality. You can be a quiet leader. You can be a leader that has a great sense of humor. You can have a big voice. A lot of it has to do with sincerity, but you've got to have that knack."
On possible changes to the coaching staff
Of the current coaches, only pitching coach Mike Harkey and first-base coach Dave McKay are under contract for next season and while the team would like to allow a new manager some say in assembling the staff, it doesn't sound like there will be much turnover.
"I think the answer is that I don't expect a lot of changes in the coaching staff," La Russa said.
On shaking up the roster
The new front office group does not believe there needs to be a massive overhaul of the roster, at least on the position player side of things and that a return to health will be the biggest difference into next year. That and improved leadership from the manager position.
"I don't expect much change at all," Stewart said. "This ballculb, though we did lose 98 games, when you watch the spirit of how they played each baseball game, very few games were we out of down the stretch, especially the last three days, though we only won one of the three. They played very, very, very hard baseball and they never gave up."
It did not sound like the team would be overly active as far as trades go, Stewart did say he hadn't been here long enough to "fall in love with the players that we have in this clubhouse."
"Probably not likely in the trade market," Stewart said. "That means we're going to have to give something back, and we're going to try to maintain what we have. We're going to try to maintain our Minor League system. We've got to start putting players back in our system. So the trade market, we'll look at it if it makes sense, but it's not likely."
On trading from the team's surplus of middle infielders like Didi Gregorius, Chris Owings, Cliff Pennington, Aaron Hill and Nick Ahmed
"If it gives the opportunity to get a pitcher that we could put in the front of our rotation, we have to keep our minds open to that," Stewart said. "I'm not going to be going into the market actively trying to trade any of our middle infielders."
On the team's payroll, which was around $110 million on Opening Day this past season
"I think if you look at where we are, if you've got a $100 million payroll, you don't have a complaint," La Russa said. "I never had one in St. Louis. That's plenty of money to compete with and win with. A key is, can you be smart with it."
Said Stewart, "I've not been given a number at this time, but I'm thinking we're going to be right in the same neighborhood of where we are right now."
On farm director Mike Bell and scouting director Ray Montgomery
Watson, whose primary area of focus will be on scouting and player development, has had a chance to sit down with both men and said both are going to stay with the organization.
"They are definitely here and they're actually in our meetings that we're conducting upstairs right now," Watson said. "The communication has been really good, the meetings that we've had have been really good. Just looking forward to working with these guys."
On the area of strength for the Minor League system
Said Watson, "We've got some good young arms coming that are right on the edge of being at the Major League level. I think it takes a little time to get them cultivated and fully polished to come up here and contribute. Because we're not getting them here just to make a cameo appearance, we want them to stay and contribute as we continue to move forward. We do feel like our strength is our pitching. We do have a couple of position players down there, but I think if you're saying where is our strength? Pitching is our strength."
Steve Gilbert is a reporter for MLB.com. Read his blog, Inside the D-backs, and follow him on Twitter @SteveGilbertMLB. This story was not subject to the approval of Major League Baseball or its clubs.