Rotation's progress reason for Tribe optimism
Starters, led by Kluber, topped AL in ERA and strikeouts in second half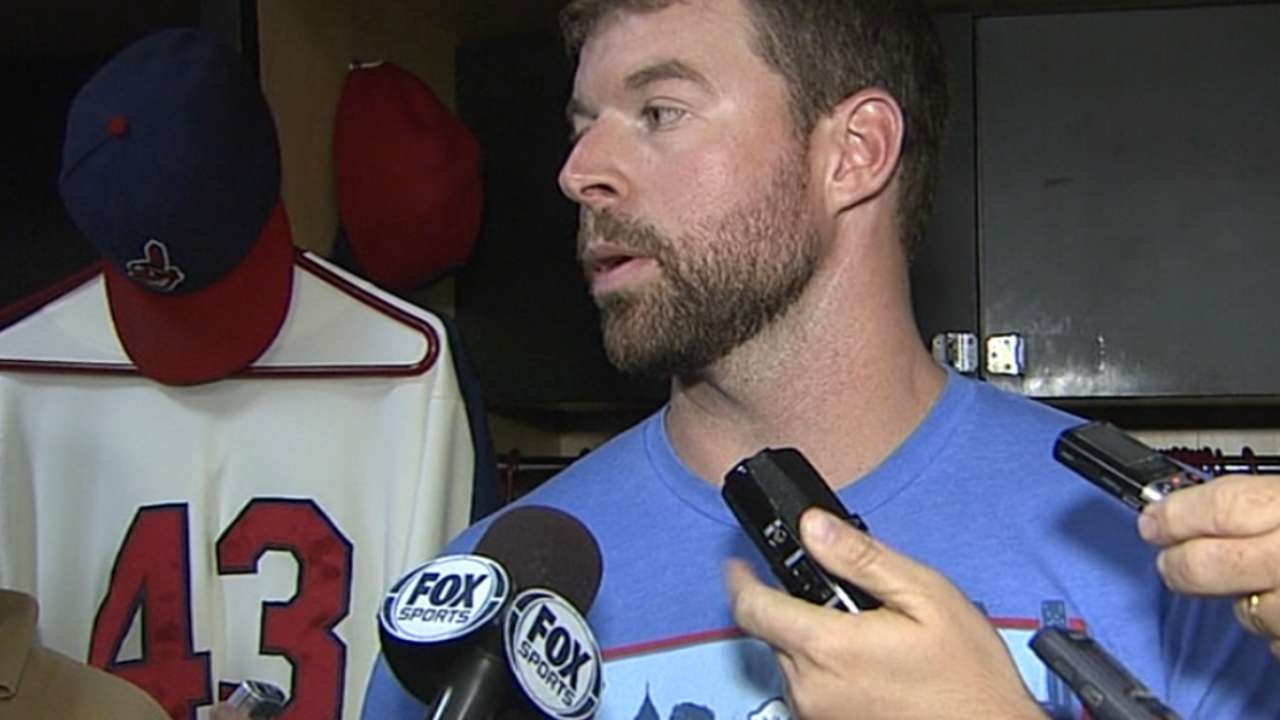 CLEVELAND -- Looking ahead to next season, a main source of optimism for the Indians is the performance of their starting rotation this past year and the collective contractual landscape of the group for the next several campaigns.
Cleveland boasted the best rotation in the American League in the second half and the club has the ability to retain the entire cast. During a season-end sitdown with reporters on Monday afternoon, Indians general manager Chris Antonetti said acquiring pitching remains a priority as the Tribe begins formulating its plans for the winter.
"It was one of the highlights of our year," Antonetti said of the starting staff. "For them to be the best pitching staff in the second half, and know that they're all going to be here for the foreseeable future, that's really exciting and encouraging. But, we're not going to be complacent with it. We still need more pitching. We'll always be looking to add to both the rotation and the bullpen.
"So, as we go throughout the course of the offseason, we feel like we're entering it with a position of strength that may be unlike any position we've had in recent offseasons, with the quantity and quality of pitching that we have. But, we're still going to look to improve on it."
After the All-Star break, the Indians' rotation went a combined 25-19, leading the AL in ERA (2.95), strikeouts (433), strikeout-to-walk ratio (4.37) and fewest home runs allowed (26). During that time period, the group ranked second in the league in WHIP (1.14), opponents' OPS (.637) and third in innings pitched (417 2/3).
Right-hander Corey Kluber (18-9, 2.44 ERA, 269 strikeouts) led Cleveland's rotation for the entire season and was stellar in the second half, going 9-3 with a 1.73 ERA. Combined with Kluber, Carlos Carrasco (6-4, 1.72), T.J. House (4-1, 2.53), Danny Salazar (5-4, 3.50) and Trevor Bauer (2-4, 4.48) accounted for 60 of the Tribe's 68 second-half starts.
Bauer, Salazar and House do not project to hit their arbitration years until 2017, meaning they are not expected to be eligible for free agency until 2020. Carrasco will be eligible for arbitration for the first time this winter and is a potential free agent for 2018. Kluber will hit arbitration in 2016 and is currently in the fold through at least 2018.
Behind that five-man group, though, Cleveland's rotation depth is thin heading into 2015. At the moment, right-handers Josh Tomlin and Zach McAllister are the only clear alternatives for the Major League starting staff.
Antonetti was asked if the Indians might approach Kluber about a contract extension this winter. Prior to this season, Cleveland took that approach with second baseman Jason Kipnis, outfielder Michael Brantley and catcher Yan Gomes, giving them deals that assumed arbitration years and had the potential to cover multiple free-agent seasons.
"That's probably a conversation for a little bit later in the winter," Antonetti said. "We're right now just wrapping up this year. He's a guy, I can tell you, we value incredibly high and are thankful that he's going to be here for a while. That's a good starting point for us."
Quote to note
"He was, in our view, the best pitcher in the American League this year. His consistency, and his consistent dominance, was a big part of the reason we were able to win as many games as we did. It's not an accident why that happened. It's because of the work he's put in. He put together an incredible season and the thing that excites us most is this is not a guy who's going to be complacent with what transpired this year. He's going to go out and try to do it even better next year, which is going to be really hard for him to do. But that's what he's focused on."
-- Antonetti, on AL Cy Young candidate Corey Kluber
Smoke signals
• The Indians hold a $3.5 milion team option (or a $250,000 buyout) on versatile utility man Mike Aviles for the 2015 season. Antonetti said the team has not yet decided whether the option will be exercised. The 33-year-old Aviles, who was acquired from the Blue Jays via trade two offseason ago, hit .247 with five homers and 39 RBIs in 113 games this year, while playing multiple infield and outfield positions.
"We don't want to short-change the process," Antonetti said. "We all appreciate Mike's contribution to our team: what he means on the field, his versatility, the way he's filled in really almost anywhere on the diamond when we've had injuries, the presence he has in our clubhouse, and the way he helps kind of unify our group and create the energy and atmosphere in the clubhouse every day. We don't take those things for granted."
• Manager Terry Francona noted that he hopes to retain his entire coaching staff for 2015, but hinted that some of the coaches might be in line to interview for jobs elsewhere. The group includes bench coach Brad Mills, pitching coach Mickey Callaway, bullpen coach Kevin Cash, hitting coach Ty Van Burkleo, assistant hitting coach Matt Quatraro, first-base coach Sandy Alomar Jr. and third-base coach Mike Sarbaugh.
"To be respectful to the coaches," Francona said, "it wouldn't surprise us if some of our guys get interviewed in different areas. There are no plans to change our staff. I think being respectful to the process, let's let it play itself out and, if we need to think about some things, we would."
• Antonetti and Francona spent the past week meeting with players individually and with the coaching staff to discuss the offseason. Later this week, the GM and manager will fly to Arizona to meet with members of the scouting and player development staffs to begin formulating more specific tasks and goals for the winter months.
Jordan Bastian is a reporter for MLB.com. Read his blog, Major League Bastian, and follow him on Twitter @MLBastian. This story was not subject to the approval of Major League Baseball or its clubs.