MLB.com Columnist
Phil Rogers
After a 2,001-game drought, Dunn finally reaches postseason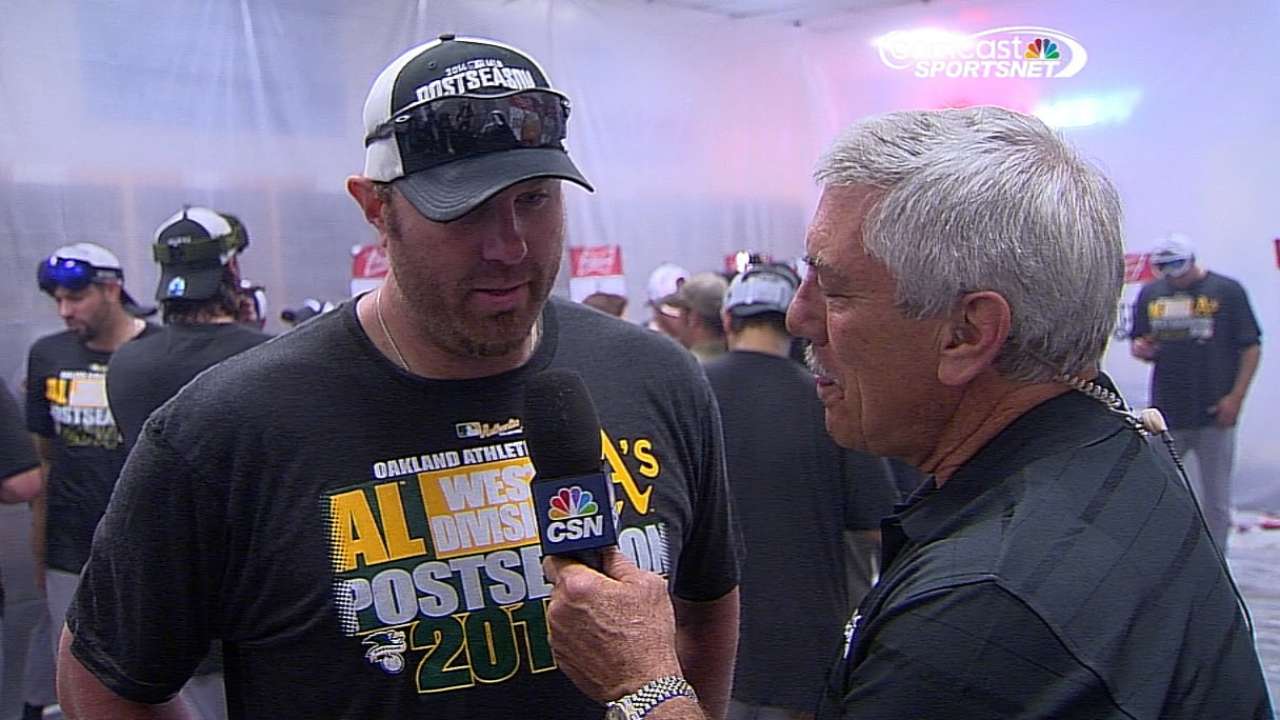 KANSAS CITY -- At first, Adam Dunn didn't know what to do. But once he figured out how to celebrate, he was a wildly enthusiastic participant in the Athletics' clubhouse party at Globe Life Ballpark in Arlington.
Last seen Sunday afternoon, Dunn was sliding across a beer soaked piece of plastic in his baseball gear and ski goggles. He might even have gulped a little from some of the bigger puddles.
If you think he's going to apologize, you don't know Dunn and how much he coveted the chance to play in a postseason game.
"Long time, man,'' Dunn said after the A's workout on Monday. "Long time. Didn't get to pop champagne in high school.''
When the 34-year-old slugger steps in to face Kansas City's James Shields in the first inning of tonight's American League Wild Card Game on TBS at 5 p.m. PT at Kauffman Stadium, he'll end his career-long drought of never playing in a postseason game.
Dunn's 2,001-game streak had been the longest among active players. That distinction will pass to his former White Sox teammate Alex Rios, who has played 1,586 without getting a chance in October.
"I hope he gets in,'' Dunn said. "That's bad. That's such a bad thing.''
Dunn spent most of the last four seasons with the White Sox after short stints with the Nationals and Diamondbacks. He started his career with the Reds, when they were in the middle of a 14-year postseason drought.
When he was traded to Oakland on Aug. 31, just in time to be eligible to play in the postseason, the A's had slipped five games behind the Angels in the AL West had a seemingly comfortable cushion of 4 1/2 games for a Wild Card spot. It seemed his ship had come in, yet then came a 4-11 stretch that knocked one of baseball's most ambitious teams -- one that traded for Jon Lester and Jeff Samardzija in July -- into a precarious position.
Suddenly there was a possibility that Dunn could once again miss out on October as the Mariners threatened to overtake the A's.
"When we were [sitting in the clubhouse] watching those Seattle games, and they ended up winning them, you could see something was up with Adam,'' Samardzija said. "He usually talks, he's usually vocal, likes to have a good time, but he wasn't saying a word.''
Dunn admits it was painful to experience September angst with a new team. He fought off a sense of deja vu, as the Tigers had passed his White Sox in September two years ago, leaving him on the outside looking in at the postseason.
"It was pretty stressful,'' Dunn said. "You had opportunities to get in and not wait until the last day. But you could almost see after that third out [on Sunday], the weight was lifted off everybody's chest. The ultimate goal is to make it, and we made it. Well, they made it. I just sort of jumped on, reaping the fruits of their labor for five months.''
While Dunn downplays his significance on the A's, Samardzija says he was welcomed because of both his presence in the lineup and solid character in the clubhouse. How many other guys would even still be playing after having a year like Dunn did in 2011, when he batted .159 with 177 strikeouts in the first year of a four-year contract?
"He's always done it the right way,'' Samardzija said. "Played every day, never complained, never whined. I was in Chicago when he had that tough [season]. They couldn't run him out of town fast enough. He never said a thing. Never made an excuse. To have a guy like him on this team when we were going through what we were going through was outstanding.''
The Royals know that Dunn could turn around a game that they expect to be a pitchers' duel between James Shields and Lester. He has hit 462 career home runs [tied for 35th all-time], including 22 this season.
"I like the matchup with him and Shields but it's scary too,'' Royals manager Ned Yost said. "Adam Dunn can hit the ball out of the ballpark to any field, even in our big park here. He's crushed balls here. We know he's a high on-base percentage guy, and he's a guy who can catch one and put three runs on the board in a hurry. He's a guy you're going to have to pitch carefully.''
Dunn is a career .200 hitter against Shields, with only one home run in 35 at-bats.
"He's very tough,'' Dunn said. "But if you're in the playoffs, you're going to face really good pitching every day you're fortunate enough to move on. He's an ace, and I don't throw that term around too often.''
Dunn is known for working deep counts and drawing walks, which is largely why the A's are using him as their No. 2 hitter. He had 71 this year but has had 100-plus eight times in his 14-year career.
"He's got a very good eye,'' Shields said. "Very disciplined. He's a tough out.''
This is the moment, the game, that Dunn has waited for throughout his career, which is in its late stages. He's talked about retiring after the season but seems likely to listen to job offers before making a decision.
On the way to Kansas City from Texas on Sunday night, Dunn got a call from his old friend Jake Peavy, who earned a World Series ring with the Red Sox last October.
They talked about how much fun it would be to face each other in a Bay Area World Series, now that Peavy is with the Giants. But Peavy's message was to enjoy the ride, how ever long it lasts.
"Obviously he's happy for me,'' Dunn said. "I'm not dumb. I know what's on the line. I'm going to have fun and enjoy it. I'm not going to put so much pressure on [myself] that it's not enjoyable. That's not how I do things.''
Word of advice if he gets another chance to do a beer slide on Tuesday night: Don't get in his way.
Phil Rogers is a columnist for MLB.com. This story was not subject to the approval of Major League Baseball or its clubs.