Shields: Royals' maturity, drive pushed them into postseason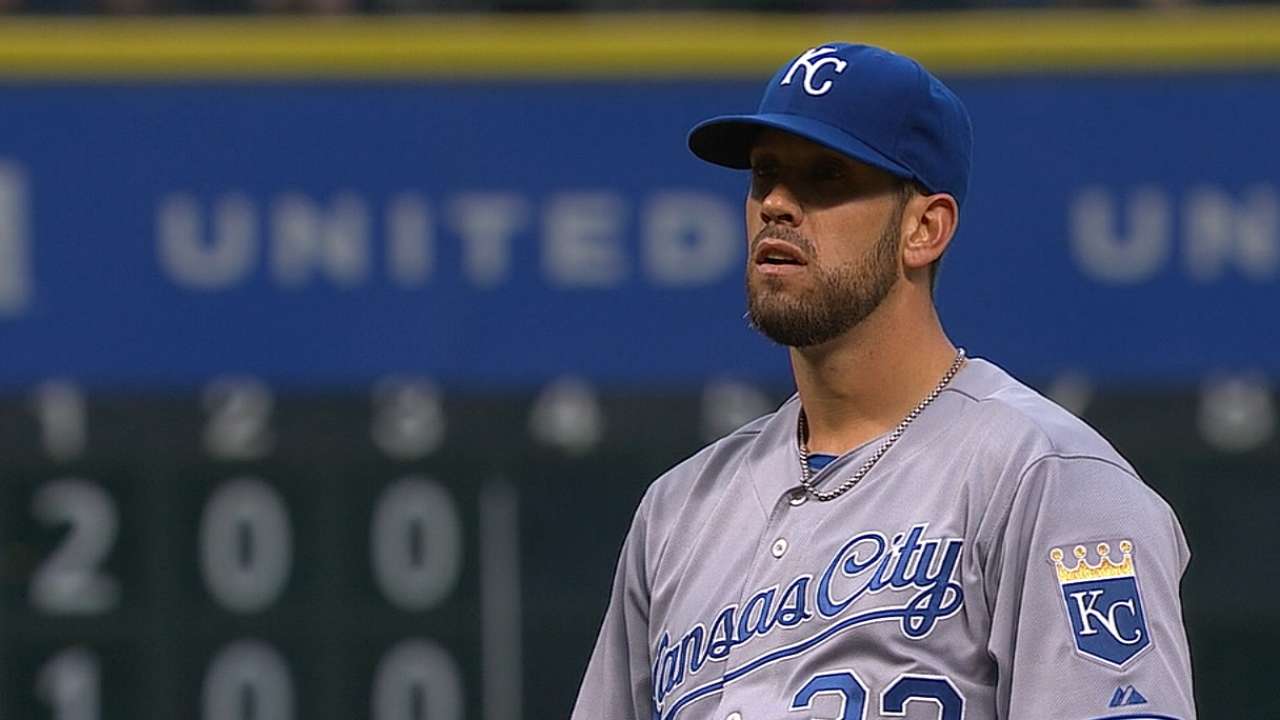 KANSAS CITY -- James Shields is known as "Big Game James" and now all of Kansas City is counting on him for the biggest game in this community's last 29 years.
Shields is well aware of how much Tuesday night's game against the Oakland A's means in this old cowtown.
"When I got here and walked around the city and was talking to the fans and realizing how big the magnitude is for the 29 years, it's a special moment," he said.
Obtained two years ago from Tampa Bay, Shields quickly became the pitching staff's leader and clubhouse sage. It was Shields who instituted the team's celebration after each and every victory -- loud, raucous revelry complete with a fog machine and bright lights.
Every victory became an event and this year there were 89 of them and the end of baseball's longest playoff absence, 28 parched seasons. Shields, who had been in the World Series with the Rays, saw his teammates grow into a cohesive and effective unit.
"I think these guys are relishing the moment. I think in September we've had a lot of fun. We've enjoyed the moment and enjoyed the ride so far. This is what baseball is all about and I'm looking forward to it," he said.
The maturity derived from last September's brief bid for a Wild Card berth was a benefit.
"They weren't experienced in winning ballgames, especially in September, and last year helped us out a lot heading into this season," Shields said. "So the guys have grown up a lot. I'm really proud of them, I'm really proud of the way they worked."
The big turning point, in his opinion, came after the All-Star break and the four losses that started the club's second half. There was a players pow-wow in Chicago and two recently-arrived players, outfielder Raul Ibanez and pitcher Scott Downs, told the Royals how outsiders viewed them.
Basically the message was that other teams respected and feared them and thought that they have a wealth of talent. That belief took hold and the team took off.
From that point, the team's record was 41-23. Shields was pretty good in that span himself and in his 13 starts, the team won nine times and his ERA was 2.48. He never failed to go less than six innings.
Now he and the Royals are one victory from jumping into the best-of-five American League Division Series against the Angels.
"This is what we grew up playing baseball for," Shields said. "This is what it's all about -- playoff baseball and hopefully we got a chance to go to the World Series."
Someone mentioned that manager Ned Yost always likes to see Shields' emotion kick in on the mound. When he gets mad, he gets going.
"I'm a very emotional player, I definitely wear my heart out on my sleeve. I love this game, I have a deep passion for this game. I'm a very, very competitive person," he said.
"I don't necessarily have to be mad before a game but if you want to go ahead and give me a little slap or something, I guess I'll take it."
Dick Kaegel is a reporter for MLB.com. This story was not subject to the approval of Major League Baseball or its clubs.