Twins, Ryan open up managerial search
Team will look inside and outside organization for Gardenhire replacement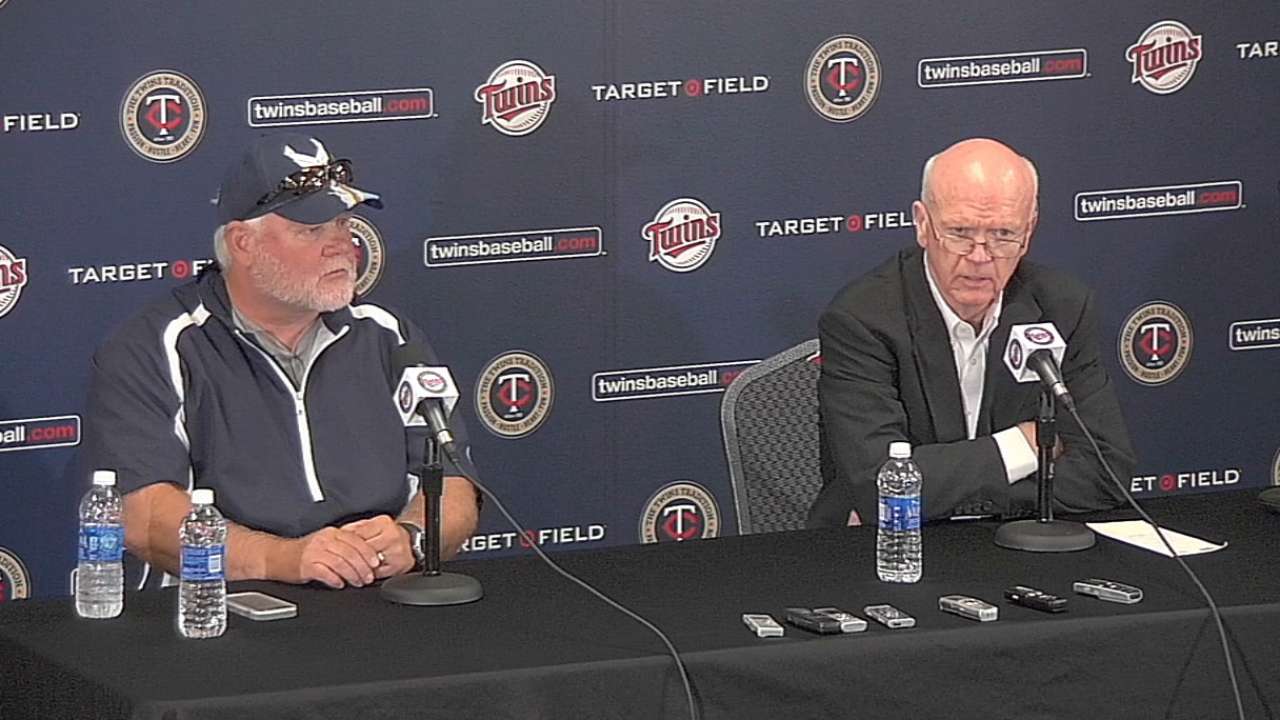 MINNEAPOLIS -- The Twins are in an unfamiliar place, as they'll be looking for a new manager for the first time since 2002 and just the second time since 1986.
Tom Kelly took over for Ray Miller in '86, managing the Twins for 16 seasons before handing it over to Ron Gardenhire, who managed the club for 13 seasons before being dismissed the day after the season ended on Monday.
The Twins have lost at least 92 games in four straight seasons, but with a loaded farm system on the way and the emergence of players such as Brian Dozier, Trevor Plouffe, Danny Santana and Kennys Vargas, general manager Terry Ryan believes it'll still be an attractive job. He said he'll look both inside and outside the organization for the 13th manager in Twins history.
Hall of Famer Paul Molitor, who just finished his first season as a coach with the Twins, is regarded as the top internal candidate, while top external candidates include White Sox third-base coach Joe McEwing and Red Sox bench coach Torey Lovullo.
"Our next manager will have a lot of the same attributes Ron has," said Ryan, who will begin the managerial search in earnest on Tuesday. "For me, this will be an attractive job, I suspect. I really do believe that, as bad as things have gone the last four years."
Other in-house candidates who could be looked at include Twins bench coach Terry Steinbach, Triple-A manager Gene Glynn and Class A Advanced Fort Myers manager Doug Mientkiewicz. The Twins have also been linked to Cardinals third-base coach Jose Oquendo, Rays bench coach Dave Martinez and A's bench coach Chip Hale.
"I think we'll certainly open it up to anybody and everybody that is capable of managing a Major League Baseball team," Ryan said. "I don't think we oughta just stay within, although that would be a nice preference if you could."
As Ryan noted, staying within the organization seems to be the preference, but he's also open to bringing in an outsider. Ryan said he'll work with the new manager on a coaching staff for next year, as the seven coaches, including Molitor and Steinbach, are currently in limbo with their contracts set to expire at the end of the year.
"My preference is to get the best guy," Ryan said. "It'd be nice to get a guy that's inside, because he'd know the inner workings of this organization, and the market, and the ballpark, and the personnel. That would be great, but sometimes it's not meant to be."
Rhett Bollinger is a reporter for MLB.com. Read his blog, Bollinger Beat, and follow him on Twitter @RhettBollinger. This story was not subject to the approval of Major League Baseball or its clubs.