New arrivals: Youngsters ready to lead Twins?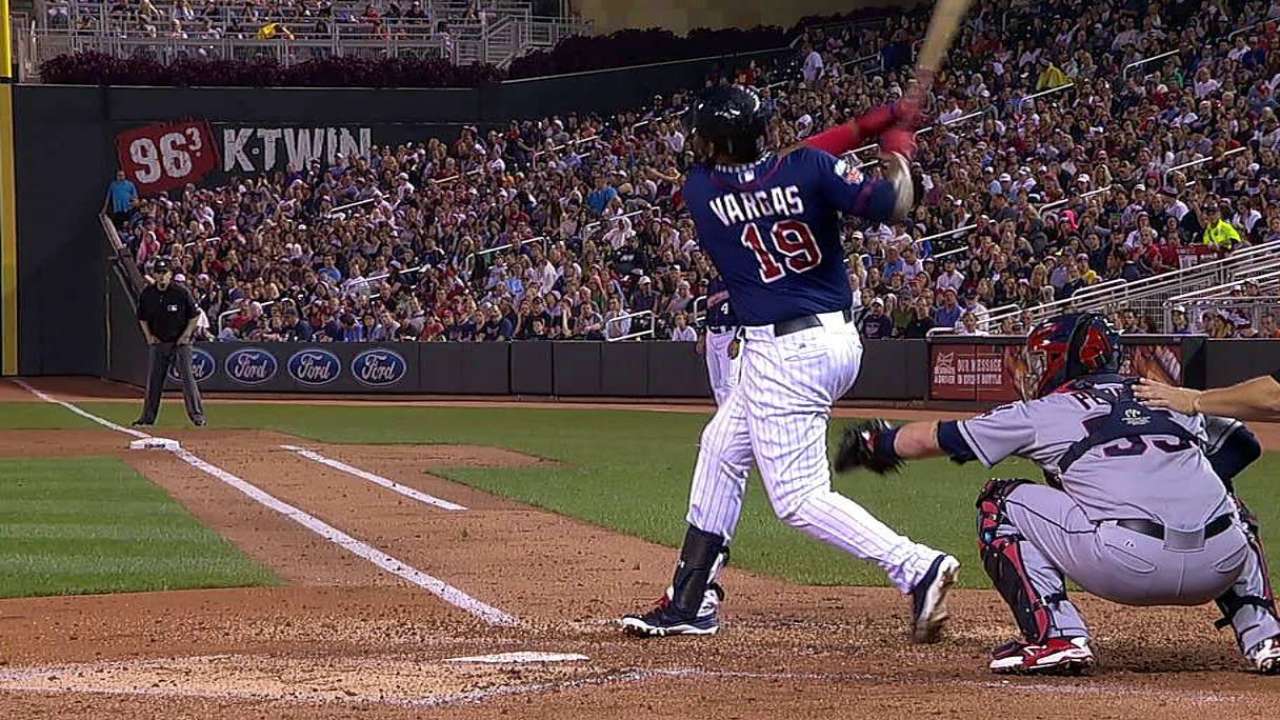 MINNEAPOLIS -- The 2014 season was expected to be a bridge year to competitive baseball for the Twins, but it didn't work out that way due to the ineptitude of the rotation and injuries to top prospects such as Miguel Sano and Byron Buxton.
The Twins realistically weren't going to win the American League Central, but were looking for a big improvement over their three consecutive seasons with 96-plus losses to set themselves up for the future with several top prospects on the way.
Instead, another trying year led to a managerial change, as Ron Gardenhire won't be back next year. The Twins are now looking for just their third manager since 1986, when Tom Kelly replaced Ray Miller.
"Our next manager will have a lot of the same attributes Ron has," general manager Terry Ryan said. "For me, this will be an attractive job, I suspect. I really do believe that, as bad as things have gone the last four years."
Twins starters combined to post the worst ERA in the Majors for the second straight year despite the offseason signings of Ricky Nolasco, Phil Hughes and Mike Pelfrey for a combined $84 million. Buxton, ranked as the No. 1 overall prospect by MLB.com, played just 31 games in the Minors due to injury, while Sano, ranked as the No. 8 overall prospect, missed the year after undergoing Tommy John surgery on his throwing elbow, to push back both of their timelines to the Majors to some point next year.
Now, after Minnesota lost 90-plus games for the fourth straight year, Ryan is tasked with revamping the rotation yet again for '15, as the offense held its end of the bargain by finishing seventh in the Majors in runs scored.
"That's the biggest piece we need to address," Ryan said. "The rotation has been one of our problems. We've got a lot of work to do. You can't keep putting that much pressure on your offense. Our offense has responded pretty well and our bullpen held it together for quite a long time, but you keep going to get them night in and night out, you get into trouble."
The Twins should have some payroll flexibility in the offseason, but do have eight players eligible for arbitration. The Twins will look to improve the rotation and could also add a corner outfield bat via free agency or trade.
"I'm not worried about payroll," Ryan said. "We've got plenty of payroll. It's not an issue."
Free agents: RHP Jared Burton (Twins declined $3.6 million club option, paid $200,000 buyout).
Eligible for arbitration: Brian Duensing, LHP; Anthony Swarzak, RHP; Trevor Plouffe, 3B; Jordan Schafer OF; Tommy Milone LHP; Casey Fien RHP; Eduardo Nunez INF; Eduardo Escobar SS
Catcher: The Twins are set at catcher after signing Kurt Suzuki to a two-year, $12-million extension on July 31. Suzuki had a career year at the plate and was named an All-Star for the first time in his career this season. He's also well-regarded behind the plate, although advanced statistics say he's below-average at pitch-framing. Josmil Pinto figures to be the backup, but he will need to continue to get better defensively, as his bat is Major League-ready but his issues behind the plate kept him in Triple-A most of the season.
First base: Joe Mauer had a down year by his standards in his first year at first base and also struggled to stay healthy, missing more than a month with an oblique strain. But the Twins believe he's primed to bounce back given his track record and he isn't moving off first base any time soon. Kennys Vargas figures to be his backup while serving as the primary designated hitter.
Second base: Brian Dozier further solidified his status at second base with a strong year, as he led Twins position players in Wins Above Replacement (WAR). He didn't hit for a high average but more than made up for it with a high walk rate and surprising power. He became the first Twins player to record a season with 20 homers and 20 stolen bases since 2004.
Shortstop: Escobar took over as the regular shortstop early in the season and was a pleasant surprise, as he was solid defensively and also cracked more than 40 extra-base hits. But Escobar has competition at shortstop, as Danny Santana had a breakout rookie season playing mostly out of position in center field due to the emergence of Escobar and the lack of options in center. Escobar and Santana are expected to compete for the shortstop role, which could relegate Escobar to a utility infield position. Nunez, who like Escobar is eligible for arbitration for the first time, figures to be a backup infielder if he's not non-tendered.
Third base: Plouffe had his best season as a pro, as he led the club in RBIs and doubles, while also showing some improvements defensively. He ranked second among Twins position players in WAR behind Dozier, but has to fend off top prospect Sano, who is likely to make his Major League debut early next summer. Sano, ranked as the No. 8 overall prospect by MLB.com, missed all of 2014 after undergoing Tommy John surgery. The Twins believe Sano can stick at third base, which means Plouffe could see another position change in his future, possibly even a corner outfield spot later in the season.
Outfield: The Twins are still waiting for their center fielder of the future, as Buxton missed most of the year because of a lingering wrist injury and a concussion suffered in his first Double-A game in August. Buxton got hurt again in the Arizona Fall League this week, as he dislocated his left middle finger while diving for a ball. Buxton also suffered a small fracture in the finger and will miss the rest of the AFL. The Twins hope MLB's top prospect can bounce back from his injuries and make his debut at some point next season.
Santana was used as a stop-gap in center field in '14 and could start the year there again if they decide he's the best option and keep Escobar as the starting shortstop. Oswaldo Arcia is expected to be the club's regular in right field, while left field is up for grabs with options including a pair of former top prospects in Aaron Hicks and Schafer. The Twins could also look to free agency or trade to add another corner outfielder.
Designated hitter: Vargas hit well enough in his two-month stint after being called up from Double-A New Britain on Aug. 1 that he's expected to be the club's regular DH next year. Vargas still has plenty of work to do, including improving his walk rate, but has immense power. Mauer will also get occasional starts at DH, while Vargas will serve as Mauer's backup at first base.
Rotation: The rotation is easily the biggest question mark heading into next season, as Hughes was the club's only consistent starter in '14. Kyle Gibson showed plenty of potential in his first full season in the Majors, but still has some issues to work through. Nolasco is still owed $37 million over the next three years, but had a disastrous '14 season. Those three still figure to be a part of the rotation unless the Twins somehow find a taker for Nolasco in a salary dump, leaving two spots open for next year. Prospect Trevor May struggled in his first stint in the Majors but the Twins still like his potential. Fellow top prospect Meyer is also expected to join the rotation at some point next season. The Twins also have other options such as left-hander Milone and right-hander Pelfrey. But they could still look to free agency or trade to add another starter to a rotation that finished with the worst ERA in the Majors for the second straight year.
Bullpen: Closer Glen Perkins will anchor the bullpen yet again and was named an All-Star for a second straight season. He was shut down for the rest of the season in mid-September with a strained left forearm but will be ready for the start of next season. Fien figures to be the club's setup reliever again, while the Twins must decide whether to tender contracts to Duensing and Swarzak, who are both eligible for arbitration for a second time. They also have to decide whether to bring back Burton for $3.6 million or buy him out for $200,000. They have plenty of cost-controlled options for the bullpen such as Ryan Pressly, Caleb Thielbar, Aaron Thompson and Michael Tonkin. They could look to free agency to add a low-cost arm or two, but also drafted several highly regarded relievers such as Nick Burdi, Michael Cederoth and Jake Reed, who could move through the system quickly to the Majors. They could also move excess starters such as Pelfrey or Milone to the bullpen.
Rhett Bollinger is a reporter for MLB.com. Read his blog, Bollinger Beat, and follow him on Twitter @RhettBollinger. This story was not subject to the approval of Major League Baseball or its clubs.