Kluber-led staff fuels Indians' hopes for 2015
Young rotation sets solid foundation for roster heading into offseason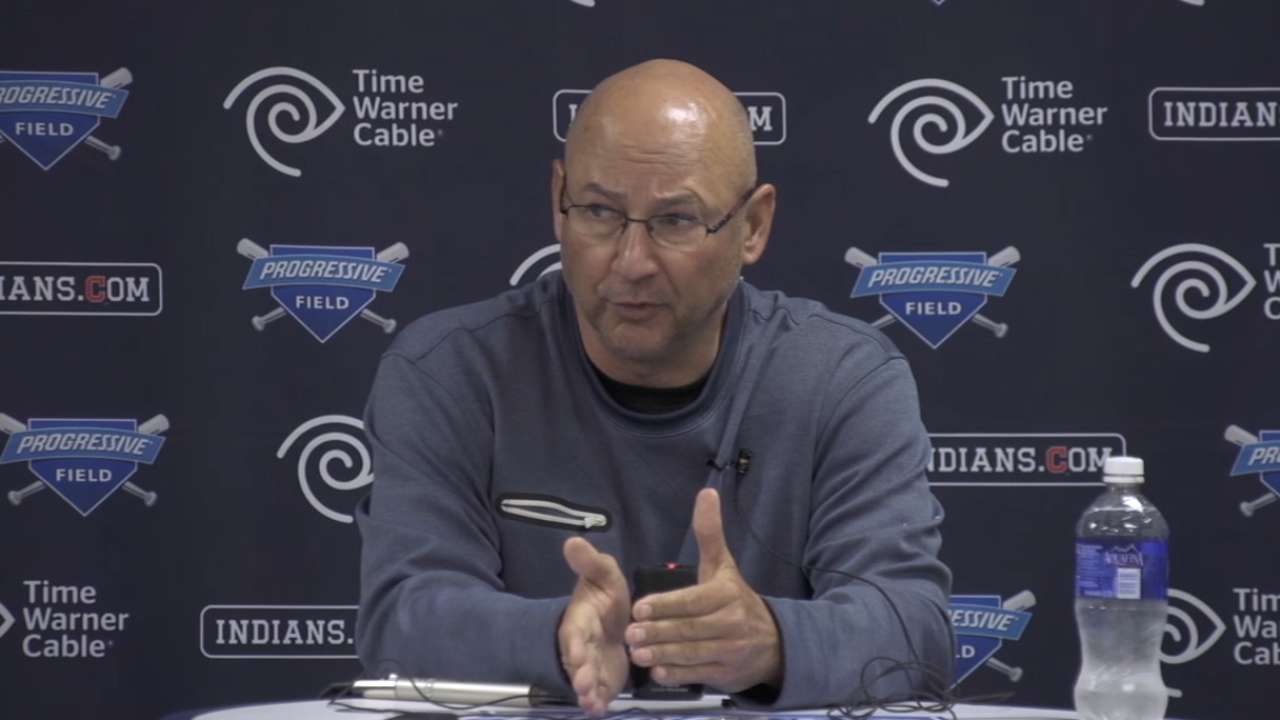 CLEVELAND -- The Indians might not need to worry about finding a front-line starter to lead their pitching staff this offseason. Cleveland discovered this year that it already had one in hand.
The breakout showing from right-hander Corey Kluber, combined with the strong second-half performance by Cleveland's young and controllable starting rotation as a group, has laid the groundwork for optimism for the 2015 season. If pitching is what paves the way to the postseason, the Indians appear to be positioned well for the near future.
"We have young pitching that has done a really good job," Indians manager Terry Francona said. "Saying that, you don't want to get too caught up in patting yourself on the back. Things happen over the course of years, especially with pitchers.
"So, I kind of fall back on, when you think you have enough pitching, get more. Whether that's develop it or [acquire it], you need to have pitching."
• Pitching kept Tribe in hunt for postseason return | 2015 schedule
As the Indians begin mapping out their plans for next season, the top priority will likely be exploring ways to inject some offense into the team's inconsistent lineup. Nearly every position is accounted for in terms of contracts for next season, but general manager Chris Antonetti has shown in the past that he has a knack for creative thinking and surprising trades.
On the mound -- both in the rotation and bullpen -- the Indians appear to have a solid foundation from which to build.
Kluber, Carlos Carrasco, Danny Salazar, Trevor Bauer and T.J. House all project to be in the fold for 2015, though Cleveland could certainly stand to add more depth to that group. Closer Cody Allen, along with setup man Scott Atchison, Marc Rzepczynski and Bryan Shaw, all figure to be a part of Cleveland's plans next year, too.
"One takeaway [from this year] would be that our rotation is really, really good right now," Allen said. "We feel like we've got some guys that we can put out there every time through and they're going to give us a very good chance to win. That is exciting. But, every offseason is different. It could be busy. It might not be. We'll see."
For now, Cleveland's players are excited about the players that are already in the fold.
"With a young pitching staff, we've got something good going here," second baseman Jason Kipnis said. "As a fan base, you want a team that's going to put out a good product, you want a team that's going to win games. We won 92 last year. We finished with a winning record this year. So, we're not at the bottom.
"We're not in the cellar anymore. That's not something that you can hang your hat on right there, but we've got something good going here, something special brewing here, and we're all excited."
Here is a look at where Cleveland's roster stands heading into the offseason:
Arbitration-eligible: RHP Carrasco, 3B Lonnie Chisenhall, C/UTIL Chris Gimenez, LHP Rzepczynski, RHPShaw, RHP Josh Tomlin.
Potential free agents: INF Mike Aviles (club option worth $3.5 million for 2015), DH Jason Giambi.
Rotation: Given the second-half success of the starting staff, which was one of the best in baseball down the stretch, the club feels it has strong foundation for the next few years. What helps the Tribe beyond the collective performance of Kluber, Carrasco, Salazar, Bauer and House is that all five are under contractual control with only Carrasco entering his arbitration years. That is a lot of potential value when comparing production to price. That said, the Indians will surely explore starting pitching options this winter to shore up the depth of the staff.
Bullpen: By re-signing veteran Atchison through 2015 (with a team option for '16), Cleveland is in a position to return with virtually the same bullpen. The Indians set an AL record in 2014 for combined relief appearances, but that did not stop the group from being one of the most effective relief casts in the league. Allen has emerged as a reliable closer, while Atchison, Shaw and Rzepczynski provide solid setup options. The impressive seasons from lefties Kyle Crockett and Nick Hagadone also provide promise. The Indians have other young options in C.C. Lee and Austin Adams but will likely look to add more arms to the mix over the winter.
Catcher: The Indians have found a strong one-two catching duo in starter Yan Gomes and youngster Roberto Perez. Gomes has developed into one of the league's top offensive catchers, while also providing an above-average arm to go along with good game-calling and pitch-framing. Perez gives the Indians a good defensive option for the No. 2 role and showed that he can hold his own offensively in the big leagues in a part-time role. What Cleveland could use are better third-string options in case one or both of their Major Leaguers run into any issues.
First base: After the Indians experimented with using Carlos Santana as their third baseman and backup catcher, he found a home at first base by June. While at first, Santana shined defensively and regained a rhythm in the batter's box. There is no reason to think he will not be the full-time first baseman for 2015. That said, the Indians still have Nick Swisher and the two guaranteed years (worth $30 million) on his contract. Swisher could see time at first, but designated hitter seems like the more likely role for the veteran.
Second base: Coming off a strong All-Star season in '13, Kipnis struggled through an injury-hindered campaign. An oblique issue sidelined him for most of May and he dealt with a hamstring issue at the end of the season. The oblique injury might explain the drop-off in power production, making Kipnis a potential bounceback candidate for 2015. Kipnis is signed through at least 2019, so do not expect him to go anywere over the winter. When Kipnis is healthy, he has the potential to be an elite second baseman.
Shortstop: After trading Asdrubal Cabrera to the Nationals in July, the Indians took a long, hard look at youngster Jose Ramirez at short. The rookie displayed solid defense and often provided a spark out of the lineup's second spot. Ramirez will be in the mix for the starting job in 2015, but the Indians also have top prospect Francisco Lindor waiting in the wings. The Indians might also pick up Aviles' team option to keep him in the fold as a versatile utility option and the primary backup at short.
Third base: Chisenhall thrived in the first half this season, earning the trust of the Indians as the everyday third baseman by the second half. His offensive fade down the stretch, and inconsistent defense, might have Cleveland re-evaluating the hot corner for 2015. If the Indians do not plan to open next season with Chisenhall at third, it would be the most likely position to be upgraded via an external solution over the offseason. Another possibility for the Indians is returning to the kind of platoon situation that helped Chisenhall's offense early in the year.
Outfield: All-Star left fielder Michael Brantley (signed through 2017) and center fielder Michael Bourn (signed through 2016) are not going anywhere, barring an unexpected trade partner that is willing to take on the remainder of Bourn's contract. While Brantley emerged as an MVP candidate in 2014, Bourn had another inconsistent, injury-marred season. In right field, Cleveland has veteran David Murphy signed for one more year at a cost of $6 million. Right field would be a place for a potential offensive upgrade, but that would likely necessitate a trade to clear room. If they are all healthy and producing to their capabilities, Cleveland likes the outfield trio it has in the fold.
Designated hitter: Swisher was not the biggest fan of being a regular DH, but that might be the best option for him following the season-ending surgeries he had on both knees in August. The veteran switch-hitter never looked like himself offensively in 2014, but the health woes surely played a role. If he is healthy, first base would likely be his secondary position. There was talk of possibly moving Swisher back to right field, but the knee problems might remove that from the scenario. In a perfect world, the Indians would love to rotate players in and out of the DH role, avoiding a full-timer for that spot.
Jordan Bastian is a reporter for MLB.com. Read his blog, Major League Bastian, and follow him on Twitter @MLBastian. This story was not subject to the approval of Major League Baseball or its clubs.