Stewart, D-backs look to bolster squad for '15
New GM focused on getting team back into contention following rocky season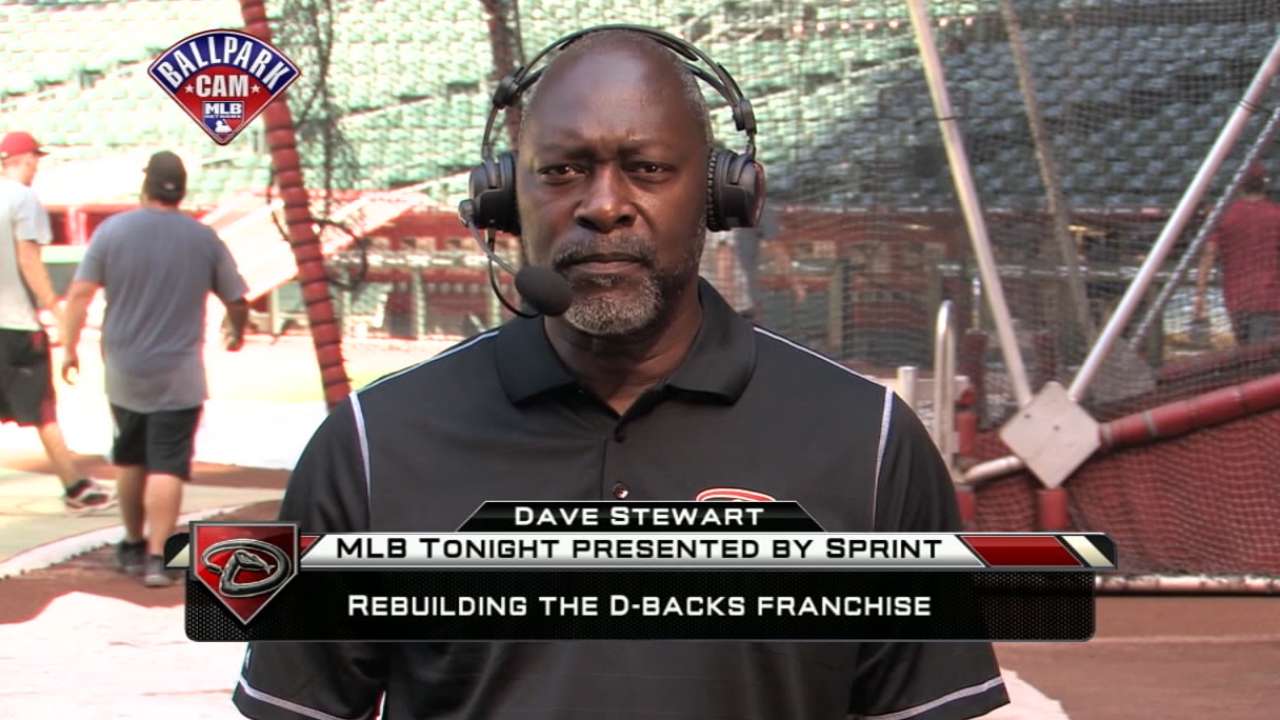 PHOENIX -- Chief baseball officer Tony La Russa assembled his baseball operations point men in Dave Stewart and De Jon Watson during the final week of the regular season.
Together they have to find a way to lift a team that finished 2014 with the worst record in Major League Baseball.
"I don't see this as a complete rebuild," said Watson, who was named D-backs senior vice president of baseball operations. "I think we had some bad health, a little bad luck. This club is going to be better than most people are thinking they're going to be going into next year. So I'm excited about coming back into Spring Training, I'm excited about this upcoming winter and going out and try to find upgraded talent to add to what we currently have in-house."
Watson is certainly right about the injuries -- they were devastating -- and a return to health by first baseman Paul Goldschmidt, ace Patrick Corbin and reliever David Hernandez would go a long way toward improving the D-backs' chances of bouncing back in 2015.
"We've got the one guy I think everybody in baseball would like to have, and that's Mr. Goldschmidt," Stewart said during his introductory press conference. "When you start right there, I gotta tell you what, if you wake up in the morning and the sun is a little bit cloudy, when you know Goldschmidt is playing it makes everything OK."
Health alone will not get the D-backs back on track, though, and the men in charge are well are of that.
That's why this winter they will be looking to add at least one starting pitcher to a rotation that imploded early in 2014.
There are also many questions to be answered with regards to position players. Is Didi Gregorius their starting shortstop? If so, there is a chain reaction at both second and third to consider as well with Chris Owings, Aaron Hill and Jake Lamb.
The struggles of 2014 gave the D-backs an extended look at outfielders Ender Inciarte and David Peralta and whether the brain trust believes one, or both, are every day players will impact what the alignment will be next year.
"I want to build a championship caliber team," Stewart said. "I want to compete. I want to come to the ballpark everyday and know that whoever plays against the Arizona Diamondbacks is going to have a tough day at the office."
Arbitration-eligible: LHP Wade Miley, INF Jordan Pacheco, INF Cliff Pennington, RHP Addison Reed, OF Nolan Reimold, OF Mark Trumbo. (D-backs hold contract options on arbitration-eligible pitchers Daniel Hudson and Matt Reynolds)
Free agents: None.
Rotation: The D-backs will likely devote most of their offseason resources to bolstering their starting rotation, though the cost of pitching might be more than they can afford. One-time ace Corbin could return from Tommy John surgery sometime in late April or May, but the club will take things slowly with him to avoid a second blowout. You can put down Wade Miley for being in the rotation, but he might be the lone sure thing depending on whether they want to use Josh Collmenter as a starter or reliever. Rookie Chase Anderson certainly did enough in 2014 to be a leading candidate for 2015, while Vidal Nuno has pitched well enough to make a case to be part of the backend of the rotation. Trevor Cahill -- and his $12 million salary for 2015 -- is not going anywhere, so he will be given yet another opportunity to recapture his pre-2014 form. Prospects Archie Bradley and Andrew Chafin should battle during Spring Training for spots and Randall Delgado is also a possibility. Bronson Arroyo, who had Tommy John surgery last July, will likely miss at least the first half of the season.
Bullpen: The D-backs talked all year about their bullpen being a strength, but the numbers did not necessarily back that up. The team will have a decision to make on Reed, who will get more expensive through the arbitration process and did not have one of his better seasons. Reliable setup man Brad Ziegler should be recovered from knee surgery by Opening Day and rookie Evan Marshall was impressive in his first taste of the big leagues. The return of Reynolds from Tommy John surgery along with Oliver Perez give the team a pair of quality lefties. Hudson, who made a September return from a pair of Tommy John surgeries will likely pitch in relief and the team is hoping for an early-season return by Hernandez, another Tommy John patient. The club does have depth with prospects like Matt Stites and Jake Barrett among those who will be competing for spots in Spring Training.
Catcher: The D-backs appear set at this position with Miguel Montero and Tuffy Gosewisch. Going forward, the team will need to be more diligent about giving Montero more rest whether he likes it or not. Pitchers like throwing to Gosewisch, who has the perfect attitude for a backup. The coaching staff felt like he made strides at the plate this year as well. Veteran Bobby Wilson adds depth while Pacheco provides versatility in being able to play the corner outfield and infield positions as well as catch in a pinch.
First base: Goldschmidt's season was cut short by injury, yet he still ranked atop many offensive categories for the team. He was on pace to once again be in contention for the Most Valuable Player Award before being hit on the left hand by an Ernesto Frieri pitch on Aug. 1. When Goldschmidt is healthy, a backup gets maybe three to five starts a year.
Second base: If the D-backs elect to go with Gregorius at short then Owings will likely become the starter at second. That would shift Hill to third. Or if the D-backs elect to play Owings at short then Hill could once again become the starter at second.
Shortstop: The D-backs have a trio of young shortstops in Owings, Gregorius and Nick Ahmed. Owings won the starting job out of Spring Training, but each saw time at the position in 2014. If Gregorius gets the nod in 2015 then it will set off a domino effect with second and possibly third base. Cliff Pennington is a valuable and versatile backup and the team will look to bring him back in that role.
Third base: The D-backs got an extended look at Lamb in 2014 and has to decide if they feel he's their everyday starter there. That decision could be complicated by what happens with Hill at second base. Lamb played solid defense and at times showed his potential at the plate.
Outfield: A.J. Pollock will be the center fielder, but after that, things get a little more complicated. Unless Trumbo is moved, he will start in left field. That leaves right field and a battle for playing time between Inciarte, Peralta and Cody Ross. Ross is under contract for one last season, while both Inciarte and Peralta showed promise while getting extended time as rookies in 2014.
Steve Gilbert is a reporter for MLB.com. Read his blog, Inside the D-backs, and follow him on Twitter @SteveGilbertMLB. This story was not subject to the approval of Major League Baseball or its clubs.