Big games have brought out best in Blanco
Giants outfielder made several key plays during 2012 World Series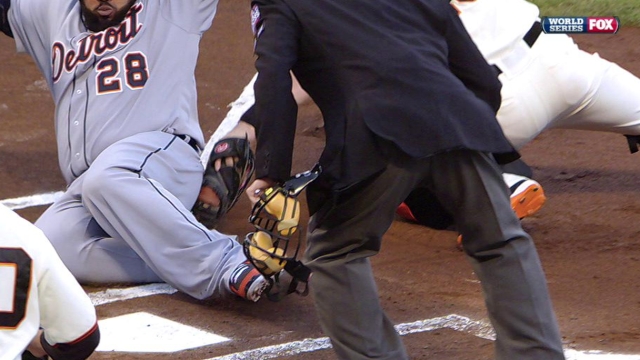 SAN FRANCISCO -- Anything can happen, the pundits say, in a one-game matchup. This makes Giants center fielder Gregor Blanco a prime candidate to make a difference in Wednesday's Wild Card Game at Pittsburgh, because he can do almost anything (watch on ESPN at 5 p.m. PT).
Blanco's multidimensional skills lend themselves to a single-game showdown. Maybe he'll make a difference by reaching base three or four times from the leadoff spot. Perhaps he can run into success as the Giants' most prolific and successful basestealer. Or he'll display his knack for the spectacular with a run-saving catch.
Game 2 of the 2012 World Series against Detroit exemplified Blanco's ability to tilt a game in the Giants' favor. In the second inning, his accurate relay following Delmon Young's double helped second baseman Marco Scutaro throw out Prince Fielder at home plate. Blanco then set up the game's first run in the seventh inning with a bunt single that slithered up the third-base line and rolled to a stop in fair territory.
In Game 3 of that World Series, Blanco accounted for all of San Francisco's offense in a 2-0 triumph. He tripled home Hunter Pence in the second inning before scoring on Brandon Crawford's single.
"I feel the same as 2012," Blanco said after Sunday's regular-season finale. "Just go out and have fun."
Confronting Edinson Volquez, Pittsburgh's Wild Card Game starter, hasn't always been fun for Blanco, who has struck out nine times in 22 regular-season plate appearances against the right-hander. Yet Blanco has managed to hit .263 (5-for-19) lifetime against Volquez.
"He's a guy who's going to come to you," said Blanco, who has faced only three other pitchers more in his Major League career.
Circumstances were not supposed to develop like this. The Giants envisioned Blanco as their fourth outfielder as the season began, replacing left fielder Michael Morse in late innings to bolster San Francisco's defense or giving center fielder Angel Pagan an occasional rest. Occasionally, Giants manager Bruce Bochy might feel compelled to platoon the left-handed-batting Blanco against right-handed pitchers.
But the injuries that sidelined Pagan (back) and Morse (left oblique) pushed Blanco into a more prominent role. After accumulating 90 plate appearances during the season's first two months, he totaled 88 in June, 94 in July, 72 in August and 100 in September. Blanco started 30 of San Francisco's final 31 games in either left or center, batting .282 with a respectable .837 OPS (on-base plus slugging percentage) in this stretch.
Blanco appeared in a career-high 146 games, batting .260 while sharing the team lead with 16 stolen bases in 21 attempts (Pagan was 16-for-22).
"I thank the Giants for the opportunity," said Blanco, noting that his regular activity "definitely helps" as he strives to elevate his game. "I know some guys have been injured, but it's a moment for me to step it up and do the job."
Blanco possesses unseen value. Joe Panik, the rookie who provided essential stability at second base, attributed his offensive productivity partially to Blanco's presence directly in front of him at the leadoff spot.
"He's been on base a lot for me," Panik said. "Whenever somebody's on first base, first off, it opens up that four-hole [the infield's right side] for me. Also, pitchers are going to be more careful with him at first base and throw more fastballs."
Blanco's defensive skills, illustrated by his World Series throw and his catch of Jordan Schafer's drive that preserved Matt Cain's perfect game against Houston in 2012, remain intact.
"It's nice to know that if somebody gets a hold of one, he's going to have a good chance of running it down," Giants right-hander Ryan Vogelsong said.
Blanco relishes the intensity that Wednesday will bring. He grew accustomed to performing in critical games by playing for years with Caracas in the Venezuelan Winter League, where fans constantly demand an individual's best. "Where I come from, we play a lot of games under pressure like that," he said.
He won't mind another one.
Chris Haft is a reporter for MLB.com. Read his blog, Haft-Baked Ideas, and follow him on Twitter at @sfgiantsbeat. This story was not subject to the approval of Major League Baseball or its clubs.