Preller breaks down early plans for offseason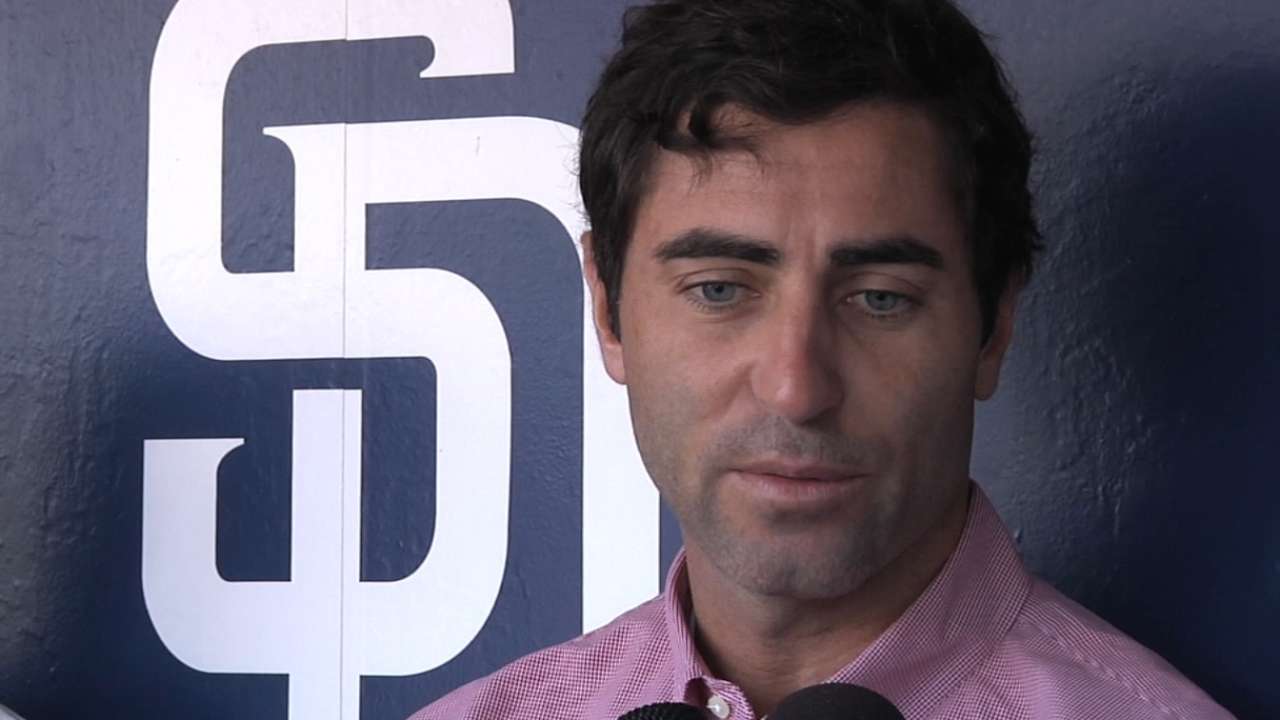 SAN DIEGO -- A day after the Padres put the finishing touches on a 77-85 season, their eighth consecutive season without a postseason berth, new general manager A.J. Preller faced reporters to talk about what has transpired during his seven-plus weeks on the job.
And, more importantly, what lies ahead for the franchise.
When he was asked on Monday about specific moves that could be in the works, Preller instead spoke of the general process of how the offseason needs will be met before Opening Day of 2015 arrives.
"It's how to improve the big picture in general," Preller said, sitting on the top bench of the dugout at Petco Park.
Preller inherited a team with roughly $41 million in payroll. There are several players on the roster who are due for big raises through arbitration, like pitchers Andrew Cashner ($2.4 million in 2014), Ian Kennedy ($6.1 million) and Tyson Ross ($1.98 million).
San Diego executive chairman Ron Fowler said Monday he doesn't "have a position on payroll at this time" and that he'll meet with Preller in the next few days to get his thoughts.
Preller, who wasted little time diving headfirst into meetings with the coaching staff Monday, addressed a number of topics:
• As he told MLB.com on Sept. 20, Preller reiterated that manager Bud Black, who just completed his eighth season, will return in 2015. Black was already under contract for next season.
"What I saw from afar, what I heard, he's intelligent," Preller said of Black. "The club played hard for him throughout and I think that he did a good job with the coaching staff … delegating in certain areas and taking responsibility. I feel good about him here. Really, from Day 1 it's been a positive relationship."
A decision on Black's coaching staff could come by the end of the week.
• Preller was also asked about shortstop Everth Cabrera, an All-Star in 2013 whose star has faded in a big way. Cabrera was limited to 90 games because of two DL stints for left hamstring injuries. He was also arrested earlier this month for driving under the influence of marijuana and his on-base percentage dropped from .355 a year ago to an anemic .272.
Does Cabrera, who is under team control, have a place on the 2015 roster?
"I think in Everth's case, we'll get started with our staff and our scouts, look at who fits and other ways to make improvements in all spots," Preller said. "In his case specifically, you need to see where he's at physically, the off-field deal, and make a decision going forward about what. In the next month or two months, we'll see where he's at."
• The Padres hold a $4 million option for 2015 on pitcher Josh Johnson (Tommy John surgery), as his contract stipulated that he could return on the option if he made seven or fewer starts. He's indicated that he would like to, even if the team declined the option.
Preller said the feeling is mutual.
"With Josh, he's a guy that everyone has a positive feel for. We'll try to go down the road with him and try to present something to him that makes sense to him," Preller said.
• Preller already has a good idea what other teams will be asking about this winter -- pitching. The Padres, while not exactly having a surplus, do have some interesting pieces they could move in a deal to get offense. Could they, say, deal Cashner, who they approach last winter about an extension, but were rebuffed by his agent?
"I definitely get the sense already that we have pitchers that are attractive to clubs. It's going to be an area where teams hit us this offseason. It's an area where we have guys who are attractive to other clubs," Preller said.
Would Preller be amenable to moving a frontline starter?
"I think you look at anything to try and improve. We've had good starters, frontline starters, depth. We don't take that lightly. You've got to listen to any situation."
If the team does move, say Cashner, they would retain Ross and Kennedy (both under control) and add them to Jesse Hahn, Odrisamer Despaigne and Eric Stults with Matt Wisler seemingly ready to move up and join the rotation.
• Preller said the Padres will continue to monitor and be active in terms of pursuing players on the international market. But Preller refused to comment specifically on players, such as 24-year-old Cuban outfielder Yasmany Tomas.
"It will be a case-by-case basis," Preller said of pursuing players internationally.
Corey Brock is a reporter for MLB.com. Keep track of @FollowThePadres on Twitter. This story was not subject to the approval of Major League Baseball or its clubs.