Royals feeling need for speed in Wild Card lineup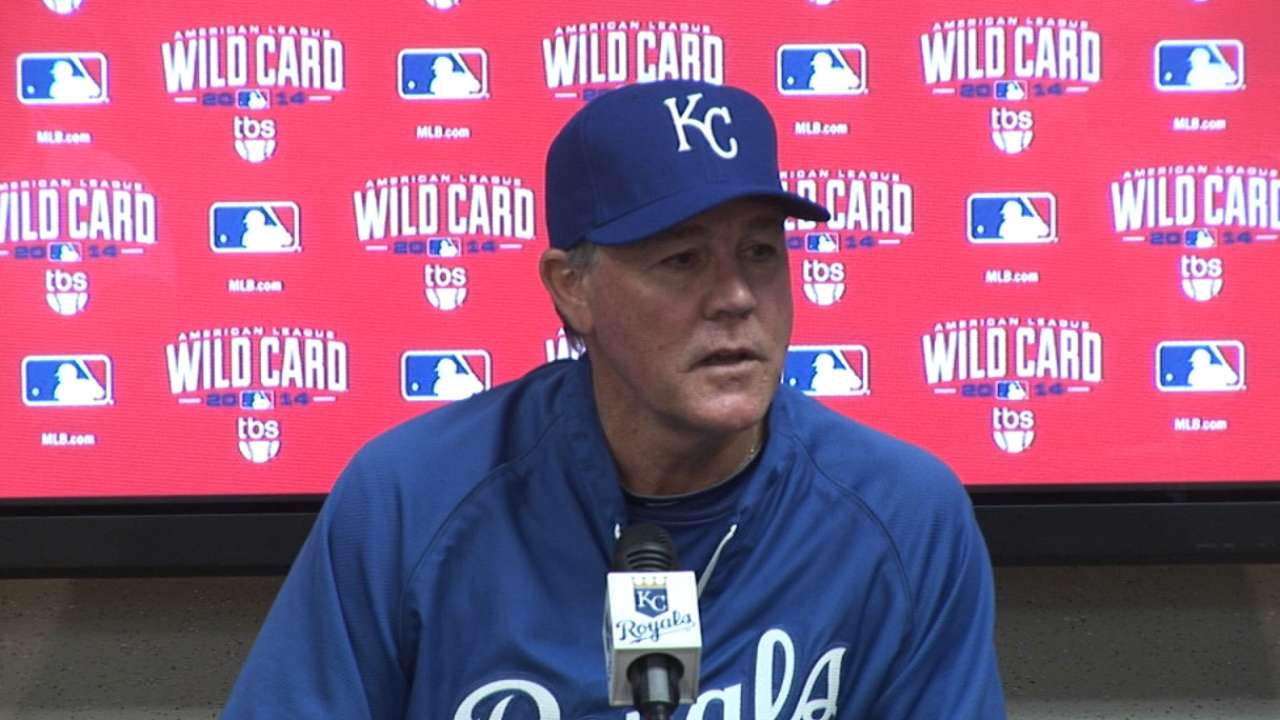 That means Alcides Escobar leading off with Nori Aoki second, Lorenzo Cain third and the more power-prone guys on down.
Yost inaugurated the lineup on Sept. 13.
"We were struggling at that point and we had just gotten through playing Boston, and they had a lot of speed at the top of their order that was creating havoc -- guys were getting on base and running everywhere," Yost said.
The revised lineup has resulted in a 9-6 record and more run production. Average runs per game went to 4.4 compared to 4.0 for the first 147 games of the season. In addition, the team batting average went up to .289 from .260 and the on-base percentage jumped to .350 from .310.
Yost noted that Alex Gordon, Billy Butler and Salvador Perez weren't swinging the bat well in mid-September.
Escobar has hit .375 (24-for-64) since moving into the leadoff spot. On Sunday, Cain had a nine-game streak ended in which he'd hit .405 with six RBIs. Aoki is riding an eight-game streak at .323.
Aoki, acquired last offseason to lead off, seems more at ease in the No. 2 spot.
"Nori's a guy where I think you hamper his ability offensively in the one-hole where you're making him take pitches," Yost said. "Nori's a guy that likes to be a free swinger because hand-eye coordination is so good. Move him down to the two-hole so he wouldn't have to take as many pitches and can use the whole field, can hit-and-run and bunt in situations."
Yost said he gave consideration to using Jayson Nix at third base because he's hit well against A's starter Jon Lester (.308, 8-for-26 with three home runs) but he decided to stick with Mike Moustakas (.250, 3-for-12).
"Moose has been swinging better against left-handed pitchers the last two weeks so there was a lot of discussion about it, but we're going to go with Moose," Yost said.
Lineup:
Alcides Escobar, SS
Nori Aoki, RF
Lorenzo Cain, CF
Eric Hosmer, 1B
Billy Butler, DH
Alex Gordon, LF
Salvador Perez, C
Omar Infante, 2B
Mike Moustakas, 3B
James Shields, P
Dick Kaegel is a reporter for MLB.com. This story was not subject to the approval of Major League Baseball or its clubs.