Fire to win burning stronger than ever in Kinsler
Like teammates, second baseman has come close to ultimate prize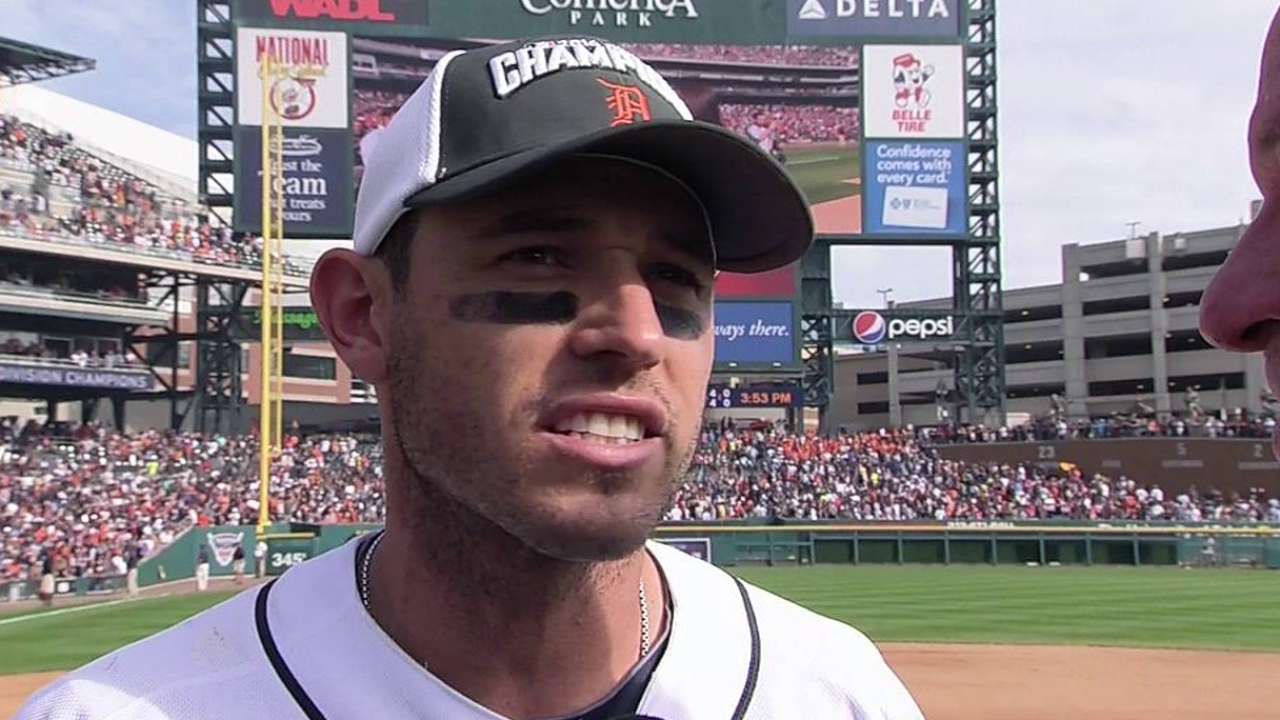 DETROIT -- While the music blared in the Tigers' clubhouse Sunday and the celebration of a fourth straight division title rolled on, Alex Avila was off in the hallway talking with reporters about the challenges his team faced in its latest postseason run. He was in mid-answer about expectations when Ian Kinsler crashed the media scrum and started pouring champagne on Avila's head.
"Open your eyes," Kinsler said, trying to pry open the eyelids. "Feel the burn."
Kinsler was still riding the adrenaline of clinching, still hearing the roar of the crowd at Comerica Park in his ears.
"That's as loud as it's been," Kinsler said, "and we need that. I don't know what you guys [in the media] need to do, but we need these people. We need sore voices. We need sore throats. We need people getting crazy through the whole thing. Two strikes on hitters, guy's battling at the plate, whatever it may be, we need just noise. Make this place one of the toughest places to play in the big leagues."
Avila has been around for the Tigers' entire postseason streak, and the increased expectations that have come with each passing year. Kinsler was only on board for this one. He knows the pressure of increasing expectations from back-to-back World Series berths in Texas, just not here.
Yet without Kinsler, his two RBIs and his ranging plays from second base to short right field, the Tigers likely wouldn't have been celebrating on Sunday. For somebody who wasn't invested in the past Tigers' runs, he wanted to win as badly as anyone. He always does.
"Honestly, I'm just trying to help the team," Kinsler said. "I'm trying to do what I can to help the team -- whether it's defensively, trying to move up extra bases, running, trying to produce some kind of run every day, save a run every day, do something to help the team. Sometimes it works out like this, where it's a really good game and you're able to be in the middle of it. It was a lot of fun today."
At that point, Kinsler changed the topic to David Price and his 7 1/3 shutout innings. His teammates, however, weren't done talking about him.
"He a catalyst for us," Avila said. "Offensively, he can beat you with a home run or a base hit or with his legs, but he makes the run-saving plays in the field as well. Without him, we wouldn't be here."
Said Joakim Soria: "He's a clutch hitter. He hit the ball really well today, and just when we needed it."
Advanced metrics usually aren't kind to Tigers position players. Miguel Cabrera's back-to-back MVP Awards were made in spite of the metrics, rather than with them. Often, it ends up that Tigers pitchers fare better with Wins Above Replacement (WAR). But the metrics seem to peg Kinsler's value to this team.
Going by the fangraphs.com formula for WAR, Kinsler's 5.2 mark not only ranks him just behind Cabrera for the team lead among position players, it ranks him just outside the top 10 in the American League. It also ranks him ahead of AL MVP candidate Victor Martinez.
Considering Kinsler's .727 OPS -- a surprising drop from what the Tigers got at second base from Omar Infante last year (.795) -- it's his two-way play that makes his value. On a team that has taken its lumps for defense, Kinsler actually leads the AL in Defensive WAR, and ranks among the AL infield leaders in Defensive Runs Saved.
No Tiger in the last few years has had such a boost from metrics. The plays that Kinsler made down the stretch -- ranging everywhere from up the middle on ground balls to foul territory in the outfield on popups -- provided visual evidence of how the numbers translate.
For someone who was seen a year ago as a salary exchange in the Prince Fielder trade, it's a testament to how much the trade changed the shape of the club. Yet if last postseason was the stretch that helped doom Fielder in Detroit -- not so much his reactions as his struggles at the plate -- how Kinsler carries his play into the playoffs could make him a hero.
Kinsler is a career .311 (38-for-122) hitter in the playoffs. He drove in six runs and scored six more against the Tigers during the 2011 AL Championship Series, including a three-RBI, two-run performance in the clinching Game 6. If the Tigers are going to get their offense in motion against Baltimore early, before the O's bullpen gets a lead, they need Kinsler to be a spark plug.
"We're excited, really," Kinsler said. "I think right now you get excited after you clinch, but then you go home tonight thinking about your day off, how you're going to use it, your workout, how you're going to use that, and getting prepared for Baltimore. There's really no time to breathe. It's a grind of a season, and it's the same in the postseason."
Jason Beck is a reporter for MLB.com. Read Beck's Blog and follow him on Twitter @beckjason. This story was not subject to the approval of Major League Baseball or its clubs.