Royals' Wild Card roster likely to be bench heavy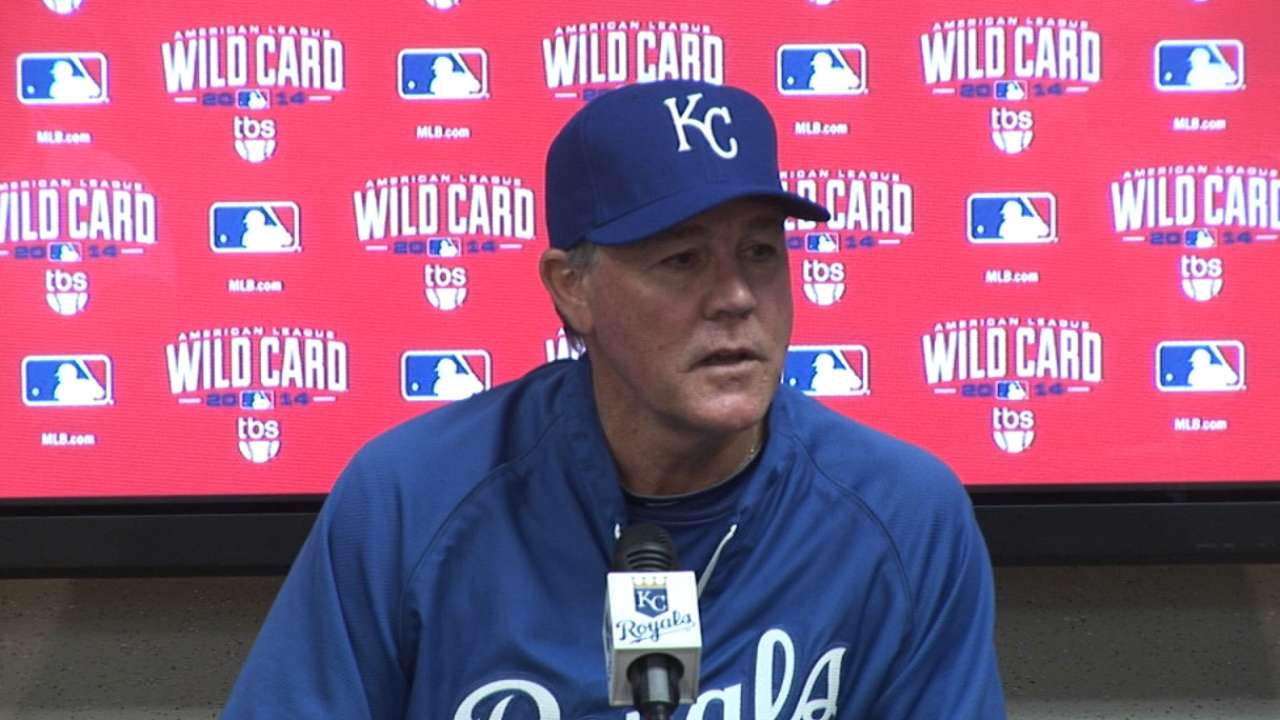 KANSAS CITY -- The Royals haven't set their roster for Tuesday's American League Wild Card Game yet, but it's sure to be a bit light on pitchers and heavier than usual on bench players.
That's because it's a roster for just one game, and the usual complement of 12 or sometimes 13 pitchers won't be necessary.
Starting pitcher James Shields, tasked with slowing the A's, is sure to be backed up by another member or two of the rotation just in case.
"We're probably going to go with nine pitchers tomorrow, so we're meeting with our advance guys that have been with Oakland the last two weeks and we'll determine what are the best matchups for us," manager Ned Yost said.
"You have to set yourself up for every scenario. If something happens to Juego [Shields] and he takes a line drive off his shin or his elbow in the second inning, you've got to have length there."
Yost also indicated that super-speedster Terrance Gore, who started his season at the Class A level, will be in place as a special weapon.
"We've been using Jarrod Dyson in the seventh inning when we're ahead as a defensive replacement for Nori Aoki, so that takes away our late-inning pinch-runner. So we're looking at Gore to fill that spot," Yost said.
He's also planning for the possibility of pinch-hitting for Mike Moustakas, a left-handed hitter who struggles against lefties but will be in the starting lineup against A's starter Jon Lester, a southpaw.
"Probably the only guy we'll pinch-hit for late will be Moose," Yost said. "They've got two pretty left-handed pitchers in Fernando Abad and Sean Doolittle, and if we get in a situation where we're behind and runners in scoring position, you're going to have a couple of pinch-hitters on the bench and a couple of infielders on your bench to cover that."
Pinch-hitters likely would include right-handed Josh Willingham and left-handed Raul Ibanez. Backup infielders could be Christian Colon, Jayson Nix or Johnny Giavotella.
Dick Kaegel is a reporter for MLB.com. This story was not subject to the approval of Major League Baseball or its clubs.