MLB.com Columnist
Jim Callis
Built to win: How each playoff team constructed its roster
Show-Me State teams heavily homegrown; A's, O's and Tigers leaned on trades, free agency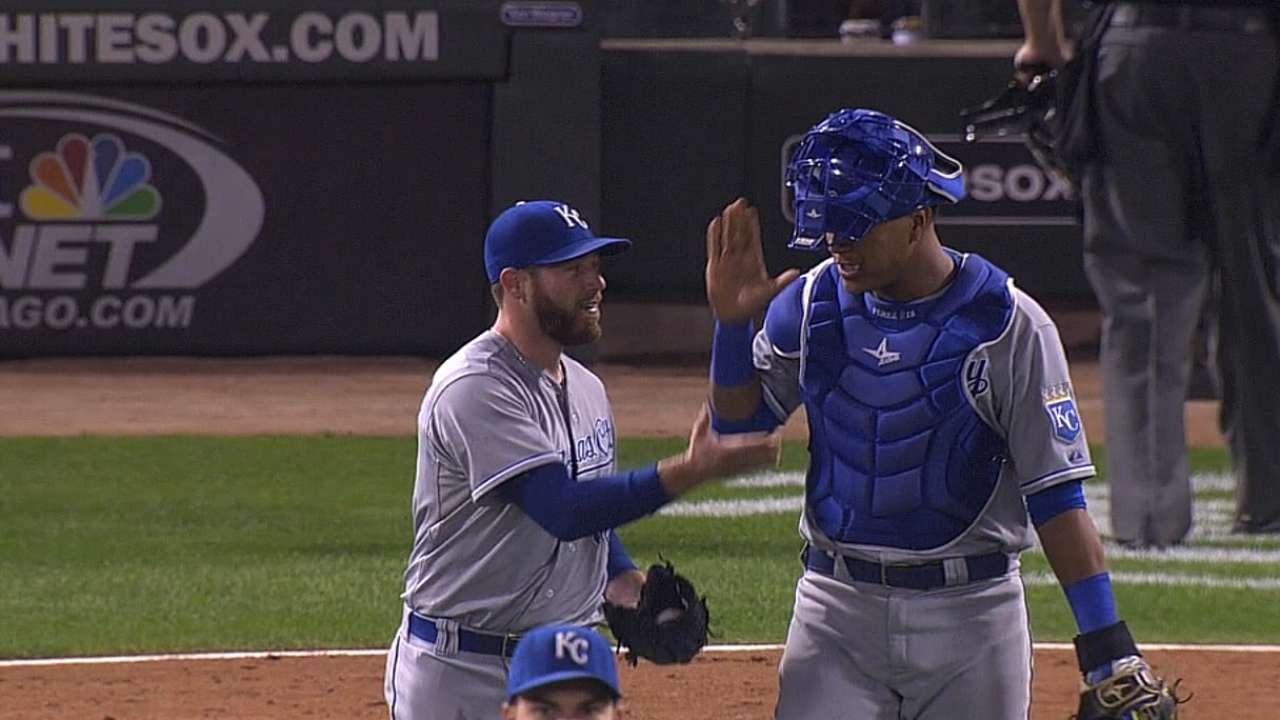 The 2013 Red Sox parlayed a brilliant offseason of mid-level free-agent signings into winning the World Series. The Giants rode some exceptional first-round picks to championships in 2010 and 2012.
The Cardinals won it all in 2011 thanks to a roster comprised almost solely of players either developed by the organization or acquired in trades for such players. The 2009 Yankees ended a nine-year title drought by relying heavily on high-priced free agents.
That diverse group of World Series champions illustrates that there's not just one blueprint for constructing a winner. So does this year's collection of 10 postseason teams.
It's no surprise that the Cardinals are the most homegrown team in this year's playoffs. Building from within has been their core philosophy while making 11 postseason appearances and winning four National League pennants and two World Series in the last 15 years. They signed and developed 16 of the 25 players on their postseason roster, including four first-rounders (Lance Lynn, Shelby Miller, Kolten Wong, Michael Wacha) and three late-round steals from the 2009 First-Year Player Draft (13th-rounder Matt Carpenter, 21st-rounder Trevor Rosenthal, 23rd-rounder Matt Adams).
"If you think about building an organization organically, where you have the ability to stay within your organization to answer questions, getting help from that minor league system is an ideal strategy," St. Louis general manager John Mozeliak said. "Clearly there are times when you can't do that, so you look at the trade or free-agent market, and we're not afraid to do that. The first thing for us is we want to answer our questions internally and we're not afraid to promote from within."
The composition of each team's projected Division Series roster:
| National League | | | | | |
| --- | --- | --- | --- | --- | --- |
| Homegrown | 11 | 9 | 12 | 16 | 11 |
| - Draft | 6 | 7 | 11 | 14 | 11 |
| - Int'l signing | 5 | 2 | 1 | 2 | 0 |
| Trade/Waivers | 6 | 11 | 4 | 5 | 10 |
| Free Agency | 8 | 5 | 9 | 4 | 4 |
| American League | | | | | |
| Homegrown | 6 | 7 | 14 | 11 | 2 |
| - Draft | 4 | 6 | 11 | 10 | 2 |
| - Int'l signing | 2 | 1 | 3 | 1 | 0 |
| Trade/Waivers | 14 | 9 | 9 | 10 | 19 |
| Free Agency | 5 | 9 | 2 | 4 | 4 |
Bold numbers indicate that the team has the most players in the given category; red numbers indicate the team has the fewest players in the given category.
The Royals also developed their own talent to advance to the postseason for the first time since winning the 1985 World Series. Nearly half their lineup consists of first-round picks (Billy Butler, Alex Gordon, Eric Hosmer, Mike Moustakas) and they've also made some nice later finds such as third-rounder Danny Duffy and 10th-rounder Greg Holland. Kansas City also has been remarkably efficient in Latin America, signing Salvador Perez, Kelvin Herrera and Yordano Ventura for a combined $113,000.
At the other end of the spectrum are the Athletics, who are making their third straight postseason appearance with just two homegrown players (Sean Doolittle, Sonny Gray) on their roster. They built their team via trades, acquiring 19 players in deals ranging from blockbusters for Jon Lester and Jeff Samardzija to moves for youngsters that paid off down the road with Josh Donaldson, Derek Norris and Josh Reddick. Just seven players from Oakland's 2012 playoff roster return this October, and 11 members were acquired since the end of last season.
"It keeps things interesting here," A's assistant GM David Forst said. "Certainly over our last three seasons, we've been very active. It's intellectually stimulating, trying to tweak and move things around. It's nice to have a partner in the manager's office who appreciates and enjoys the process and wants to work with us. It keeps things fresh. We're not sitting back, we're looking for an edge as to how to get better."
The Orioles and Tigers also count heavily on imported talent. The 2008 Erik Bedard trade with the Mariners continues to pay huge dividends for Baltimore with Adam Jones and Chris Tillman, and 2014 free-agent acquisitions Nelson Cruz and Steven Pearce have powered the offense to a greater extent than anyone could have expected. Detroit has built its lineup with trades (Miguel Cabrera, Ian Kinsler) and free agents (Victor Martinez, J.D. Martinez) and amassed an enviable rotation via trades for Max Scherzer and David Price.
The Dodgers and Pirates have the most blended playoff rosters, with key contributors acquired in a variety of ways. Los Angeles' four best players were acquired in four different fashions, via the Draft (Clayton Kershaw), internationally (Yasiel Puig), free agency (Zack Greinke) and trade (Adrian Gonzalez). The same is true of Pittsburgh with Andrew McCutchen (Draft), Russell Martin (free agent), Josh Harrison (trade) and Starling Marte (international).
"We knew coming in that it wasn't going to be easy," said Pirates GM Neal Huntington, whose club is making its second straight playoff appearance after two straight decades of losing seasons. "We knew we had a series of challenges, and we might have created some or our own challenges along the way. We've worked very hard to add to our roster in any way. We've been open to make ourselves better in any way possible."
The Angels and Nationals also have diversified portfolios, leading their leagues in wins thanks mostly to a mix of draftees and trade acquisitions. Los Angeles drafted Mike Trout and Jered Weaver (both first-rounders) early and Howie Kendrick (10th round) and Kole Calhoun (eighth round) late, and swung deals for David Freese and six members of its pitching staff, most notably Huston Street. Washington assembled a formidable rotation solely through the Draft (Jordan Zimmerman, Stephen Strasburg) and trades (Tanner Roark, Gio Gonzalez, Doug Fister), and also drafted Ian Desmond, Bryce Harper and Anthony Rendon for the lineup.
Even with Matt Cain sidelined and Tim Lincecum slipping, the Giants are still getting plenty of mileage out of first-round picks in Madison Bumgarner, Buster Posey and Joe Panik. Panik completed an all-homegrown infield with draftees Brandon Belt and Brandon Crawford and international signee Pablo Sandoval. San Francisco has supplemented its Draft work with a slew of non-big-ticket free-agent signings, highlighted by Tim Hudson, Ryan Vogelsong, Mike Morse, Gregor Blanco and several relievers.
As the 10 playoff participants show, there are several different methods to put together a winning club. After four weeks of postseason play to come, we'll find out which method proved the most successful in 2014.
Jim Callis is a reporter for MLB.com and writes a blog, Callis' Corner. Follow @jimcallisMLB on Twitter. This story was not subject to the approval of Major League Baseball or its clubs.