MLB.com Columnist
Jonathan Mayo
Constructing a winner: Cardinals
How St. Louis used the Draft, trades, free agency and international signings to build its playoff team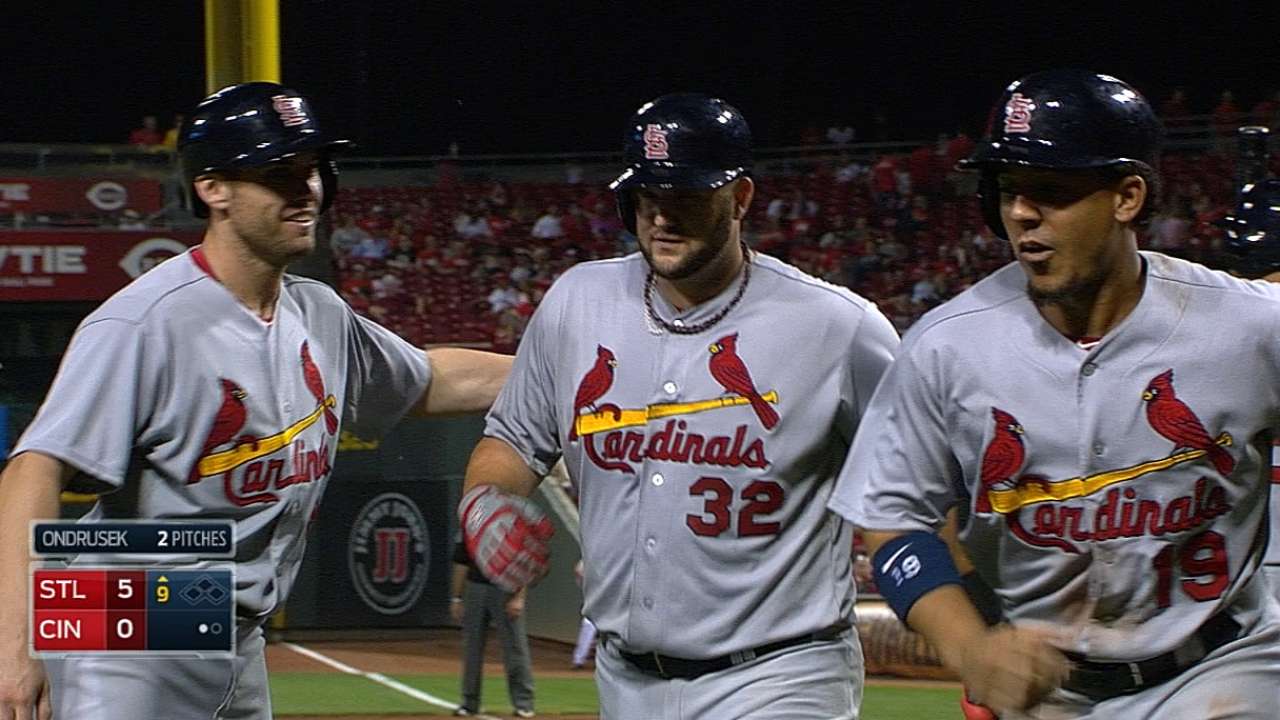 It's not the postseason without the Cardinals in it.
It's the fourth straight year of extra baseball for St. Louis, with two World Series appearances (one win, one loss) and a National League Championship Series loss over the previous three Octobers. As has long been the case, the Cardinals will be relying on the most homegrown roster of all the postseason teams to get them back to the Fall Classic.
"If you think about building an organization organically, where you have the ability to stay within your organization to answer questions, getting help from that minor league system is an ideal strategy," Cardinals general manager John Mozeliak said. "Clearly there are times when you can't do that, so you look at the trade or free agent market, and we're not afraid to do that.
"The first thing for us is we want to answer our questions internally and we're not afraid to promote from within."
HOMEGROWN
Player, how acquired, year:
Matt Adams, Draft, 2009 (23rd)
Matt Carpenter, Draft, 2009 (13th)
Daniel Descalso, Draft, 2007 (3rd)
Sam Freeman, Draft, 2008 (32nd)
Jon Jay, Draft, 2006 (2nd)
Pete Kozma, Draft, 2007 (1st)
Lance Lynn, Draft, 2008 (1st)
Seth Maness, Draft, 2011 (11th)
Carlos Martinez, Int'l sign, 2010
Marco Gonzales, Draft, 2013 (1st)
Shelby Miller, Draft, 2009 (1st)
Yadier Molina, Draft, 2000 (4th)
Trevor Rosenthal, Draft, 2009 (21st)
Oscar Taveras, Int'l sign, 2008
Michael Wacha, Draft, 2012 (1st)
Kolten Wong, Draft, 2011 (1st)
One look at the Cardinals' postseason roster and it's clear that promoting from within isn't just a fanciful idea floated to motivate prospects. A total of 17 of the 25 players on the roster are homegrown, with 15 coming from the Draft, two via international signings.
The 2009 Draft has been the most productive of late, with four on the roster hailing from that class. Perhaps even more impressive is that after first-rounder Shelby Miller, the rest came much later, with Matt Carpenter from the 13th round, Trevor Rosenthal from round 21 and Matt Adams two rounds later in the 23rd.
St. Louis has shown the ability to allow its farm system to push players up to the big leagues regularly while continuously being competitive at the highest level. The Cardinals have finished under .500 just twice in the past 16 years, once in the past 10. Mozeliak has yet to experience such an end to a season since he took the helm as GM in December 2007.
"When you think about your organizational depth, one of the variables that figures in is what type of opportunities are you creating for players who are ready for that next step," Mozeliak explained. "At some point in time, you have to create at-bats or innings to know really what you have. I think we've been fairly aggressive and willing to take those chances, to create that major league opportunity for certain individuals."
"We had to create ways to do that and typically, that was through the trade market."
TRADES/WAIVERS
Player, year, acquired from:
Peter Bourjos, 2013, Angels
Randal Grichuk, 2013, Angels
Matt Holliday, 2009, A's
John Lackey, 2014, Red Sox
Adam Wainwright, 2003, Braves
When the Cardinals have made a trade, as a result, it hasn't often been to bring in big league help. The acquisition of John Lackey at the deadline is a bit of an anomaly as a result, one of those times where the deep farm system couldn't fill holes in the rotation.
The composition of each team's projected Division Series roster:
| National League | | | | | |
| --- | --- | --- | --- | --- | --- |
| Homegrown | 11 | 9 | 12 | 16 | 11 |
| - Draft | 6 | 7 | 11 | 14 | 11 |
| - Int'l signing | 5 | 2 | 1 | 2 | 0 |
| Trade/Waivers | 6 | 11 | 4 | 5 | 10 |
| Free Agency | 8 | 5 | 9 | 4 | 4 |
| American League | | | | | |
| Homegrown | 6 | 7 | 14 | 11 | 2 |
| - Draft | 4 | 6 | 11 | 10 | 2 |
| - Int'l signing | 2 | 1 | 3 | 1 | 0 |
| Trade/Waivers | 14 | 9 | 9 | 10 | 19 |
| Free Agency | 5 | 9 | 2 | 4 | 4 |
Bold numbers indicate that the team has the most players in the given category; red numbers indicate the team has the fewest players in the given category.
Even that trade helped create an opportunity for a homegrown player. The Cardinals felt comfortable sending Allen Craig, a veteran of the farm system himself (along with homegrown pitcher Joe Kelly), to Boston to get Lackey because they felt young outfielder Oscar Taveras was ready to play the outfield full-time.
"We made an in-season trade which was something that would help us now, but also would give us benefit next year," Mozeliak said. "It wasn't so much we wanted to trade a player simply to create an opportunity, but our rotation was hemorrhaging a bit. Lackey will not only help us this year, but he's also very attractive next year.
"We did it without having to dip into our minor league system, instead going with someone on our big league roster. "Yes, it was someone who had success, exemplified who we are. But it also created opportunity for some new players."
The same can be said for the offseason trade that brought Peter Bourjos and Randal Grichuk to St. Louis. Rather than raid the system, the Cardinals felt confident enough in prospect Kolten Wong at second, and Carpenter at third, to send World Series hero David Freese to the Angels to make that deal happen.
FREE AGENTS
Players, year:
Randy Choate, 2012
Pat Neshek, 2014
Jhonny Peralta, 2013
A.J. Pierzynski, 2014
Thanks to its deep system, St. Louis has not had to be major players on the free agent market. The one exception to that rule has been Jhonny Peralta, who received a four-year, $53 million contract last November to give the Cardinals some much-needed pop at shortstop.
Other free agent acquisitions have been somewhat secondary, though Pat Neshek has delivered an All-Star season that has greatly solidified the bullpen.
"'Complementary pieces' is the term I use all the time," Mozeliak said. "That's the model. You can't ignore the free agent market if there's a glaring need. Ultimately, we felt we had to do something from an offensive standpoint at shortstop. That's why were aggressive in that signing."
Jonathan Mayo is a reporter for MLBPipeline.com and writes a blog, B3. Follow @JonathanMayoB3 on Twitter. This story was not subject to the approval of Major League Baseball or its clubs.