The 'Yost Way' paying dividends for Royals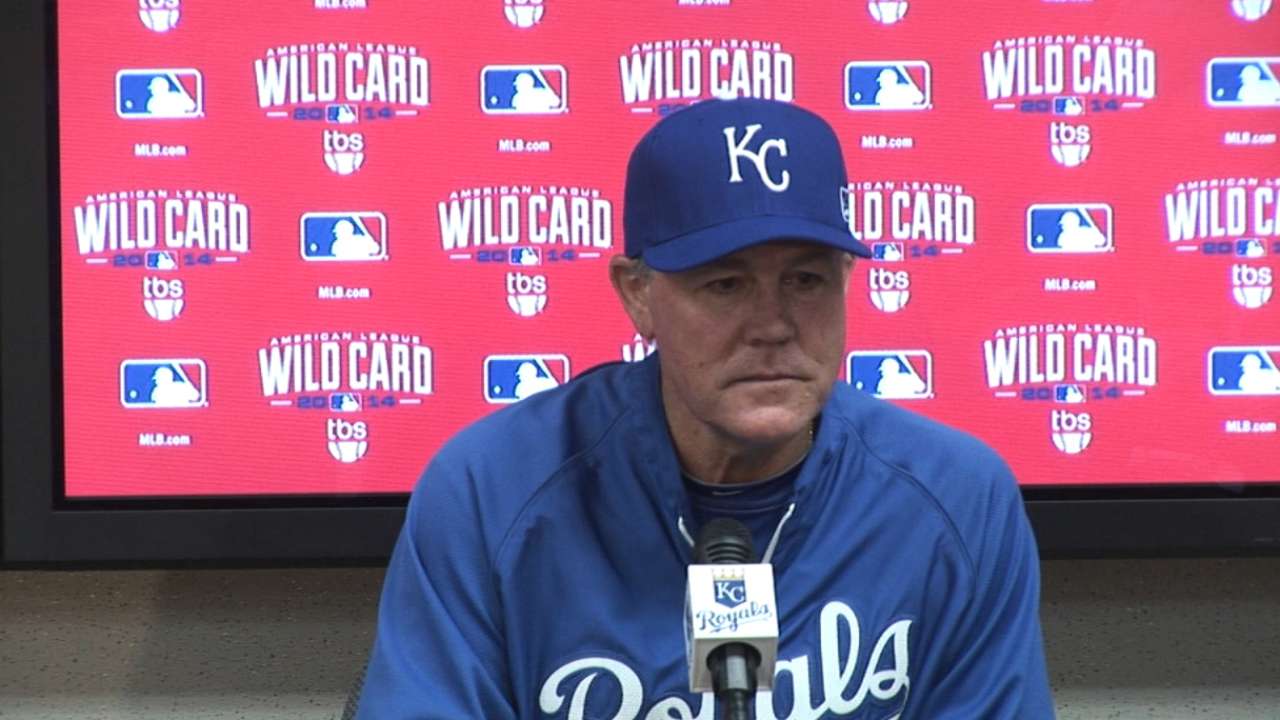 KANSAS CITY -- Ned Yost, in his five seasons as Royals manager, has been vilified for a multitude of presumed sins -- he mishandles pitchers, he bunts too much, he doesn't pinch-hit enough, he looks grumpy for goodness sake!
So Yost must feel vindicated now that he's led this team into the promised land.
"I don't need vindication," he said the other day in Chicago.
In fact, Yost doesn't need much of anything, except a victory in whatever game is next. That game now is the American League Wild Card Game -- a lose-one-and-you're-done fracas against Oakland on Tuesday night at Kauffman Stadium. It's the first playoff game of Yost's career.
He came oh-so-close six years ago when his 2008 Brewers were about to win the National League Wild Card berth. Freaked out by a bump in the road, Milwaukee dismissed him with just 12 games to go, and there were no playoffs for Yost. Until now. And maybe now things are set right for that injustice.
"I really don't think in terms of that. I really don't," Yost said.
In his early years in Kansas City, things were going bad enough that when Yost left his apartment to visit the local Starbucks, he wouldn't give his name as "Ned." Maybe "Sam" or "Joe," because there might be some fans there with some helpful advice or critiques.
On Monday morning, though, he stopped by Starbucks for the first time in a while and nobody asked his name.
"No, I don't get the fancy foo-foo drinks, I just get the regular coffee so they don't even bother anymore," he said.
More likely, though, all those happy smiles were about those postseason Royals. These days, everybody knows his name anyway.
Yost led off a news conference at Kauffman Stadium just prior to the Royals' brisk workout in front of a swarm of fans. He looked at the positives.
"The fact that we've been swinging the bats much better to go along with great starting pitching, a phenomenal bullpen and great defense, I think we can take this thing deep," Yost said.
"When it's all said and done, I think I'll be able to sit back and I'm sure I'll be real happy with what happened this year. But I don't do that. My focus is, 'Let's win this game tomorrow.' It's going to be a big one."
By this time most years, Yost has been heading back to his sprawling Georgia spread, where he spends the winter running a bulldozer, hunting deer with pals like comedian Jeff Foxworthy and celebrating the holidays with wife Deborah and their four grown children.
Yost is an outdoorsman -- an off-day in K.C. is spent at Bass Pro Shops -- and also an entrepreneur. About 20 years ago, he and others started what has become a sports mega-complex now nearing completion north of Atlanta.
Mostly, though, he's an old-school baseball guy who learned much of his stuff from Bobby Cox, his Hall of Fame manager and boss when he was on the Braves' coaching staff.
Yost certainly knew enough to judge that his 2014 Royals could very well end up in this situation.
"This is going to be tight all the way down to the end, and with experience and confidence too, you know you're not going to win every game," he said back in late August. "But you lose a game or two in a row, you don't freak out, you just keep plugging away because you've got the confidence in each other, you've got the confidence in your team and the experience teaches you to stay focused on what you can handle today."
Yost thought about the ups and downs his players had gone through.
"They've bounced back from a lot of stuff this year. When other people were going nuts, they didn't," he said.
Yost doesn't read about the Royals or baseball on the Internet or in newspapers. He doesn't listen to sports talk radio. But criticism from fans or media does reach him at times; he doesn't live in a bubble.
Bunts too much? Just 33 sacrifices this year, ranking in the middle of the league, and not many for a low-power team that needs to manufacture runs.
"And a lot of those were guys bunting on their own," Yost said.
And he didn't look grumpy at all.
Dick Kaegel is a reporter for MLB.com. This story was not subject to the approval of Major League Baseball or its clubs.