Yanks could look to market to fill out lineup for '15
Tex, Beltran expected to return healthy, with Gardner, Ellsbury up top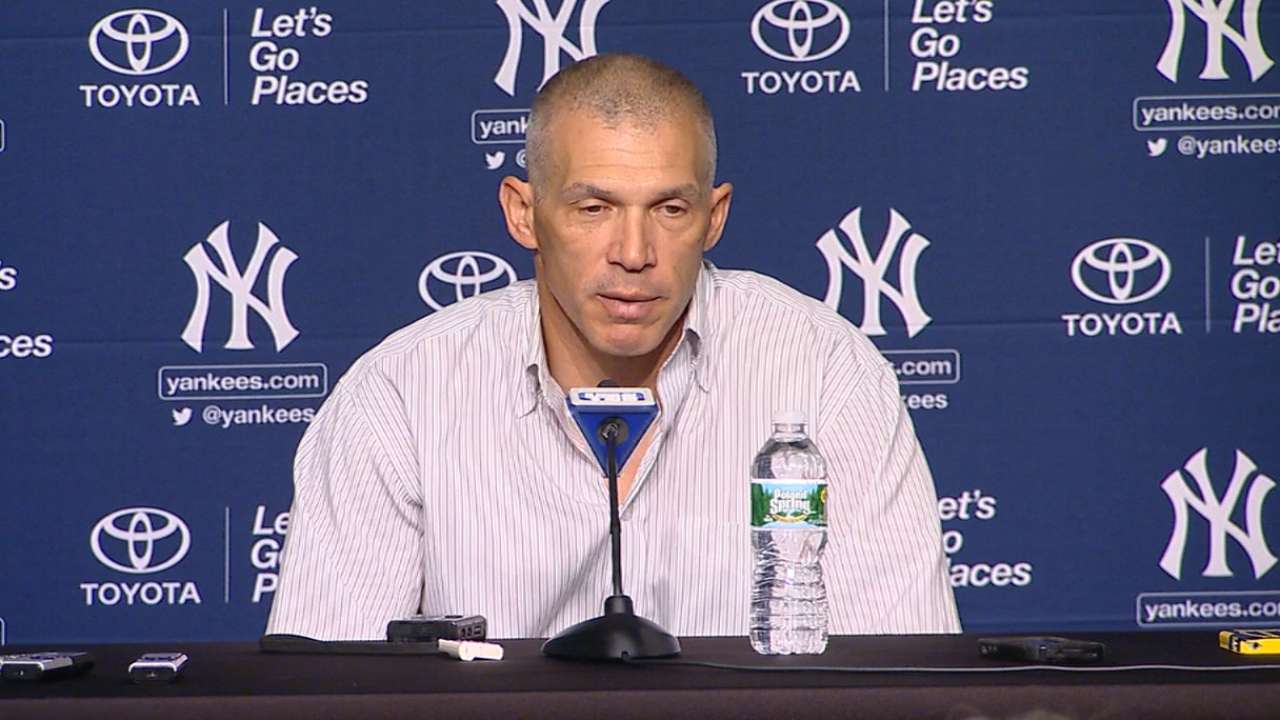 NEW YORK -- The last two times that the Yankees finished the regular season without the gates opening for a playoff game, they adhered to what can be called the Steinbrenner playbook: open the checkbooks and chase the biggest fish in free agency, stealing the headlines for the winter.
Now that the Yankees are spending October on the golf courses for the second consecutive year, managing general partner Hal Steinbrenner will again have that option, intending to field a championship-caliber team in 2015.
The Yankees already checked off an important piece of business by finalizing a three-year contract extension with Brian Cashman, who will continue to serve as the club's senior vice president and general manager.
In analyzing the shortcomings of the '14 Yanks, Cashman pointed to issues with the offense and defense, areas that were upgraded as the year went along. The pitching side of the team was a season-long strength.
"We didn't hit, for the most part, all year when we needed to, especially in scoring position," Cashman said. "We were deficient on the defensive side for a good portion of the season; that improved significantly with the additions and subtractions. But offensively, we never really could get it going. The pitching was tremendous and somehow we fixed that, which is harder typically to do, but the offense, we could not fix."
The Yankees believe that some of those problems may correct themselves, particularly in the cases of Mark Teixeira and Carlos Beltran, who should have their surgical issues further in the past. Teixeira's right wrist was touch-and-go this year, and Beltran will have a bone spur removed from his right elbow.
But there are questions that could be answered from outside the organization, and so it should be no surprise if the Yanks begin to engage with a host of free agents: big-name pitchers like Jon Lester, Max Scherzer and James Shields, perhaps, while searching for Derek Jeter's replacement at shortstop.
No one is talking about getting under $189 million this winter, as the Yankees seem on track for another payroll of more than $200 million in 2015. They have about $27 million coming off their payroll in Jeter and Hiroki Kuroda, but will be redirecting most of that to the returning Alex Rodriguez ($25 million). They also added a pricey piece this summer by acquiring Martin Prado ($11 million).
Here is a preview of where the Yankees stand heading into the 2014-15 offseason:
Arbitration-eligible: C Francisco Cervelli, LHP David Huff, RHP Shawn Kelley, RHP Ivan Nova, RHP David Phelps, RHP Michael Pineda, RHP Esmil Rogers, C Austin Romine.
Free agents: LHP Chris Capuano, SS Stephen Drew, 3B Chase Headley, LHP Rich Hill, RHP Kuroda, RHP Brandon McCarthy, RHP David Robertson, OF Ichiro Suzuki, OF Chris Young.
Rotation: Assuming they're healthy, the one-two punch of Masahiro Tanaka and Pineda at the front of the rotation would be a formidable way to set things up, but there are questions attached -- Tanaka missed 10 weeks with a partially torn right ulnar collateral ligament and Pineda was limited to 13 starts by injury. CC Sabathia is coming back from right knee surgery and should be serviceable, though his days of being the lead horse in the rotation seem to be over. McCarthy has expressed willingness to return and would help round out the middle of the staff, especially if Kuroda retires. Nova is coming off Tommy John surgery and probably won't be ready until the second half, but Shane Greene showed enough in his rookie campaign to suggest that he can play a part moving forward.
Bullpen: Robertson converted 39 of 44 save chances after taking over Mariano Rivera's old job, and the Yankees will at least make him a qualifying offer to return. Betances gives them a solid backup plan if Robertson departs, but there is value in keeping Betances as a four- or five-out reliever who can put out fires ahead of the ninth inning. Kelley will be due a raise in arbitration, and the Yanks figure to have a spring battle for jobs that could include Adam Warren, Chase Whitley and Rogers.
Catcher: Brian McCann will be the starter, and the Yankees hope that he can pick up where his second half left off -- particularly September, when he crushed eight of his 23 homers. There seemed to be more to the adjustment process in switching leagues and adapting to New York than McCann let on, but maybe that's in the past now. Cervelli provides a solid option to return as the backup, with John Ryan Murphy also waiting in the wings.
First base: Teixeira is under contract for two more seasons and will be slotted in for regular play. He wore down physically in the second half after spending the past winter rehabbing, so Teixeira said that he wants to begin his winter workouts early to curb injuries and a similar slowdown. Using Jose Bautista and David Ortiz as a blueprint, the Yankees believe that Teixeira's second year back from wrist surgery will be less unpredictable than 2014.
Second base: The versatile Prado is under contract for an additional two seasons; he saw time in the outfield this year with New York and still could, but Prado presents a solid in-house option for the middle infield. Prospect Rob Refsnyder will also be given a chance to win the job in the spring.
Shortstop: With Jeter now spending his days by the water in Tampa, Fla., the Yankees need a replacement. They're unlikely to lean upon Brendan Ryan or Drew -- the latter of whom is also a free agent -- to fill the starting role. There are plenty of options -- Jed Lowrie, Asdrubal Cabrera and Hanley Ramirez could also be considerations, or the Yanks could pursue trades for the Blue Jays' Jose Reyes or the Phillies' Jimmy Rollins.
Third base: The satellite trucks will be parked at the Minor League complex early in 2015, as Rodriguez will return from his season-long suspension. The Yankees expect him to report in baseball shape, but it is unclear what level of production Rodriguez will be able to provide, coming off two hip surgeries and a long layoff. Rodriguez declined to play winter ball, but is doing two-a-day workouts and already passed an insurance physical deeming him ready to perform. Expect Rodriguez to require time at DH and perhaps first base as he enters his age-40 season. Headley would consider returning, but he wants to be an everyday third baseman.
Outfield: Barring any trade activity, the outfield figures to have Brett Gardner in left field, Jacoby Ellsbury in center field and -- the Yanks hope -- a healthy Beltran returning from right elbow surgery in right field, after Beltran was limited to just 32 games of outfield duty in the first season of a three-year contract. Girardi should be looking forward to having Gardner and Ellsbury back-to-back at the top of the order.
Designated hitter: Girardi likes the idea of being able to use the DH as a revolving door to give veteran players a half-day, rather than having one full-time DH. Beltran occupied the role for most of 2014 out of necessity, but it would be nice for the Yankees to work A-Rod, Teixeira, McCann and Ellsbury into that mix as well.
Bryan Hoch is a reporter for MLB.com. Follow him on Twitter @bryanhoch and read his MLBlog, Bombers Beat. This story was not subject to the approval of Major League Baseball or its clubs.