Cherington to focus on rotation, lefty bats and bullpen
Red Sox plan to address primary needs in offseason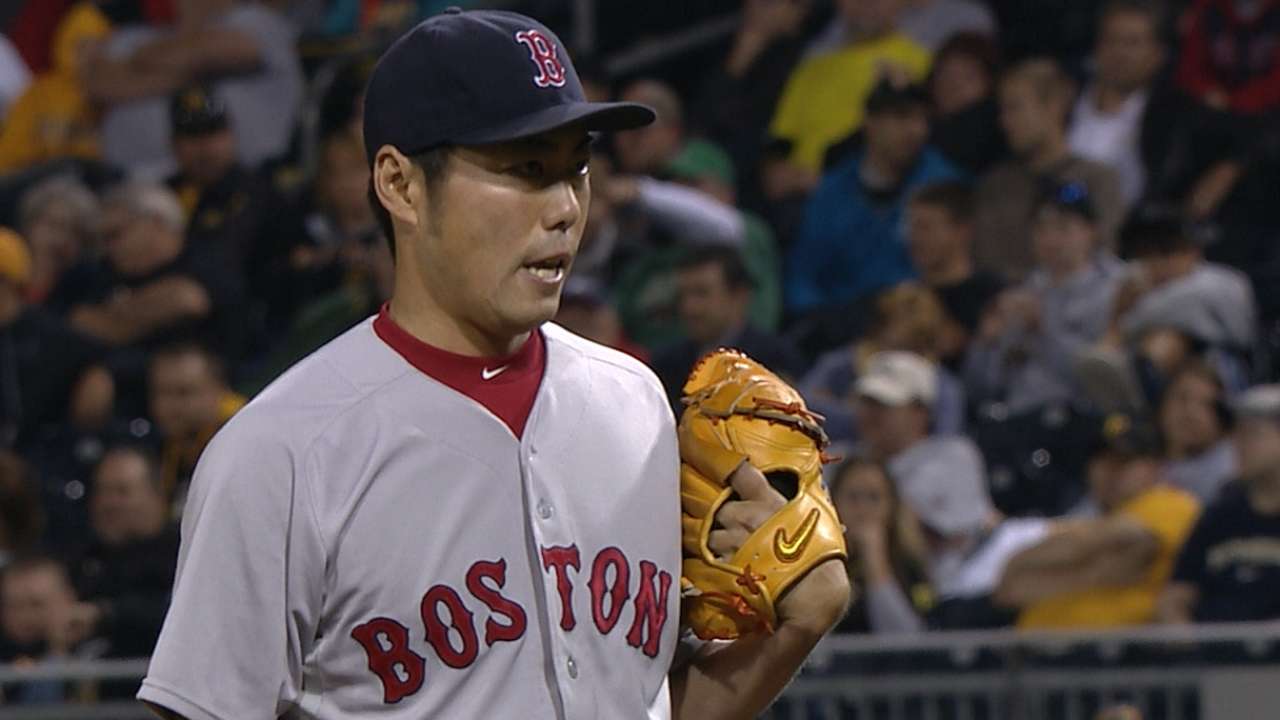 BOSTON -- The offseason didn't officially start until Monday, but Red Sox general manager Ben Cherington will be the first to tell you he's been plotting it for weeks.
That's the byproduct of a season gone bad, one in which the defending World Series champions essentially identified they wouldn't be playing in October as far back as late July. So now, as other teams get ready for the postseason, Cherington will start to put his plan in motion.
The GM and his staff have a clear priority list, and Cherington on Monday identified the three areas that are at the top of his list: starting pitching, left-handed bat(s) and relievers.
The rotation is the most pressing, because it is the commodity the club is the thinnest on right now. That's the calculated position the Red Sox put themselves in when they traded Jon Lester and John Lackey back on July 31 to upgrade the offense.
The only certainties for next year's rotation at this hour are Clay Buchholz and Joe Kelly.
"I think I've already talked about this a little bit, but we'd certainly like to add to the rotation," Cherington said. "There are a bunch of different ways to do that. We'll look at all ways."
The most obvious is in free agency, where Lester, Max Scherzer and James Shields will be there, albeit at expensive price tags.
Cherington obviously didn't need his scouts to spend a lot of time observing Lester, but you can be sure Boston had representation at most late-season games pitched by Scherzer and Shields.
By adding three right-handed hitters in July and beyond (Yoenis Cespedes, Allen Craig and Rusney Castillo), the Red Sox have left themselves a glaring lack of left-handed hitters to surround David Ortiz.
This is something that will be addressed, it's just unclear at which position.
Third base is a position that is somewhat uncertain, given the second consecutive underwhelming season by Will Middlebrooks. Left-handed-hitting Brock Holt proved his worth this season, but he might be utilized best as a super-utility player. Prospect Garin Cecchini showed some signs of his worth down the stretch, but can he be counted on to log 450 to 500 plate appearances in 2015?
Cherington is leaving his options open at the hot corner, but it should be noted that lefty-hitting Pablo Sandoval will be a free agent.
"There's time to figure that out," Cherington said. "I think going back to what John [Farrell] said, we need to build a better offense, a more consistent offense. There's different things that go into that. Certainly part of that is a deeper lineup, not just one through nine, but one through 13 if we carried 13 position players in general. We need a deeper group of 13.
"That's what we have to do. Could third base be an area we look at? It could be, but there's a number of different ways I could imagine addressing that issue of building a deeper lineup. But we do feel like we have some guys in the organization now that certainly are capable of being good Major League third basemen."
The catching position is another area where a left-handed bat could fit. Christian Vazquez, a right-handed hitter, could be the primary catcher in 2015, but veteran David Ross might not be back.
Then, there is the bullpen, which is always a key ingredient for a championship-caliber team. Koji Uehara and Burke Badenhop are both free agents.
"I think we've been very clear we want to keep Koji with us," said Farrell. "I'm confident we'll make every effort to do just that. What he went through late in the season we've been able to determine and see that he went through that previously when he was with Texas, so while every elite pitcher, every pitcher, is going to have some stretches where their performance is less than [great], we feel that's been the case with Koji and despite the age, he's still a very good performer and a guy we want to anchor the back end of the bullpen.
"Both guys are going into a time in their career where they can see what's on the market for them. But dependability and reliability are probably the two biggest things you want to attach to any player, regardless of position. And they both fit that bill."
One way the Red Sox might fill some of the needs in the bullpen are in house. Youngsters Rubby De La Rosa and Brandon Workman, who started down the stretch, could be nice fits for next year's 'pen.
"What that pitching staff ultimately looks like is going to be directly impacted by what we bring in or acquire this offseason," said Farrell. "You could see some guys going to the bullpen and contributing in those roles."
Ian Browne is a reporter for MLB.com. Read his blog, Brownie Points, and follow him on Twitter @IanMBrowne. This story was not subject to the approval of Major League Baseball or its clubs.