Rockies hoping for more health, depth in 2015
Tulo, CarGo at full strength can help make Colorado a postseason contender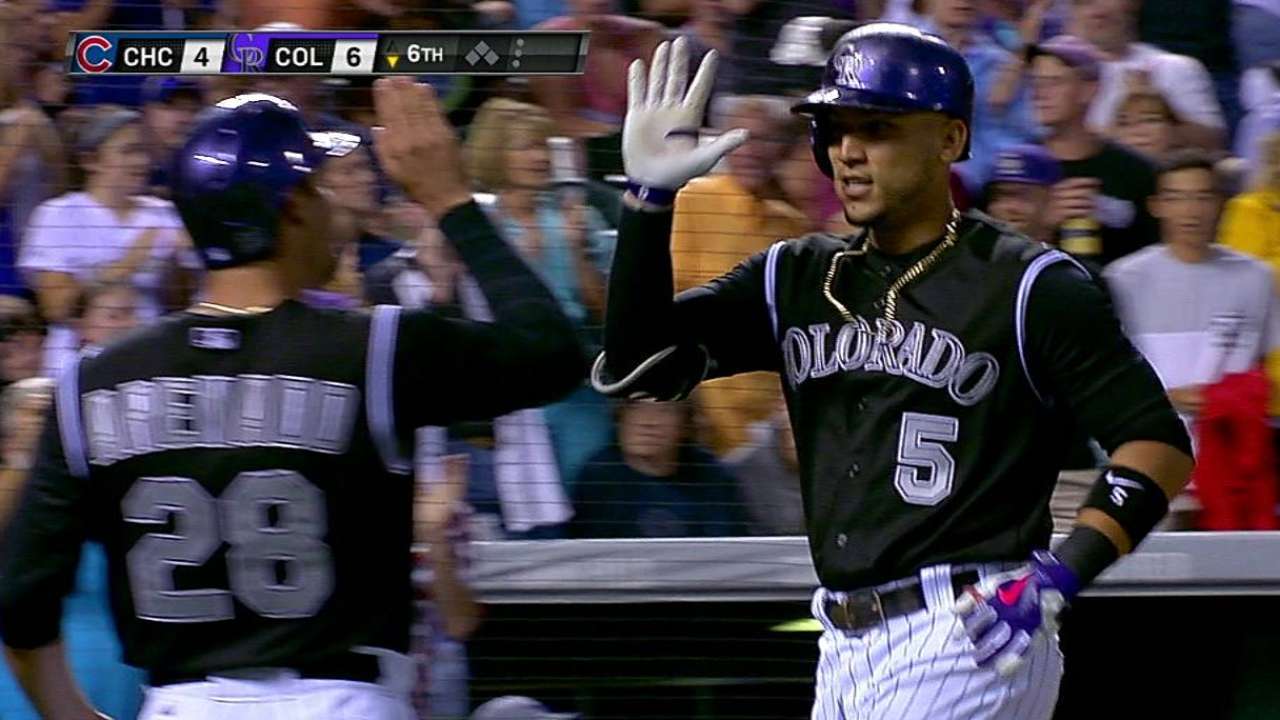 Days before the season ended, Rockies manager Walt Weiss thought back to those hopeful days of Spring Training, April and May. Back then, phrases like "if all goes right" and "barring injury" had not been rendered meaningless by misfortune and pain. With the season now over, Weiss is happy those caveats have meaning for 2015.
Yes, there are personnel areas that need to be improved for the Rockies' dreams of being a contender to come true. But soon, shortstop Troy Tulowitzki and outfielder Carlos Gonzalez will go from names on the disabled list to flesh-and-blood -- and, yes, rehabbing -- stars. They may be subject to trade rumors, but more likely they'll be around in 2015.
Tumors removed from fingers, pitchers breaking their catching hands, injuries under weird circumstances and poor road trips will be memories that can be erased.
The big difference between those hopeful pre- and early-season days and now is Weiss realizes the better-case scenarios, which would end up with the Rockies battling for the playoffs at the very least, have to come true next year.
"This year we were in position to do it, but for a variety of reasons it didn't happen," said Weiss, who will be in the second year of his three-year contract. "I've got to take responsibility for that, and I do.
"It's probably a tough sell, because we haven't performed well the last few years. But I still feel like we're within striking distance."
This year, as has been the case in recent years, the Rockies were not deep enough to withstand injuries. The good news is, according to club officials and feedback they're receiving from other teams, the Class A Asheville team's list of possible Major Leaguers is in double figures -- an unusually large number. But there are still gaps at the top of the system, which means the Rockies must acquire higher-quality depth, since they can't guarantee health.
During the rough season, outfielder Charlie Blackmon and Corey Dickerson emerged as offensive weapons, second-year third baseman Nolan Arenado's bat began to catch up with his already-acknowledged glove, and lefty Jorge De La Rosa re-signed to lead a starting staff that has some promise. But whether it's through trades or free agency, the Rockies simply have to add starting pitching depth and improve the bullpen. Whether it's from players improving or new blood, the Rockies must get better at executing and scoring runs on the road.
"We've got to take a big step forward next year, or at that point there probably are major changes on the horizon," Weiss said. "Some moves here and there, I think we're in position to do that. Again, we've got to go out and do it, not talk about it."
Potential free agents: LHP Brett Anderson ($12 million club option or $1.5 million buyout), RHP Matt Belisle, OF-1B Michael Cuddyer, RHP LaTroy Hawkins ($2.25 million club option or $250,000 buyout), RHP Nick Masset, LHP Franklin Morales.
Eligible for arbitration: RHP Jhoulys Chacin, RHP Jordan Lyles, C Michael McKenry, RHP Adam Ottavino, RHP Juan Nicasio, C Wilin Rosario, OF Drew Stubbs.
Rotation: Starters quietly improved after the All-Star break. As long as Chacin (rotator cuff and labrum damage) returns healthy to join De La Rosa at the top, there is a chance at a good rotation. Even with Anderson's health issues (he missed early time with a broken left index finger, and later a season-ending back injury), the club has to seriously consider bringing him back; his stuff was electric during his few healthy outings. Righty Jordan Lyles, whose changeup should become a greater weapon after an offseason to develop it, and rookie lefty Tyler Matzek are on the upswing. Righty prospects Christian Bergman and Eddie Butler finished the year in the Majors, and righty Jon Gray and lefty Tyler Anderson appear to be on their way. The key is depth, and it would do the club good to grab a veteran or two for the roster and some experience at the Triple-A level.
Bullpen: The Rockies are expected to re-sign Hawkins to hold down the closer role until someone else emerges. To give him company in the 40-plus club, expect Rafael Betancourt (who hits the big 4-0 in April) to attempt a comeback from 2013 elbow surgery. Ottavino could be that closer in waiting, after a second solid season. There are problems from the left, where Rex Brothers just completed an awful season after a stellar 2013, and Boone Logan had a second elbow cleanup procedure -- on a bone spur, a year after he had an operation for bone chips and a bone spur. Righties Juan Nicasio and Brooks Brown, and lefty Christian Friedrich -- all converted starters -- could be payroll-saving relievers if they turn out to be fits. But it would behoove the club to upgrade through trades or free agency.
Catcher: Expect the Rockies to get the temperature of American League clubs, which could give Rosario relief from behind-the-plate duty as a designated hitter, and see they can fill other holes in return. If that happens, though, look for them to join the sweepstakes for free agent Russell Martin or bring in a veteran catcher. They unearthed a gem, however, in McKenry, who was a pleasant surprise offensively and who took the No. 1 job late in the year while the Rockies were testing younger pitching. A payroll-saving option would be to count on McKenry as the starter and bring in a veteran backup.
First base: Justin Morneau turned out to be a shrewd signing as the veteran took home the NL batting title in 2014. After years of various injuries, he has finished the last two years healthy and productive. If Michael Cuddyer leaves, the club could give right-handed-hitting former No. 1 Draft pick Kyle Parker a shot at a combination of time at first base and in the outfield. Lefty-hitting Ben Paulsen performed well during callups, and could be a bat off the bench -- a valuable asset for a club whose payroll doesn't allow for a bigger-ticket veteran pinch-hitter.
Second base: By all rights, DJ LeMahieu should take home a Rawlings Gold Glove Award this offseason and become the third Rockies infielder with one of those -- Tulowitzki has two, Arenado has one and should get his second. He has provided some production and bat-handling late in the order. An argument could be made to seek a greater run-producer at that spot, but such a player is hard to find.
Third base: Arenado not only consistently produced highlight-level defense, but when other big hitters were out with injury he began to show the middle-of-the-order potential the Rockies saw when the picked him in the second round in 2009. When he was hurt, however, the dropoff to the other options was scary. But if the work of switch-hitting September callup Rafael Ynoa was for real, the Rockies may have their valuable low-cost utility guy.
Shortstop: The challenge becomes keeping Tulowitzki healthy. Part of that process could be giving him frequent days off early in the season. Josh Rutledge has shown the most comfort when playing short, but he has struggled at second and third. To fit on this roster, he has to become more versatile. Ynoa's emergence at season's end could allow the Rockies to seek to deal Rutledge to a team in need of a shortstop.
Outfield: The Rockies started the year with what seemed like too many outfielders. But with the injuries to Gonzalez and Cuddyer, it turned out the Rockies had enough. Blackmon earned an All-Star Game invitation, and if there'd been an All-Star gathering for the second half, Dickerson would have been invited. Drew Stubbs had his best overall season in a rotation of playing time, and Brandon Barnes showed value in a reserve role. Stubbs, headed into his third arbitration year, established his value enough that he could be dealt to fill other holes. While rumors of a Gonzalez deal will likely surface, the Rockies also could be bold and see what they could get for one of the younger outfielders. Such moves, however, aren't in the club's DNA.
Thomas Harding is a reporter for MLB.com. Read his blog, Hardball in the Rockies, follow him on Twitter @harding_at_mlb, and like his Facebook page, Thomas Harding and Friends at www.Rockies.com. This story was not subject to the approval of Major League Baseball or its clubs.