Development of young core in '15 can define Chicago's future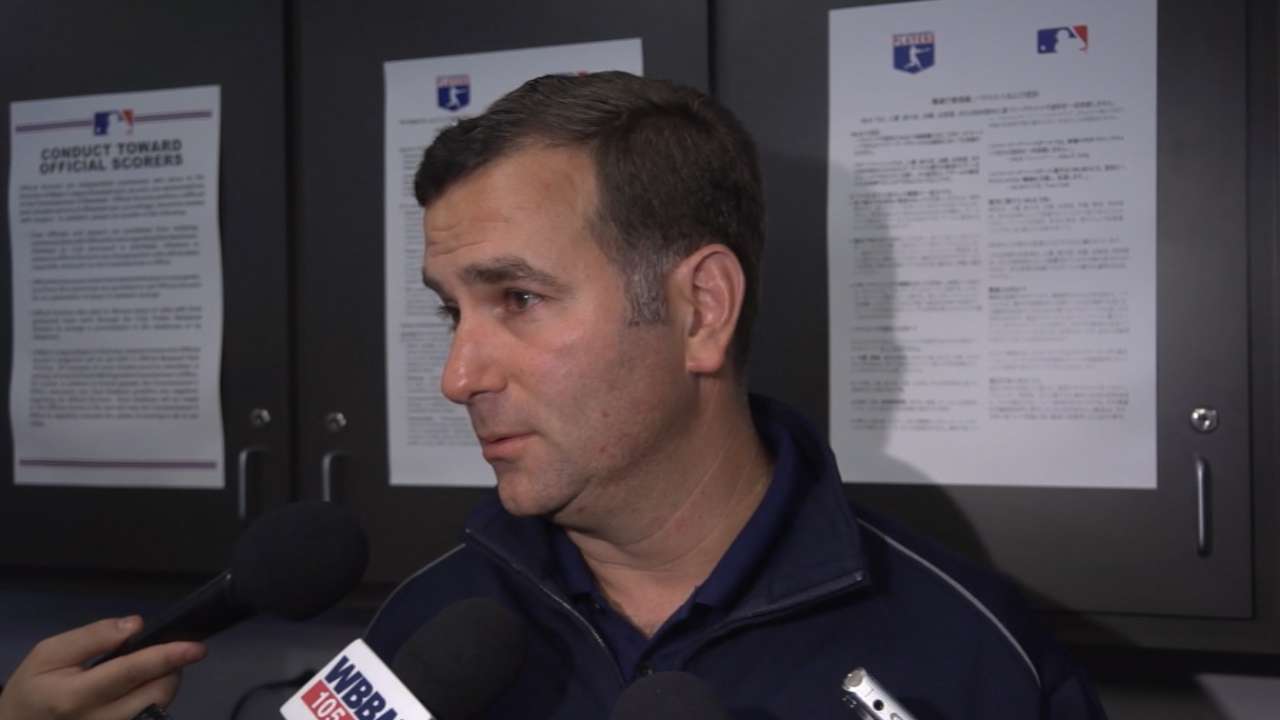 CHICAGO -- For the next step in the ongoing White Sox reshaping, retooling or rebuilding process, whatever the name that has been chosen or appropriately fits, the team will … ?
Look for big-ticket players in the free-agent market? Do the same via trades? Continue developing the youthful core that has been established over the past few years?
The answer might not be known officially until general manager Rick Hahn gets his payroll number sometime in November. But the reality of the situation is that all of the above figure to make up the answer as the White Sox move into an important offseason with perennial playoff contention realistically in mind.
"That's absolutely our intent," Hahn said in a recent interview. "We obviously can't guarantee we're going to be able to make 'X' number of moves and we're going to be able to hit on as high a percentage of our targets as we did last year, but it's certainly our goal to address ideally all of what we feel are our needs, before they shift, as quickly as possible.
"This has never been about, 'Hey, we got two things done, so we're good.' The fact of the matter is we didn't get everything done last offseason as we wanted to do, and we look forward to the chance coming up in the coming weeks, where we're able to get a little more aggressive in pursuing some answers out there."
Hahn's aggressiveness is predicated by the White Sox having somewhere around $46 million committed to that yet to be set '15 payroll, after checking in around $90 million in '14. It also has been helped by the White Sox filling some recent glaring needs through the additions of Jose Abreu, Avisail Garcia and Adam Eaton, to name a few.
As Hahn pointed out, though, plenty of work remains to be done.
"It's very important to continue to be aggressive this offseason," Hahn said, "and knock as many things as we can off that list and put ourselves in a position to contend as quickly as possible."
Arbitration-eligible: RHP Hector Noesi, C Tyler Flowers, RHP Javy Guerra, OF Dayan Viciedo, RHP Nate Jones, RHP Ronald Belisario.
Free agents: RHP Matt Lindstrom, RHP Felipe Paulino ($4 million club option with $250,000 buyout).
Rotation: With Chris Sale and Jose Quintana at the top of the starting five, the White Sox have a one-two punch matching pretty much any team in the American League. Carlos Rodon, the team's top pick in the 2014 First-Year Player Draft, has moved quickly through the system and has a chance to break camp out of Spring Training, '15, while John Danks figures to be the rotation's fourth southpaw.
The team needs a right-handed starter, which could be Noesi, who truly found a home through his work with pitching coach Don Cooper. Danks still is owed $28.5 million over the last two years of his contract, meaning he probably isn't trade material. So the question could become trying to get a major talent haul by moving a valuable piece such as Quintana or keeping a left-handed dominant starting crew while possibly looking for a middle-of-the-rotation righty. Quintana, who is signed through '18 with club options for '19 and '20, has understandably been untouchable.
Bullpen: Jones, a strong candidate to replace Addison Reed as closer, never threw a truly healthy pitch in 2014. Mix in another injury to Lindstrom and relievers pitching out of their designed situations, and the bullpen became one of the team's weakest points. Jake Petricka, Daniel Webb and Zach Putnam, all truly pleasant surprises from this past season, seem set in relief. Noesi could move to the bullpen, as could Chris Bassitt, who impressed with his development and composure over the season's final month as a starter. But Hahn needs to add three veteran-type relievers, which figures to include a closer.
Catcher: Can Flowers serve as a starting catcher on a contender? Flowers believes he answered that question in the affirmative this past season, with his strong handling of the pitching staff and improved offense. The White Sox still figure to look for another more experienced catcher, one who has the ability to hit from the left side. Switch-hitter Adrian Nieto acquitted himself well in his jump from the Carolina League to the White Sox as a Rule 5 selection but could benefit from more consistent playing time with Triple-A Charlotte.
First base: His name is Jose Abreu, and not much more needs to be said. If further description is required, simply look at his stunning '14 statistics that have Abreu as the clear frontrunner for AL Rookie of the Year and a probable top five finisher in the MVP race. He only figures to get better as he continues to learn the league and adjust to the rigors of a 162-game schedule, while assuming more of the leadership mantle in Konerko's retirement.
Designated hitter: This spot deserves a mention to itself, because the exit of Adam Dunn leaves a significant left-handed void in the middle of the lineup. The name of free agent Victor Martinez already has been mentioned quite frequently, but Martinez certainly will have numerous high-end suitors, including his current Detroit team. Ideally, the White Sox would like an impact left-handed bat who also can play in the field when needed.
Second base: There was a time not too long ago when the White Sox didn't have many middle infield prospects, let alone quality ones. Now they have Micah Johnson, Carlos Sanchez and Marcus Semien all competing for the second base job left open by the trade of Gordon Beckham to the Angels. Johnson's explosiveness along with his left-handed bat figure to give him an edge, although Johnson knows missing the last month of '14 with a left hamstring strain puts him behind Sanchez and Semien. Semien seems to have the strongest utility role case, being able to play across the infield.
Shortstop: Alexei Ramirez has become the old man of the team, moving into his eighth year for the White Sox. Much like Quintana, Ramirez would figure to bring back a good talent package in return. He is signed through '15 with a $10-million club option for '16. But the White Sox don't have a true shortstop ready to take over until Tim Anderson, the team's top pick in the 2013 First-Year Player Draft, is ready. They also know that when Ramirez is on his game, he's as good as any AL shortstop both offensively and defensively.
Third base: When Reed was traded to the D-backs last offseason, the White Sox thought they had their third baseman of the future in newly acquired Matt Davidson. Well, they had a third baseman of the future in-house, but it was Conor Gillaspie, who made significant strides with the glove and bat and sits as the position frontrunner. Davidson clearly is not out of the mix, but Semien is more likely to be the right-handed hitting counterpart to Gillaspie when the season begins.
Outfield: Center field and right field look set, with Eaton and Garcia in place respectively. White Sox manager Robin Ventura readily admits that Viciedo won't win a Gold Glove in left and his pitch selection remains inconsistent, but at just 25 years old and with the offensive potential to carry a team, the White Sox might not be ready to give up. A left-handed bat could fit in left with Viciedo possibly splitting time between the outfield and DH. Younger outfield prospects such as Courtney Hawkins or Trayce Thompson aren't ready for the big leagues, but this spot also could lend itself to a position change from where the White Sox currently have an abundance of talent.
Scott Merkin is a reporter for MLB.com. Read his blog, Merk's Works, and follow him on Twitter @scottmerkin. This story was not subject to the approval of Major League Baseball or its clubs.