Rookie arms dazzled, but Mets fell short of goals in '14
With Harvey out, deGrom, Familia buoyed staff, though lineup was inconsistent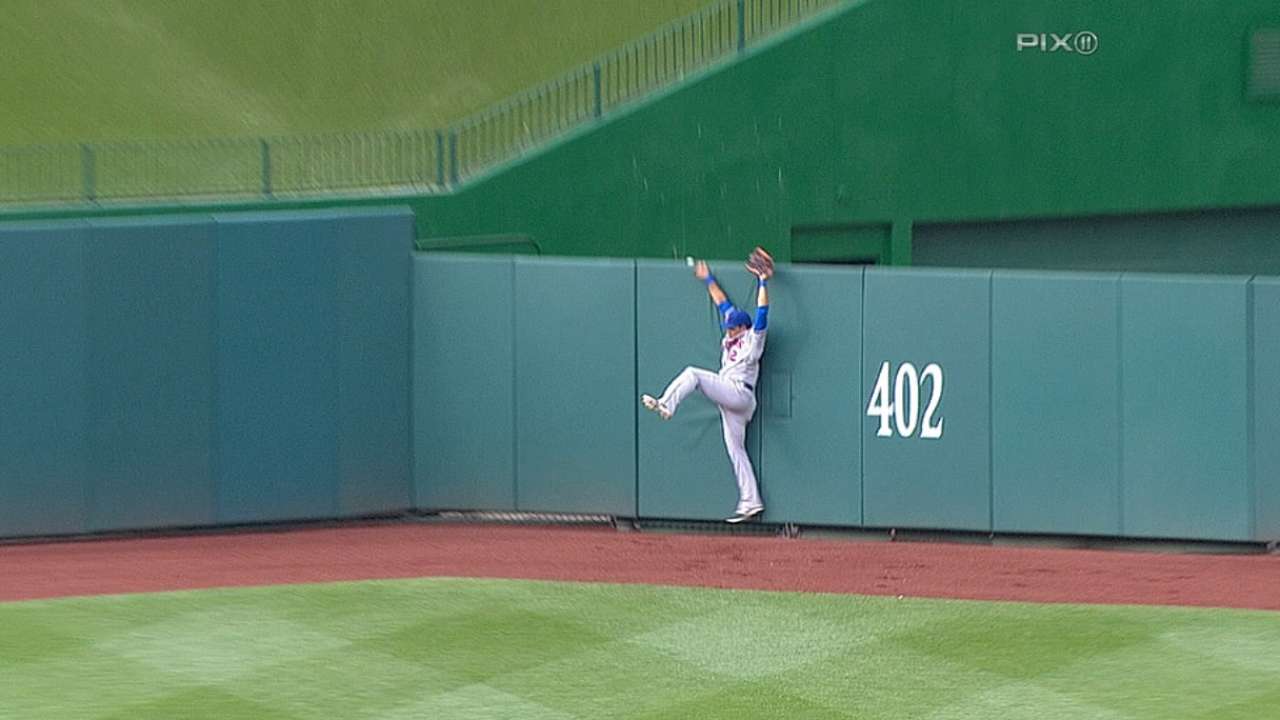 NEW YORK -- From the moment Matt Harvey decided to undergo Tommy John surgery last October, a bit of optimism leaked out of the Mets' 2014 season. The Mets still hoped to compete for their first playoff berth in eight years and genuinely believed they could achieve that -- that's why general manager Sandy Alderson originally brought up the topic of 90 wins as a benchmark. But the Mets knew that without Harvey, their road would be much more difficult.
"It really wasn't a prediction," Alderson said of his 90-win dream. "It was about thinking differently. If you're going to set a goal, you need to set a goal that you can't just achieve easily. You have to set a goal that's aspirational. We [didn't] get there, but you know what? We played a lot better this year than we did last year. There's no reason that next year, we can't do it."
Free-agent contracts for Bartolo Colon, Curtis Granderson and Chris Young buoyed the Mets' hopes over the winter, but Colon proved inconsistent, while the latter two players struggled. That left things up to the organization's incumbent young players, who took a collective step forward -- but not a big enough one in the end.
"There've been two or three players who didn't produce the way we would've liked," Alderson said. "If one of them or two of them would've produced the way we would've liked, it would've been a whole different season."
The result was yet another October-less finish for the Mets, who -- with Harvey back next spring -- believe they at least improved enough to make a serious run at a playoff berth in 2015.
Record: 79-83, tied for second with Atlanta in the National League East.
Defining moment: The Mets arrived in Chicago early on the morning of June 3, having just played 57 innings over a successful five-game series in Philadelphia to keep pace in a crowded NL East. That night, Scott Rice served up a walk-off single to Cubs outfielder Nate Schierholtz, the first of six straight games the Mets lost by a combined total of 10 runs. They never made another serious run at the division lead.
What went right: When the Mets traded embattled first baseman Ike Davis to the Pirates in April, they were essentially gambling that Lucas Duda could transform into a solid middle-of-the-order bat. He responded with aplomb, smacking 16 homers over one particular 62-game stretch. … Zack Wheeler quietly continued his development into a frontline pitcher, delivering quality starts in 10 of 11 tries at one point. … Travis d'Arnaud began answering the myriad questions about his bat, breaking out in early June and never looking back. … Harvey suffered no setbacks in his rehab from Tommy John surgery, setting himself up for an Opening Day 2015 return. … Wilmer Flores proved he could play shortstop at least an adequate level, giving the Mets a legitimate option there going forward. … For the first time under Alderson, the Mets employed an above-average bullpen, leaning in particular on new closer Jenrry Mejia and setup man Jeurys Familia, as well as lefty specialist Josh Edgin and right-hander Vic Black. … The rotation was as good (and healthy) as advertised, with rookie Jacob deGrom emerging as a strong young star.
What went wrong: The Mets, quite simply, did not hit. They spent most of the summer ranking at or near the bottom of the league in on-base and slugging percentages, due in part to Granderson's rough first year in Flushing. Granderson bookended a hot June and July with elongated slumps in April, May and August. … David Wright, too, was not his normal self, enduring a power outage early in the year and never recovering. The third baseman jammed his left shoulder in mid-June and experienced lingering effects for the rest of the year, finally shutting it down in early September. He finished with the worst on-base and slugging percentages of his career, as well as a career-low eight home runs. … The Mets also lost closer Bobby Parnell to Tommy John surgery after a single appearance. … And they flat-out could not beat the Nationals, losing 11 of their first 13 games to them. … Top prospect Noah Syndergaard battled inconsistency at Triple-A Las Vegas, never making it to the Majors in what the Mets had hoped would be his debut season.
Biggest surprise: Duda's emergence was a blessing for the Mets, who suddenly appear set at first base for the indefinite future. Once Duda began employing a more aggressive approach at the plate, he started hitting home runs with regularity, eventually settling into the cleanup spot for good.
Hitter of the Year: With apologies to Duda, whose emergence transformed the middle of the lineup, second baseman Daniel Murphy was the Mets' lone All-Star for a reason. Improving his plate discipline while retaining his power gains of 2013, Murphy also shed the wild hot and cold streaks that had defined him in the past. Before a series of injuries struck late in the year, Murphy had a legitimate chance to lead the Major Leagues in hits.
Pitcher of the Year: Few in baseball were better in the second half than deGrom, who did not need a full season to establish himself as the rotation's top performer. Though Wheeler performed at a high level for longer, his peak was not as impressive as that of deGrom, who proved all but unhittable from mid-July into September.
Rookie of the Year: deGrom, of course, though not by a landslide. Coming out of the bullpen, Familia proved stellar in what was technically his rookie year as well. Filling in at closer at times, but mostly handling the eighth inning for the Mets, Familia developed over the course of the summer into one of baseball's top late-inning arms.
Anthony DiComo is a reporter for MLB.com. Follow him on Twitter @AnthonyDicomo. This story was not subject to the approval of Major League Baseball or its clubs.