Gardenhire dismissed by Twins after 13 seasons
Managed team to six division titles; only Kelly has more wins as Minnesota skipper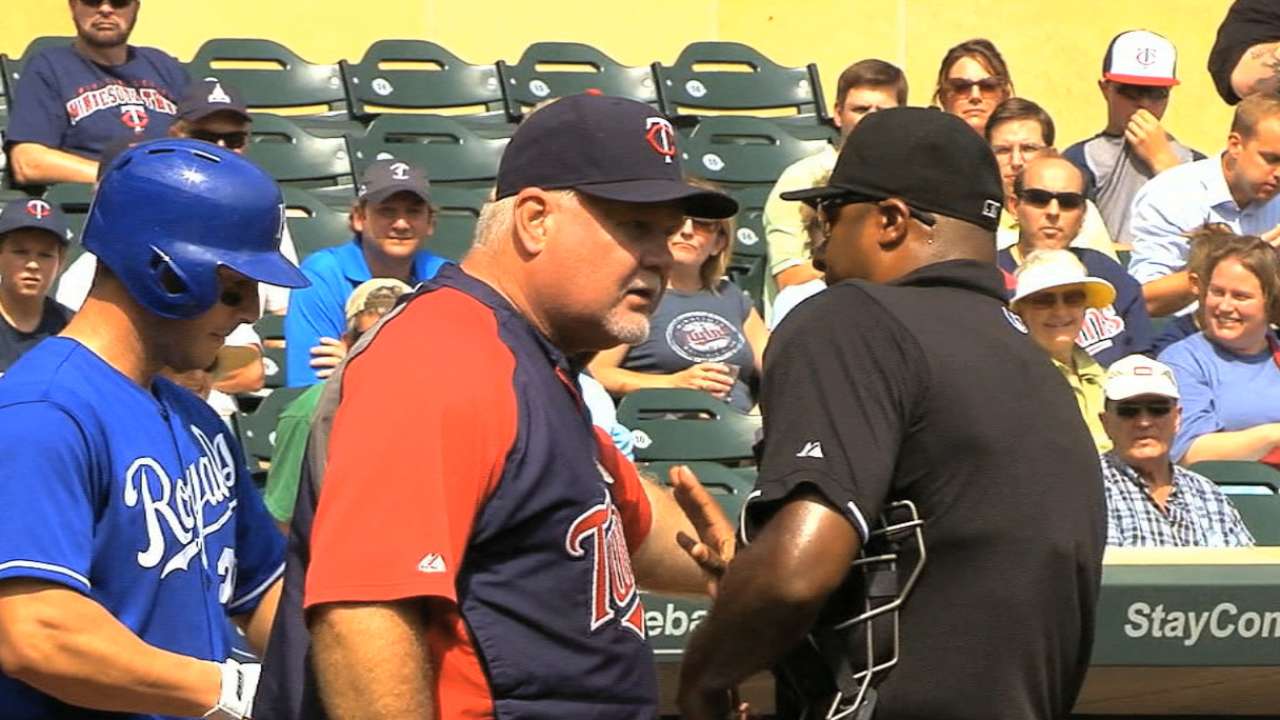 MINNEAPOLIS -- After 13 seasons and six American League Central championships, Ron Gardenhire is out as Twins manager after a fourth straight season with at least 90 losses, the club announced Monday. It has not been decided if he will accept an offer to take an undisclosed position in the organization, as he hasn't ruled out managing elsewhere.
The Twins will look both inside and outside the organization for a replacement for Gardenhire, and the coaching staff will be determined by the new manager in conjunction with general manager Terry Ryan. The contracts of all of seven of Minnesota's coaches expire at year's end, but some could be retained by the new skipper. Gardenhire, 56, had one more year remaining on a two-year he deal signed before the season.
"This is a little bit of a difficult day for a lot of us," Ryan said during a news conference at Target Field. "We've been together with Ron for a long time. ... I think it was mutually agreed upon that we're going to go in this direction."
Gardenhire succeeded Tom Kelly in 2002 and led the Twins to division titles in each of his first three seasons and four of his first five. They also won back-to-back AL Central championships in 2009-10 to mark six division titles in nine years, but have struggled over the past four seasons, finishing last in the division in three of them and fourth in the other.
The Twins finished this year 70-92, their fourth straight season with at least 90 losses after losing 99 games in 2011 and 96 in both '12 and '13. It was just the second time in franchise history that Minnesota lost at least 90 games in four straight years, as it also lost 90-plus games from 1997-2000.
"I'm gone. I'm out of here because we didn't win," Gardenhire said. "That's what it gets down to in baseball. That's what it should get down to -- you have to win on the field. These last four years have been tough on us."
Gardenhire experienced early success with the Twins, as he finished as the runner-up for the AL Manager of the Year Award in 2003, '04, '06, '08 and '09 before winning the award in '10. His career record is 1,068-1,039, as he picked up career win No. 1,000 early this season to become just the 10th big league manager to reach the milestone with just one team. His victory total is the second highest in club history, behind Kelly's 1,140 wins.
Gardenhire's teams struggled in the postseason, going 6-21 while winning just one series, in '02 against the A's in the AL Division Series. The Yankees were often the culprit, knocking the Twins out of the playoffs in '03, '04, '09 and '10.
"I would've loved to have won a World Series," Gardenhire said. "I would've loved to have gone deeper into the playoffs. But it didn't happen. But maybe it's still to come."
Gardenhire joined the organization as a player at Triple-A Portland in 1987 after five seasons in the Majors with the Mets as a utility infielder. He was a manager for three seasons in the Minors for Minnesota's Class A and Double-A affiliates before joining the Twins' staff as third-base coach under Kelly in 1991. Ryan was the one who brought him into the organization, as he was familiar with him from his time as the Mets' scouting director.
"I feel like he's my brother, not my manager," Ryan said. "I think even back in his earliest days with the Mets a lot of us saw the potential he could be a big league manager. Little did I know he'd be manager of the Twins and go on to the heights he went on to. He's a great baseball man."
Gardenhire remained as third-base coach before taking over for Kelly and becoming the 12th manager in franchise history. The new manager will be just the third for the Twins since 1986, when Kelly replaced Ray Miller.
"I've been here a long time, I've been doing this a long time," Gardenhire said. "Sometimes people need to hear a new voice. I have no problem with this. I love it here. I really have no desire to go anywhere else. I agree with this. I think this is the right thing. I think they need a new face here. ... I want this organization to win and, you know what, I'll be rooting for them just like everybody else."
Rhett Bollinger is a reporter for MLB.com. Read his blog, Bollinger Beat, and follow him on Twitter @RhettBollinger. This story was not subject to the approval of Major League Baseball or its clubs.