To Pedro and Sheffield, playoffs have fresh feel
Former postseason rivals know anything can happen on October stage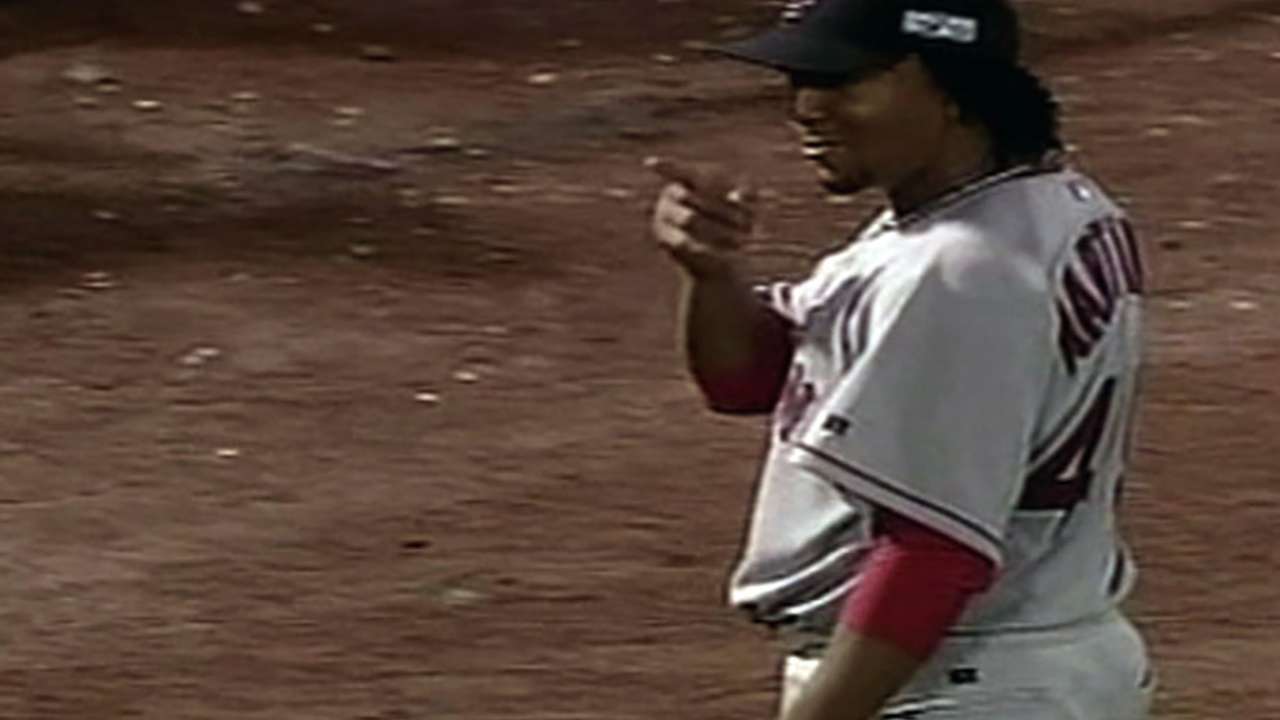 Pedro Martinez and Gary Sheffield will be working together again in the TBS studio leading up to that network's telecast of Tuesday night's Oakland-Kansas City American League Wild Card Game presented by Budweiser. Just for a moment, close your eyes and think back to those days 10 years ago when they met in the AL Championship Series, a place where the unthinkable once happened.
Has it really been a decade since the greatest comeback in sports history? The Yankees were one victory away from sweeping their Red Sox rivals, but Boston won four straight and then swept St. Louis to reverse the Curse of the Bambino. Martinez and Sheffield faced off in Games 2 and 5 during that epic series, and during a Turner Sports postseason conference call on Monday afternoon, they advise these 10 clubs that anything is possible -- but you probably don't want to subject yourself to that ordeal.
"That's a situation I don't want to be in again," Martinez said. "Down, 3-0, that's not going to happen very often that you're going to make a comeback. We were lucky enough and blessed to come back from that one, but the whole team just woke up together. Competing in those situations, you achieve what you achieve, and it left a much bigger taste for the Yankees to see themselves ahead 3-0 and then go back to losing it.
"We were there the previous year [losing to the Yankees in seven games in the ALCS] and in '03 we felt like we had the game and ended up losing it. We had the same feeling they had in '04. The whole team woke up at the same time. One little momentum led us to winning the World Series. We were looking for anything to motivate us. We had a little back-and-forth and [Curt] Schilling was banged up and then [Derek Lowe] came in and pitched a great game. He was supposed to be off the roster. They ran into D-Lowe. He ended up winning every last game we had in both series."
Sheffield signed with the Yankees after the 2003 season, and in Game 2 of that '04 ALCS he drove in Derek Jeter with the first run to lead New York toward its early 2-0 series lead. In Game 5, again with Martinez starting, Sheffield was 0-for-4. That game went 14 innings, as David Ortiz won it in with a homer, and suddenly, something impossible was slowly happening.
"We knew that the Boston Red Sox had the better pitching staff, and we knew we had to jump on them early and often," Sheffield said. "Because anytime you don't continue to pour on runs, they had great hitters as well -- Manny [Ramirez] and David Ortiz in the middle anchoring that lineup. We knew that any given day they would break out as well, because we didn't have the pitchers they had. We had to play a great defensive game and drive in runs and keep the pressure on their defense.
"When we faced Pedro, we always knew we had to get his pitch count up. Take pitches, make him move around on the mound. Because if you let him settle in, he's a smart pitcher, he's going to keep them in the game. That's what great pitchers do. But when you look at Pedro, then you've got Schilling coming at you from a different perspective, and they're so competitive, you know you're not going to get away with beating him twice. We wanted to beat him once and then get to the fourth starter and series over by then. We got close, but then their offense woke up. With the great pitchers they had, they're going to settle in."
Now here they are a full decade later with a different postseason style. TBS will be the exclusive home of the AL throughout the postseason beginning with A's at Royals at 8 p.m. ET. Ernie Johnson will provide play-by-play for the game with analysts Ron Darling and Cal Ripken and reporter Matt Winer. Pregame coverage will begin at 7:30 p.m., with former MLB.com talent Casey Stern the new studio host alongside Martinez and Sheffield.
Fans can subscribe now to Postseason.TV and watch live companion coverage of all the AL games on TBS through the pennant clincher. Signups are under way in the U.S. and Canada only at a one-time cost of $4.99 for the service, which gives you the complete audio broadcast and lets you watch up to four alternate angles at once and up to 10 different fixed camera angles (including the new Statcast angle) for each game.
It is a much different postseason today. For the first time since 1993 -- before expanded Wild Card play -- the Red Sox and Yankees are both excluded from a postseason. It means fans are seeing some fresh clubs, such as Kansas City in the AL and a whole host of possible geographic rivalries. They speak about a "new energy" in this postseason.
"You have teams now that used to be in the playoffs a lot, and now that it's been a while since they've been in, it brings in new fans, excites the fans who didn't have it the last decade," Sheffield said. "You're going to see new energy."
What do these former October rivals think of the first Wild Card matchup?
Sheffield said he thinks Sonny Gray's last regular-season performance sets the tone for Oakland and restores its confidence. Martinez says of the A's: "It's just a matter of how they perform from this game on. I think the fact they made it now gives them a responsibility and I think they're going to go with everything they have. When it was crunch time, they performed. Now they're in. Now they're dangerous."
Martinez said the fact an experience Detroit team needed to clinch in game No. 162 shows Kansas City how good it is. Sheffield says of the Royals: "One thing that makes Kansas City so dangerous, they're riding a high right now, and to get to this point, their confidence level is going to go sky high. They're not thinking about the pressure of the playoffs. They're just thinking of being relevant in Major League Baseball at this time of year. When they get to the playoffs, they're going to play free. [Ned] Yost coached me in Atlanta, and he's a guy who works with young players very well, as well as veteran players."
ESPN will televise the other Wild Card game the following day, featuring San Francisco at Pittsburgh.
Turner Sports' exclusive AL Division Series coverage will begin Thursday with the Tigers at Baltimore, along with the AL Wild Card winner at the Angels in Game 1. Brian Anderson will call the best-of-five Tigers/Orioles series with analysts Dennis Eckersley and Joe Simpson and reporter Jaime Maggio. Johnson will provide play-by-play for the Angels vs. A's/Royals series with Darling, Ripken and Winer. Additionally, reporters David Aldridge and Rachel Nichols will contribute to Turner Sports' postseason coverage, working the National League Division Series.
There will be some technology to watch in the Turner broadcasts as well. They will introduce four 6X cameras for each game, with the ability to replay various speeds from a single camera angle and capturing six times the amount of slow motion than the normal replay device. Craig Barry of Turner Sports said 6X cameras will provide viewers with gripping super slow motion replays during key moments of the game.
"We are at a place now where slow-motion technology is passing a lot more frame rate at a higher resolution, so we're taking advantage of that," Barry said. "The transfer of data has become easier and efficient, and therefore it translates to a better looking picture at a slower rate of speed. We've replaced all our slo-mo with these 6x slo-mo cameras. This is the first time we've gone out and used these cameras in a live scenario. … It all goes back to a scenario around access, being able to get the viewer as close to the players as possible, and give them the most unique view of the game."
TBS, in the first year of its new eight-year agreement with MLB, also will exclusively televise the ALCS starting Friday, Oct. 10 with Game 1 of a best-of-seven series.
Mark Newman is enterprise editor of MLB.com. Read and join other baseball fans on his MLB.com community blog. This story was not subject to the approval of Major League Baseball or its clubs.