Braves look toward busy offseason to get back in gear
Front office has decisions to make about Uptons, Gattis in trade market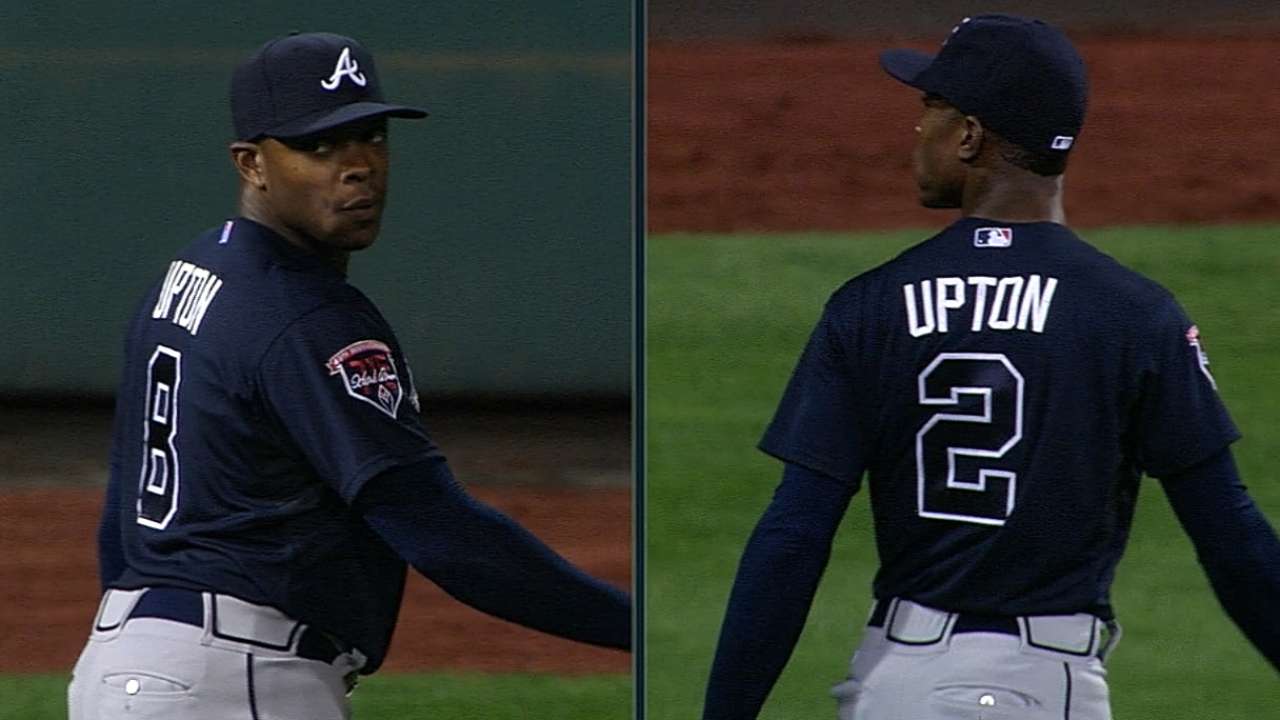 ATLANTA -- When the Braves began locking up a number of their young players this past winter, there was reason to wonder if this upcoming offseason would be rather quiet. Many months and disappointments later, there is now reason to believe it will be anything but quiet in Atlanta.
The Braves began to alter their culture last week by relieving general manager Frank Wren from his duties. Now they have to decide whether interim GM John Hart, assistant GM John Coppolella or a to-be-determined figure will spearhead the decision-making process that will determine how different the club's roster might look next year.
"Our conversations will be about building this back the right way," Hart said. "We have plenty of time to take a look at what works, what we like. ... And there's a lot of things to like here, and there are a lot of things that are working."
As the Braves prepare to move to their new stadium, SunTrust Park, in 2017, they are not looking to rebuild as much as they simply want to rebound and regain the magic they had when they won the National League East in 2013. But in order to improve their roster, they will evaluate what to do with B.J. Upton, who is still owed approximately $46 million over the next three years, and debate whether it would make sense to part ways with some of their higher-profile players, namely Evan Gattis.
If the Braves trade Gattis, they would lose a significant power source and possibly gain a strong return that would enable them to add to the versatility of their lineup or possibly improve their pitching staff. The club's new GM will also have to evaluate the long-term futures of Jason Heyward and Justin Upton, who will both be eligible for free agency after the 2015 season. Would it make sense to also attempt to gain a significant return for either Heyward or Upton this winter?
The Braves will have to make decisions regarding two pitchers coming off a second Tommy John surgery -- Kris Medlen and Brandon Beachy -- and Gavin Floyd, who also sustained a season-ending elbow injury this year. There will also need to be some discussions about taking another chance on Aaron Harang, who ended up being one of the rotation's most reliable members.
Having received long-term commitments, Freddie Freeman, Andrelton Simmons, Julio Teheran and Craig Kimbrel know they will be in a Braves uniform for the foreseeable future. Who will surround them remains to be determined.
Arbitration-eligible: RHP Medlen, LHP Mike Minor, LHP James Russell, LHP Jonny Venters, RHP Jordan Walden, RHP Beachy, RHP David Carpenter, INF Ramiro Pena
Free agents: RHP Ervin Santana, 1B/OF Ryan Doumit, RHP Floyd, C Gerald Laird, IF/OF Emilio Bonifacio, RHP Harang
Outfield: The day Wren was fired, team president John Schuerholz said, "Life is full of challenges, intelligent and brilliant and hard-working people find answers to challenges." Whoever becomes the club's GM will certainly be challenged to find a solution for B.J. Upton, who has been one of baseball's least productive players since signing a franchise record five-year, $75.25 million deal two years ago. It will not be easy to get a team to assume at least a respectable portion of the approximate $46 million still owed to the center fielder.
But if they learned anything from the Dan Uggla mess this year, the Braves likely know they can't afford to even bring B.J. back to Spring Training next year. Once a solution is made on this front, the Braves will have to determine whether it makes sense to bring back both Heyward and Justin Upton with the understanding that both might bolt via free agency at the end of the season. Trading at least one could provide a strong return.
Catcher: Gattis owns the best at-bat/home run ratio of any catcher who has played at least 200 games since the start of the 2013 season. The burly backstop possesses a simple powerful swing that would seemingly protect him from extended slumps. But there is reason to question his defense and wonder whether handling the catching duties on a regular basis over an entire season will deplete his power. Thus, the Braves might shop him to American League clubs that could use him as a DH.
Gattis' expendability is also a product of the rise of highly-regarded prospect Christian Bethancourt, who had some success in the Majors this year. Bethancourt has made some strides offensively, and he still possesses that rocket arm. But as he moves forward, he will need to address some of the mental lapses that multiple scouts (two of whom are former catchers) have described as laziness.
First base: After signing a franchise-record eight-year contract in January, Freeman saw his batting average, home runs, RBIs and OPS drop this year. There is no doubt he did not take the step forward that many had hoped to see during his age 24 season. But his Weighted Runs Created Plus mark was similar to last year's and ranked among the top five in the NL. There is no doubt that the Braves have something special in Freeman. But time will tell whether he will develop into a 30-home run guy or serve as the consistent threat who can bat .300 and go deep 20-plus times on a regular basis.
Second base: Once Uggla's tenure ended, Tommy La Stella arrived and found immediate success. But as he started to struggle, the Braves opted to cut his playing time and give Phil Gosselin more opportunities at the position. La Stella is going to hit and Gosselin has a chance to develop into more than just a solid utility type. But there is certainly reason to wonder if top prospect Jose Peraza will be manning second base in Atlanta by next year's All-Star break. Peraza is a legit leadoff hitter who possesses tremendous speed, a trait that allowed him to prove successful with 60 of his 75 stolen base attempts with Class A Advanced Lynchburg and Double-A Mississippi this year.
Shortstop: If there was any question about the possibility that Simmons' offensive approach was actually hurt by the fact that he shockingly totaled 17 homers in 2013, they were answered with the abundance of ugly off-balance swings he took this year. An ailing left ankle hindered his balance at the plate. But the aggressive shortstop's offensive struggles had more to do with the fact that he got away from the line drive, hit-it-to-all-fields approach that he will need to find success in the future. His glove alone makes him an incredible asset, but the Braves can only hope he bounces back from this rough offensive season.
Third base: When Wren signed Uggla and B.J Upton, there was at least some analytical data to support the investments. But when he opted to give Chris Johnson a three-year extension this year, there was a lot of confusion. Yes, Johnson had competed for a batting title until the final days of 2013. And yes, he is one of the strongest figures in the clubhouse. But as he showed this summer while enduring the most disappointing season of his career, he is also a guy the Braves might not be able to play at third base on a daily basis through the life of the contract.
Starting pitchers: With Teheran, Alex Wood and Minor, the Braves have a solid base upon which to build a starting rotation. David Hale might be ready to be used as a starter on a full-time basis next year. There will also need to be some offseason discussions about the futures of Medlen and Beachy, neither of whom will likely return from their second Tommy John surgery before the beginning of May. Santana seems destined to gain a multiyear deal elsewhere. But with two of their top five prospects -- Lucas Sims and Jason Hursh -- both still a year away, the Braves might have to at least ponder bringing Harang back.
Bullpen: As the Braves begin making plans for next year's bullpen, they have the luxury of knowing Kimbrel will once again fill the closer's role. But other than the likelihood that Carpenter will also return, Atlanta has a number of questions regarding its relief corps. Along with showing he has the potential to be a dominant setup man for stretches, Walden has also proven to be injury prone, a trait that is not comforting as he prepares to gain a raise as a second-year arbitration-eligible player. Russell could be an asset next year if he gets back to those days when he was retiring lefties. Another lefty, Luis Avilan, will also create some offseason debate as the Braves decide whether he is more likely to repeat his 2013 success or '14 struggles.
Mark Bowman is a reporter for MLB.com. This story was not subject to the approval of Major League Baseball or its clubs.