Astros hope to boost offense, look to youth next season
Young core of Altuve, Springer and Keuchel will lead club going forward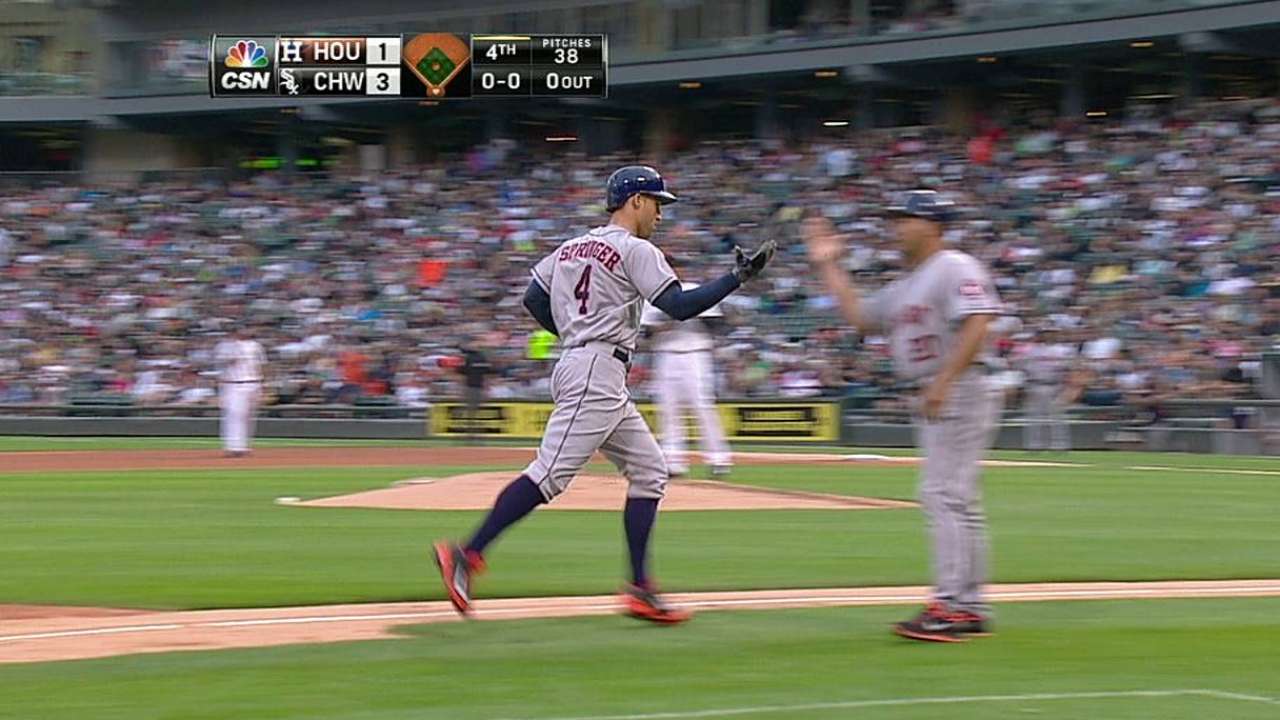 HOUSTON -- When asked what his top priority will be this offseason in terms of improving the Astros, general manager Jeff Luhnow didn't hesitate in saying offense.
The Astros were an improved offensive team from a year ago, thanks to Jose Altuve's remarkable season, the arrival of George Springer, the acquisition of Dexter Fowler and the second-half resurgence of Chris Carter. Still, the Astros relied too much on the home run and had the lowest production at the corner infield spots with third baseman Matt Dominguez regressing and rookie first baseman Jon Singleton struggling in his debut.
"That needs to be addressed, whether it's a combination of those guys coming back after disappointing years and really performing the way we know they're able to next year, or us addressing the needs in free agency," Luhnow said. "We're going to look long and hard on that."
The Astros' $45 million payroll figures to jump because of the additions they'll have to make to keep some of their nine arbitration-eligible players, including Fowler ($7.85 million in '14), Carter ($510,000) and catcher Jason Castro ($2.45 million). All will get significant raises.
Having Springer in the lineup daily will be a huge boost to the offense, but they'll be looking to add some power in the outfield, which becomes a must when the corner infielders aren't producing it.
"We feel good about the starting pitching, but we need to improve our offense," Luhnow said. "We cut down on the strikeouts and I think our guys are getting better with their approach."
Another area the club will address in free agency or trades is the bullpen. Houston tried to shore up its bullpen a year ago by signing Chad Qualls, Matt Albers, Jesse Crain and Jerome Williams, but Albers pitched in only eight games and Crain never got on the mound. Williams was cut loose in June.
With club on the cusp of finally sorting out its television stalemate, Luhnow said there's "going to be substantial resources" to keep the arbitration-eligible players, as well as having some money to spend in free agency.
Arbitration-eligible: RHP Anthony Bass, DH Chris Carter, C Jason Castro, C Carlos Corporan, CF Dexter Fowler, IF Marwin Gonzalez, OF/IF Jesus Guzman, OF Alex Presley, LHP Tony Sipp.
Free agents: RHP Matt Albers ($3 million club option for 2015), RHP Jesse Crain, RHP Jose Veras.
Rotation: The top three in the rotation are set with veteran Scott Feldman, left-hander Dallas Keuchel and rookie revelation Collin McHugh all coming off solid seasons, with Keuchel emerging as an ace. Lefty Brett Oberholtzer did an admirable job as the fourth starter and figures to remain in the mix for the final two spots entering 2015 with Brad Peacock, who was inconsistent this year, and youngsters Jake Buchanan, Mike Foltynewicz and Nick Tropeano
Bullpen: This will be near the top of Luhnow's offseason to-do list. Last winter's signings of veterans Albers and Crain were a whiff as both were injured all season. Qualls did a nice job at closer (with the exception of facing the A's), but the Astros could use another proven arm or two to lock down more games. Lefty Tony Sipp was a solid pickup and should return. Josh Fields emerged as a solid option, while fellow youngsters Josh Zeid and Kevin Chapman were a mixed bag. Luhnow hinted he wants Veras to return as well.
Catcher: Castro slumped offensively this year following his All-Star season of a year ago, and he's arbitration eligible for the second time, so the Astros are going to have to decide whether to try to lock him up. Corporan did a nice job as a backup, and prospect Max Stassi didn't make many strides offensively all season at Triple-A, though he should be in the mix for significant playing time next year.
First base: The Astros have a lot invested in highly touted rookie Singleton, who made his Major League debut in June after signing a five-year extension worth $10 million. Though he flashed some power, he struggled mightily at the plate and racked up the strikeouts and the frustration. He'll undoubtedly open the season as the starter, but the pressure will be on to produce, especially if the Astros add some corner infield help.
Second base: The Astros are set here for the next few years with Altuve, who set the franchise record for hits in a season, multi-hit games and three-hit games and wound up with more hits in a season than any Venezuelan-born player. He was also the first player in Astros history to win the batting title. He's under contract at a bargain through 2017, so this is one area Luhnow doesn't have to worry about.
Shortstop: While the Astros continue the wait for 2012 No. 1 overall pick Carlos Correa to arrive (Correa missed the second half of the season at Class A after breaking his leg), the club could choose to give the inconsistent Jonathan Villar one more chance to prove his worth. Marwin Gonzalez did a nice job for much of season, but he's probably more valuable as a backup. Correa appears to be the real deal and could arrive in 2015.
Third base: Dominguez, who did a nice job in 2013 in his first full season in the Majors, was a disappointment at the plate and saw his numbers slump across the board. The Astros traded for former No. 6 overall draft pick Colin Moran at the Trade Deadline, and he figures to be coming to big league camp and perhaps push Dominguez for playing time. The Astros will be in the market for a veteran corner infielder, where Houston's production was the worst in the Majors.
Outfield: A healthy Springer will lock down one of the three outfield starting spots in 2015, and whether he's in center field or right field will depend on Dexter Fowler, who's eligible for arbitration and could make close to $10 million. Could the Astros try to trade him this winter? Don't be surprised to see the Astros try to find a power corner outfield bat via free agency or trade, though this year's outfield free-agent crop isn't great. Beyond that, Jake Marisnick, Robbie Grossman, L.J. Hoes and Alex Presley all figure to be in the mix somehow.
Designated hitter: Carter's second-half power surge likely secured a spot for him in the lineup next year, though he is arbitration eligible for the first time and figures to get a nice raise. He pushed 40 homers and turned into a more disciplined hitter in the second half of the season, while cutting down on his strikeouts.
Brian McTaggart is a reporter for MLB.com and writes an MLBlog, Tag's Lines. Follow @brianmctaggart on Twitter. This story was not subject to the approval of Major League Baseball or its clubs.