Changing clubhouse culture put Marlins on cusp in '14
Injuries to Fernandez, Stanton were setbacks, but Miami still contended late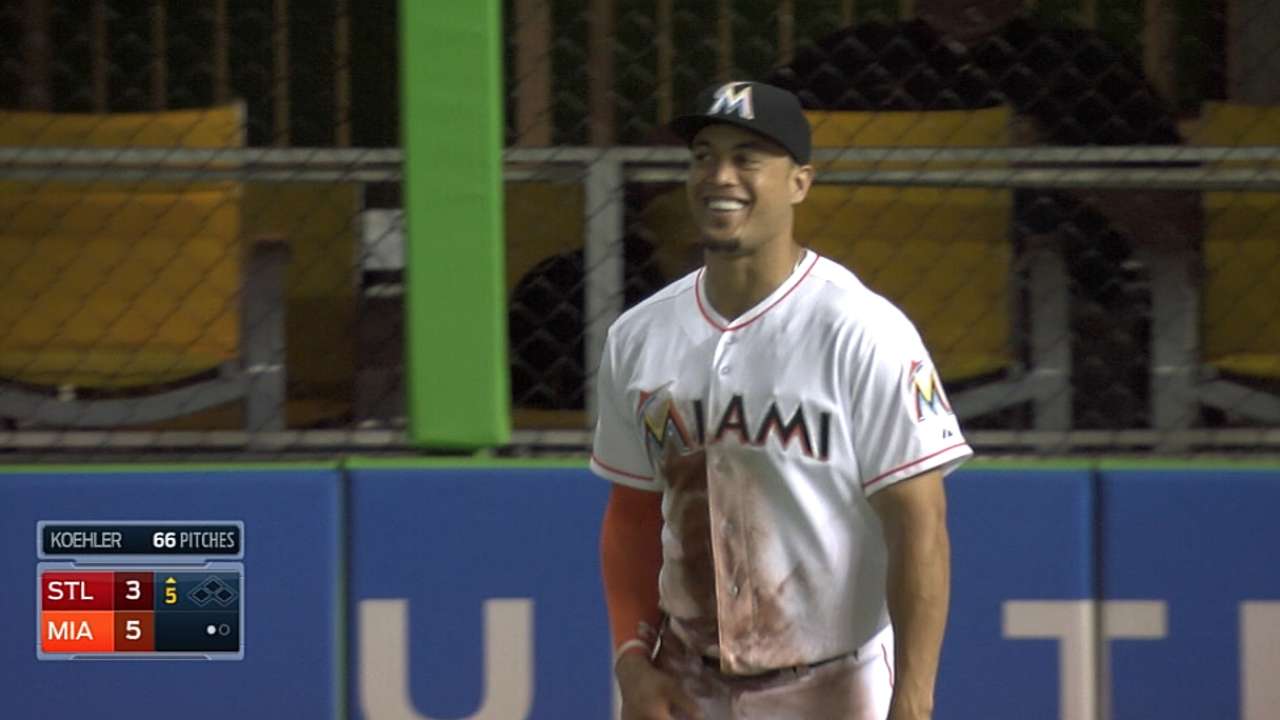 MIAMI -- Change the culture and ultimately you can change the results. The Marlins steadfastly stuck to that message, first in assembling their 2014 squad and secondly in how they went about their business on a daily basis this year.
It's hard to argue with the plan, because when looking at the big picture, Miami's mission was accomplished. A cynic can certainly argue that little actually changed in the club's fifth straight losing season. But a realist can see the dramatic improvement in one year and the fact that the organization is clearly trending toward playoff contention.
The Marlins were one of the surprise teams in the big leagues, rebounding from a 100-loss 2013 campaign to sticking around in the Wild Card race before officially being eliminated with nine games remaining in '14. Who knows? If not for one of the most gruesome injuries in recent memory, All-Star Giancarlo Stanton being struck in the face by a pitch, Miami may indeed have made a push all the way to the postseason.
We'll never know what might have been. But we do know, through adversity and serious injuries to Stanton and ace Jose Fernandez, who had Tommy John surgery in May, the Marlins remained tightly-knitted together and competitive deep into September.
Much of their success is attributed to the culture the organization created and manager Mike Redmond never let disappear.
"When we started Spring Training, we had goals of what we were trying to accomplish in terms of building the culture in that clubhouse and the mentality of every player looking out for one another and taking care of one another, and doing what needs to be done for us to get better," president of baseball operations Michael Hill said. "We never put a goal on how many games we wanted to win. We just wanted to be better than we were last year."
The Marlins did more than anyone expected. And they did so without their ace for most of the season and their MVP-candidate right fielder down the stretch. How they picked up for themselves and grew together is why there is so much optimism moving forward.
The Marlins were able to stay relevant when Fernandez went down, because Henderson Alvarez stepped up and pitched like an ace. One could always see the talent in Alvarez, who no-hit the Tigers in the 2013 season finale. But he didn't find consistency until 2014, when he rose to the occasion and joined Stanton as a National League All-Star.
Miami was also able to play meaningful games late because Stanton was a steady rock in the middle of the order, belting 37 homers and driving in 105 runs before he was hit in the face by a Mike Fiers fastball on Sept. 11 at Milwaukee.
"Through all the adversity that we faced, there was never anyone who felt sorry for anyone," Hill said. "We knew that things happen in this game, and it's a game of adjustments and the next man has to step up."
Fernandez's injury, for instance, prompted the front office to bolster the bullpen. They did so by acquiring right-hander Bryan Morris from the Pirates for a competitive-balance Draft pick in early June.
"When things happen as they always do, it's our job and Red and the coaches' jobs to make adjustments and find a way," Hill said. "I think it's a credit to Red and his staff on what they've had to maneuver around this season."
Record: 77-85, fourth place in National League East
Defining moment: For all the big home runs and crucial runs he drove in, the lasting image of the season became Stanton going down against the Brewers. At the time, the club was positioned to make a late push. The Marlins were 4 1/2 games out in the Wild Card standings and three games behind the Braves for second place in the NL East. Along with removing Stanton from the lineup, the injury had a huge emotional impact on the team.
What went right: Plenty. Until his injury, Stanton was an NL MVP frontrunner. The trio of Stanton in right field, Christian Yelich in left, and Marcell Ozuna in center statistically ranked among the best outfields in the Major Leagues. ... Shortstop Adeiny Hechavarria made steady progress and showed signs of becoming a future All-Star. ... The addition of Jarred Cosart, acquired from the Astros on July 31, added a solid middle-of-the-rotation right-hander. Closer Steve Cishek had another strong season, and Alvarez pitched as an ace after Fernandez went down. Tom Koehler won the No. 5 starter spot in Spring Training and didn't miss a start all season.
What went wrong: The club can't help but wonder what could have been if Fernandez stayed healthy. Miami got just eight starts from their 22-year-old ace. Stanton's injury was another devastating blow and one that was too much overcome. The other jarring injury came at Pittsburgh in early August when reliever Dan Jennings was struck in the side of the head by a line drive, causing a concussion and serving as another reminder of how risky the game can be. ... Catcher Jarrod Saltalamacchia and first baseman Garrett Jones had inconsistent seasons offensively and defensively. ... Rafael Furcal was expected to be the Opening Day second baseman, but hamstring and groin ailments limited the former All-Star to nine games. … A crucial 3-1 loss on July 31 to the Reds featured a controversial overturned play at the plate.
Biggest surprise: Casey McGehee spent 2013 in Japan, and it was uncertain if he would get another big league chance. The Marlins gave it to him and the veteran delivered, becoming one of the most productive NL third basemen in the first half. McGehee was moved to the cleanup spot early in the season and offered protection for Stanton. While he only hit four home runs, McGehee repeatedly came up with clutch hits, and he was a difference-maker with men on base (76 RBIs).
Hitter of the Year: Stanton, no surprise here. He matched a career high with 37 homers and won the Marlins' first homer crown, and he set a personal mark with 105 RBIs. Stanton was in position to threaten to break Gary Sheffield's single-season homer mark of 42 in 1996. Now with 154 career blasts, Stanton has matched Dan Uggla's team record.
Pitcher of the Year: Alvarez doesn't wow you with strikeouts, but he amazes with the crispness of his stuff and his competitiveness. The right-hander opened the season as the No. 3 starter, and he took on the role of ace after Fernandez went down, making his first All-Star team. Alvarez has the ability to pitch at the top of the rotation and become a perennial star.
Rookie of the Year: No single Miami rookie made a significant long-term impact. Many had chances, like top prospect Andrew Heaney, who made a handful of starts and relief appearances. So did right-hander Anthony DeSclafani. Catcher J.T. Realmuto showed promise in limited action. The most interesting rookie was first baseman Justin Bour, who got a look on an everyday basis in the final 10 days of the season. Bour was a standout at Triple-A New Orleans, belting 18 homers. The lefty-hitting first baseman demonstrated a solid approach, and he could compete for a starting job in Spring Training.
Joe Frisaro is a reporter for MLB.com. He writes a blog, called The Fish Pond. Follow him on Twitter @JoeFrisaro. This story was not subject to the approval of Major League Baseball or its clubs.