MLB.com Columnist
Jim Callis
Constructing a World Series team: Royals
How KC used the Draft, trades, free agency and international signings to build a pennant winner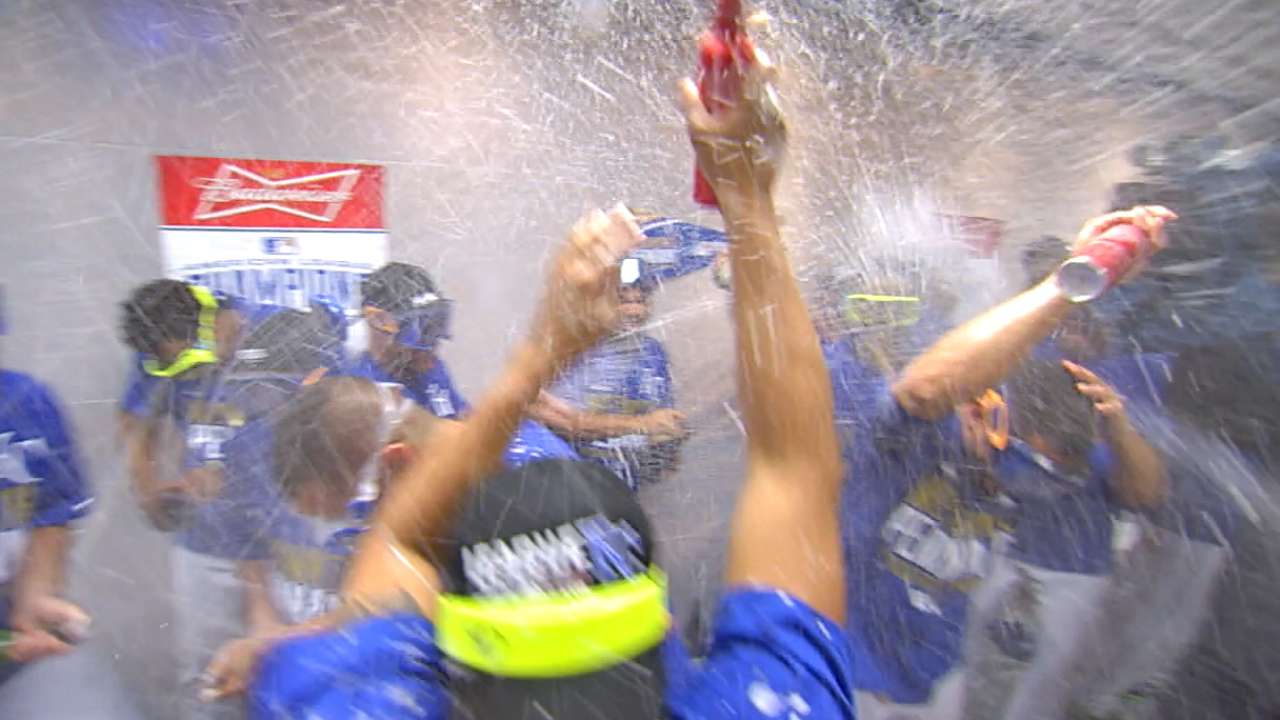 Dayton Moore broke into professional baseball as an area scout with the Braves and eventually rose to director of player personnel with the club. In the 11 full seasons he was with Atlanta, the team reached the postseason every time and won the 1995 World Series.
So when he accepted the job of Royals general manager in May 2006, Moore faced an entirely different reality. Kansas City hadn't made the playoffs since winning the 1985 World Series and was in the midst of a third straight 100-loss season. With the fourth-lowest payroll in the Major Leagues and a farm system in disrepair, there would be no quick fixes.
"I can tell you very candidly that no matter who your mentors are or what success you had elsewhere, there's no way to prepare to be a GM until you come in and evaluate the landscape of the organization," Moore said. "We knew it was going to be a long process, eight to 10 years before we were going to be in position to make the playoffs."
After eight years, that process is finally paying off. The Royals won 89 games, their most since 1989, and ended their postseason drought by earning an American League Wild Card berth. They then won their first eight postseason games -- the longest such streak in MLB history -- to earn a spot in the World Series for the first time in 29 years. Much like he watched John Schuerholz and Paul Snyder do with the Braves, Moore and his staff built a winner from within.
HOMEGROWN
Player, how acquired, year:
Billy Butler, Draft, 2004 (1st round)
Tim Collins, Draft, 2011 (6th round)
Alex Gordon, Draft, 2005 (1st round)
Terrance Gore, Draft, 2011 (20th round)
Jarrod Dyson, Draft, 2006 (50th round)
Salvador Perez, Int'l sign, 2006
Kelvin Herrera, Int'l sign, 2006
Mike Moustakas, Draft, 2007 (1st round)
Danny Duffy, Draft, 2007 (3rd round)
Greg Holland, Draft, 2007 (10th round)
Eric Hosmer, Draft, 2008 (1st round)
Yordano Ventura, Int'l sign, 2008
Brandon Finnegan, Draft, 2014 (1st round)
Outside of the Cardinals, the Royals have the most homegrown roster among the 10 playoff clubs. Two of those pieces already were in the organization when Moore arrived, in first-round picks Butler (2004) and Gordon ('05). But there was little else to build around.
"We knew we had to build a good farm system and just trust the process," Moore said. "We had to try to hit on premium guys in the Draft, because we can't afford a lot of free agents. The one area I was the most insecure about was the international market because from 1992-2006, the Royals were dead last in expenditures in Latin America. We had two scouts in the Dominican Republic, one scout in Venezuela and our academy was essentially a rundown field and a dormitory structure."
Owner David Glass gave Moore the go-ahead to upgrade the club's investment in both areas. The Royals became the first team to spend eight figures on bonuses in a single Draft when they paid $11,148,000 in 2008. They ranked third in bonus spending at $45 million during the 2007-11 Collective Bargaining Agreement, when teams could spend freely without penalty (unlike under the current CBA).
Those Drafts brought in key cogs such as Moustakas, Duffy, Holland and Hosmer. Moustakas and Hosmer were both top-three-overall picks (as MVP candidate Gordon had been), while Duffy came in the third round and Holland was a steal in the 10th. Signed for $50,000, Holland has an AL-best 93 saves in his two full seasons as a closer and has added an additional six saves in as many tries in the playoffs.
Kansas City also swiftly upgraded its efforts and facilities in Latin America. Moore hired Rene Francisco from the Braves to run the Royals' international operations in 2006. A month later, the club signed Perez, who has been an All-Star in each of his two full big league seasons, for $70,000.
Francisco and his scouts have continued to find bargains on the international market. Herrera signed for a mere $15,000 three months after Perez and has since developed into a top setup man. Ventura, who signed for $28,000 in October 2008, won 14 games as a rookie this year.
TRADES/WAIVERS
Player, year, acquired from:
Lorenzo Cain, 2010, Brewers
Alcides Escobar, 2010, Brewers
Jeremy Guthrie, 2012, Rockies
Wade Davis, 2012, Rays
James Shields, 2012, Rays
Nori Aoki, 2013, Brewers
Jason Frasor, 2014, Rangers
Erik Kratz, 2014, Blue Jays
Jayson Nix, 2014, Pirates
Josh Willingham, 2014, Twins
Moore's two most memorable moves as GM were a pair of trades that drew immediate and widespread criticism. The first came in December 2010, when the franchise's cornerstone made it clear he wanted out of Kansas City.
Zack Greinke got his wish, going to the Brewers along with Yuniesky Betancourt in exchange for Cain, Escobar, Jeremy Jeffress and Jake Odorizzi. Moore got criticized for not getting an obvious superstar in return for Greinke, but he did get two key regulars and a third player he spun off into this second blockbuster.
"When you make trades, criticism is going to be part of the deal," Moore said. "Alcides Escobar and Lorenzo Cain have been huge for us," Moore said. "They're plus defenders and contribute offensively. And Jake Odorizzi was part of the James Shields/Wade Davis trade, and he also kept Yordano Ventura out of that deal at that time."
In December 2012, Moore shipped Odorizzi along with reigning Minor League Player of the Year Wil Myers and two other prospects for Shields, Davis and the since-waived Elliot Johnson. That drew the ire of fans and analysts who couldn't believe six years of control of Myers were exchanged for two of Shields. But Shields has anchored Kansas City's rotation the last two years and Davis topped the AL relievers with a 1.00 ERA and 33 holds this season.
Neither trade was popular at the time and Myers still could develop into a star, but the Royals probably wouldn't be in the playoffs without making either move.
FREE AGENTS
Player, year:
Jason Vargas, 2013
Omar Infante, 2013
The Royals have increased their big league payroll over the years, setting a franchise record with a $92 million Opening Day figure this season. That still ranked just 19th in MLB, so they're not in the hunt for any big-ticket free agents. But they have been able to plug a couple of holes with lower-tier signings from last offseason.
Vargas has been a quality back-of-the-rotation starter after signing a four-year, $32 million contract. Infante, who inked a four-year, $30.25 million deal, has provided steady defense at second base.
Jim Callis is a reporter for MLB.com and writes a blog, Callis' Corner. Follow @jimcallisMLB on Twitter. This story was not subject to the approval of Major League Baseball or its clubs.