Young stars, free agents can help Red Sox rebound in 2015
Boston will try to repeat championship run after previous last-place division finish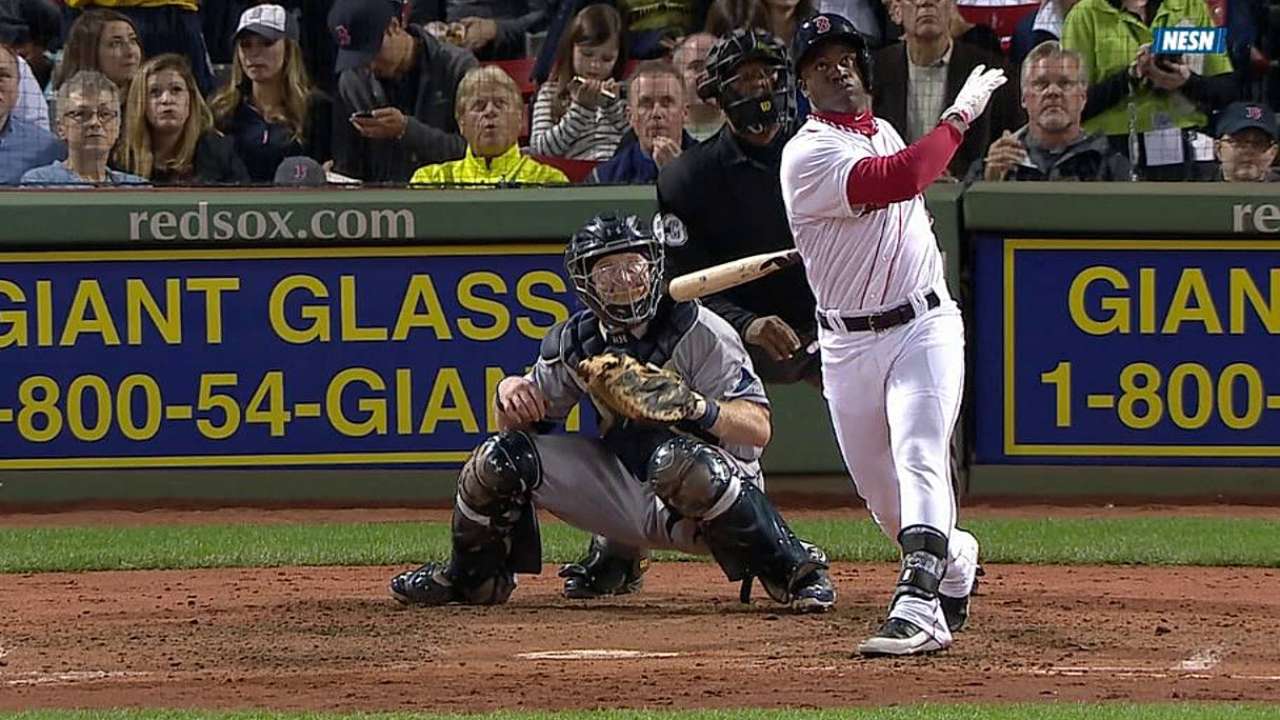 BOSTON -- It's always daunting for a last-place team to pick up the pieces and figure out how to regroup as quickly as possible. But the Red Sox are probably more comfortable than just about any other team in this predicament, considering they just went through it two winters ago and bounced back with a stunning World Series championship.
After going from worst to first to worst in the American League East, can the Red Sox get back to first again in 2015? Much of that will depend on what should be a highly eventful offseason for general manager Ben Cherington.
After a season of anemic offense and perhaps an over-reliance on young players, the Red Sox will try to put together an offense that can be top five in the AL.
Though Cherington already made moves to add more productivity in the lineup with the trade for Yoenis Cespedes and the signing of Rusney Castillo, the Sox have a clear lack of left-handed bats. They also lack established starting pitchers, with the exception of Clay Buchholz.
The good news is that Boston has the financial resources to make an impact on the free-agent market, and perhaps enough depth in the farm system to make a blockbuster trade.
One thing is for sure: Cherington and the Red Sox are happy that they can finally put a thoroughly-frustrating 2014 season in the rearview mirror.
Arbitration-eligible: RHP Junichi Tazawa, OF Daniel Nava.
Free agents: RHP Burke Badenhop, LHP Craig Breslow ($4 million club option), C David Ross.
Rotation: This is the biggest area the Red Sox will address during the winter. Buchholz is the only veteran coming back, and the recently acquired Joe Kelly is the only other sure thing in next year's rotation. Perhaps some of the young arms (Allen Webster, Rubby De La Rosa, Anthony Ranaudo, Brandon Workman) who got a chance to pitch regularly down the stretch will be in contention for a spot come Spring Training.
But the Red Sox know full well they need some more established veterans in the rotation to get back in contention. The most intriguing scenario is Jon Lester. Can Boston bring the former ace back as a free agent just months after trading him for Cespedes? Max Scherzer is another free agent who is going to command plenty of attention.
Bullpen: The Red Sox signed Koji Uehara to a two-year contract the day after the final game of the World Series, but there was some doubt about his status before the deal was announced. The right-hander was as dominant as any closer in baseball in 2013, and for much of this season. But a late-season slump created questions. Would the Red Sox consider giving him a qualifying offer? In the end, his deal was worth $18 million, according to a source. Badenhop, an underrated member of this year's bullpen, is also a free agent.
Edward Mujica pitched well after a slow start in his first season in Boston, giving the club hope he can be a key component in next year's bullpen. Lefty Tommy Layne, who got a chance after Andrew Miller got traded and thrived, could certainly be a factor. De La Rosa and Workman could be nice fits in the bullpen if there is no room in the rotation.
Catcher: The Red Sox seem happy enough with Christian Vazquez that they will go forward with him as the primary option behind the plate next season. Vazquez has a cannon for an arm and a real good feel for pitch calling for a young player. However, the club would like to have a veteran presence to team with him, ideally a left-handed bat. This could spell the end of the popular Ross in Boston.
First base: Mike Napoli has another year on his contract, and he hopes to get healthy this winter. The slugger was bothered by ailments all over his body this season, and his production seemed to directly suffer because of it. Allen Craig, who struggled to get in any kind of offensive groove this season, is also likely to see some time at first, and he is good insurance if Napoli should go down.
Second base: Dustin Pedroia is recovering from surgery on his left hand, but is expected to be fully ready for the start of Spring Training. Pedroia remains an elite defender and the heart and soul of the team. His production has tailed off the last couple of years, and the Red Sox hope a return to health can cure that. Mookie Betts is available if something goes haywire with Pedroia, but the Red Sox envision the exciting youngster settling in as an outfielder.
Shortstop: Projected as an AL Rookie of the Year Award candidate, Xander Bogaerts struggled mightily at the plate for long stretches, and also lacked consistency on defense. But it should be remembered he played the entire season at the age of 21 years old, and with limited experience in the Minors. The Red Sox still think highly of Bogaerts, and are optimistic he will be a productive player for a long time.
Third base: This is a position that is wide open, as Will Middlebrooks struggled to produce and stay healthy for the second straight season. Brock Holt should see some time at third, but the Red Sox might seek more of a run producer to play the position full-time. Pablo Sandoval is one of the most intriguing names on the market, and the Red Sox are expected to make a run at him. He is a switch-hitter, and Boston certainly needs some more options from the left side of the plate.
Outfield: It was by far the weakest part of the team the first four months of the season, but the Red Sox did a nice job making additions down the stretch. Cespedes gives the lineup a clear presence behind David Ortiz. Craig could become a strong fit if he can work out the kinks in his swing. Castillo, the $72.5 million acquisition from Cuba, has already shown glimpse of why the Red Sox liked him so much. He can do a little bit of everything.
Betts was highly impressive in the final weeks of the season, be it as a leadoff hitter, on the bases or in center field. It will be interesting to see how he fits into the equation next year and beyond. What becomes of Jackie Bradley Jr., who was the primary center fielder for much of the season and was spectacular on defense, but almost non-existent at the plate? And Shane Victorino, coming off back surgery, is under contract for another season and driven to reclaim his job in right field.
DH: Ortiz continues to make his late 30s seem like his late 20s. The slugger belted 35 home runs, his highest total since 2007. For the eighth time in his career, he reached the 30-100 plateau. Ortiz started slow from a batting-average standpoint this season, but he got it back up to respectability. The presence of Cespedes seemed to have a tangible impact on Ortiz, as pitchers were no longer as free to work around him.
Ian Browne is a reporter for MLB.com. Read his blog, Brownie Points, and follow him on Twitter @IanMBrowne. This story was not subject to the approval of Major League Baseball or its clubs.