With superstars returning, '15 looks bright in Miami
Fernandez to lead rotation; Stanton to round out top-notch outfield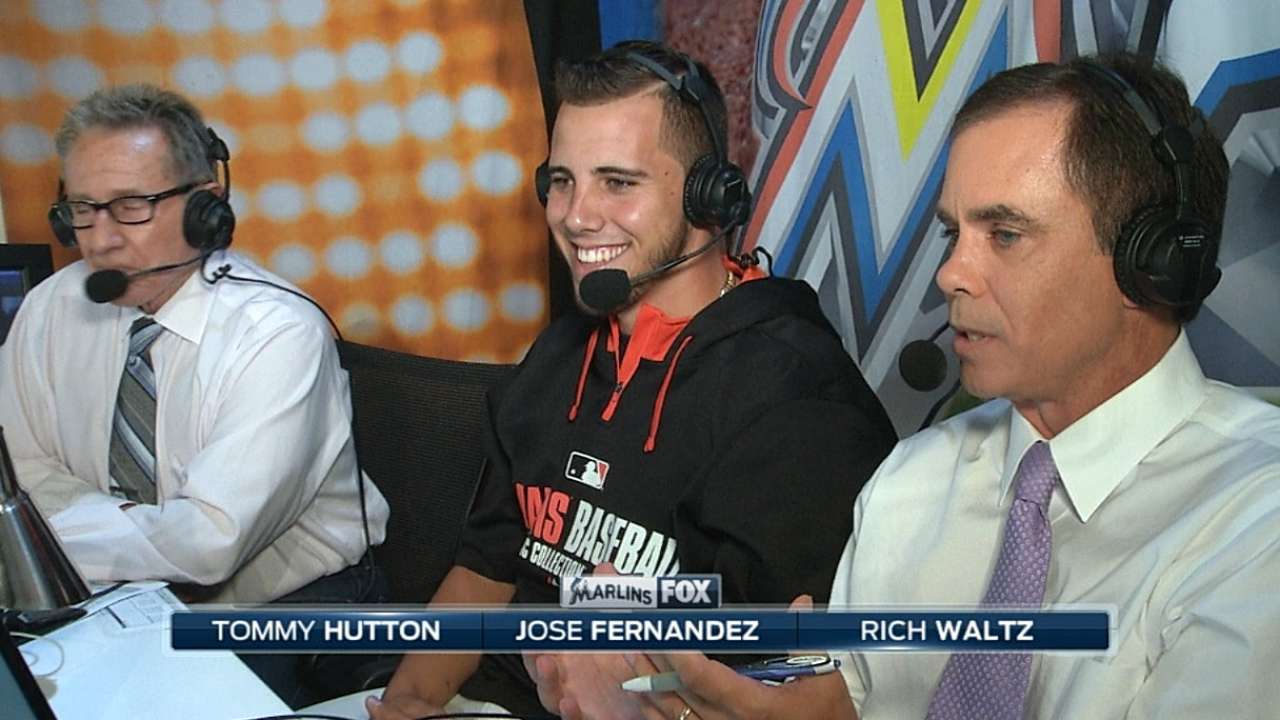 MIAMI -- "Wait till next year" is far from an empty saying for the Marlins as they set their sights on 2015. From upper management down to the players, there is legitimate optimism that the club is on the cusp of contending.
If not for some serious injuries that helped derail their hopes this year, the Marlins may have shocked the baseball world and competed in October. Those hopes were dashed when Giancarlo Stanton was struck on the face by a pitch on Sept. 11, forcing the slugger to join ace Jose Fernandez (Tommy John surgery in May) on the sidelines.
As an organization, management isn't planning on wasting much time lamenting about what might have been in 2014. Instead, Miami is focused on regrouping and building toward a better tomorrow. All indications are that the club plans on hitting the offseason running, formulating a plan and identifying areas to address.
At the top of the list will be approaching Stanton about a multiyear contract. The two-time All-Star is coming off an MVP-caliber season, and he is entering his second year of arbitration. With or without a long-term deal, Miami has made it clear it intends on keeping Stanton, who in the short term will continue his recovery from facial fractures sustained when he was hit by a pitch in Milwaukee.
Establishing payroll parameters also must be addressed. It may be just under $60 million, but that figure could sway either way. In the coming weeks, the front office will catch its breath and figure out which direction to go by the free agency and the trade period that begins after the World Series.
"We'll get our baseball operations group together, and we'll take a step back and really dig into everything about this team and what we need to do to take that next step forward," president of baseball operations Michael Hill said. "We'll be open, we'll be objective of what shortcomings we've had this year and areas where we think we need to improve and put a plan in place and then do our best to execute that plan."
Arbitration-eligible: OF Stanton, RHP Steve Cishek, LHP Mike Dunn, 3B Casey McGehee, RHP Henderson Alvarez, RHP Nathan Eovaldi.
Donovan Solano is a borderline Super 2 candidate, but the team doesn't believe he will qualify for arbitration.
Free agents: OF Reed Johnson, INF Rafael Furcal, RHP Kevin Gregg, RHP Brad Penny.
Rotation: Once Fernandez returns, the rotation immediately will be elevated. How best to bridge the gap will consume the organization's attention in the meantime. As is, the starting five should be pretty impressive. Alvarez, fresh off an All-Star season, assumed the role of ace after Fernandez went down. For now, Alvarez projects as the team's No. 1, with Jarred Cosart factoring into the top of the rotation. Eovaldi had his second-half struggles, but he's coming off a career-high in innings. The hope is the experiences of this year will help in Eovaldi's development. Tom Koehler once again will be a frontrunner to secure a spot. Lefties Brad Hand, Andrew Heaney and Justin Nicolino, the organization's Pitcher of the Year, will be competing for jobs. Rookie Anthony DeSclafani is a right-hander who gained big league experience in 2014.
Bullpen: An impressive stable of power arms projects to return. Closer Cishek and lefty Dunn are both entering their second year of arbitration. Right-handers A.J. Ramos, Bryan Morris and Chris Hatcher all stepped up to secure setup roles. Carter Capps is the hardest thrower of the group, and that's saying something. There are a handful of candidates who throw 98 mph. Capps topped off at 101 mph. If Capps stays healthy, he may wind up as a late-innings candidate. Lefty Dan Jennings made strides in '14, and right-hander Sam Dyson runs his fastball up to 98 mph.
Catcher: It wasn't an entirely smooth transition back to the National League for Jarrod Saltalamacchia. The 29-year-old had his struggles at the plate and defensively. Having a full season in Miami's organization should be beneficial as the veteran looks to bounce back. A switch-hitter, he is a threat to knock the ball out of the park. Jeff Mathis had his $1.5 million club option picked up and will be entering his third year with the team. J.T. Realmuto, the organization's Player of the Year, comes off a championship season at Double-A Jacksonville, and he's gained some MLB experience.
First base: Garrett Jones is signed for 2015, but the team may seek other options. The veteran labored at the plate and in the field. He showed flashes of power, but lacked consistency. Down the stretch, Justin Bour, also a left-handed hitter with pop, gained experience at first. If Jones is not back, Bour could be a candidate to take over. If the team got creative, McGehee or possibly Christian Yelich could be switched to first base. Those options may be on the table, but most likely won't happen. Jeff Baker is signed for next year, and he is a right-handed-hitting backup option.
Second base: Furcal's hamstring injuries limited him to nine games and put second base in flux for most of the season. Solano, Derek Dietrich, Ed Lucas, Baker, Jordany Valdespin and Enrique Hernandez saw time at second. The front office is expected to explore outside options. An ideal candidate would be someone with speed to lead off. Solano or Hernandez could be frontrunners if Miami stays with candidates already on the roster.
Shortstop: The strides Adeiny Hechavarria made at the plate and in the field reinforces the team's belief that it has a special talent at a premium position. The Marlins feel Hechavarria is an All-Star and Gold Glove-caliber player. Hernandez may wind up as the utility backup.
Third base: After spending 2013 in Japan, McGehee's return to the big leagues was successful, as he spent much of the season batting cleanup behind Stanton. Arbitration-eligible, McGehee projects to return. An All-Star candidate in the first half, the veteran had a dip in production down the stretch. But he had a knack for the clutch hit, and he projects to secure third base in 2015.
Outfield: You'd be hard pressed to find three more productive starters in any outfield in the National League. The trio of Stanton (right field), Marcell Ozuna (center) and Yelich (left) was highly productive. First and foremost, the club wants Stanton to get healthy. The same holds true for Ozuna, who sustained a high right ankle sprain with a week remaining in the season this year. Locking up Yelich and Ozuna to multiyear contracts could also be in the works in the coming weeks.
Joe Frisaro is a reporter for MLB.com. He writes a blog, called The Fish Pond. Follow him on Twitter @JoeFrisaro. This story was not subject to the approval of Major League Baseball or its clubs.